by C Hamilton
In the genre of stuff matters, consider three facts.
1) On average, income and expenditures are a bell curve, rising from early adulthood, peaking in the 45 to 54 year old portion of ones life, and falling indefinitely thereafter.  The blue columns in the chart below represent average income per decade of ones life and the red columns represent expenditures.
2)  Likewise, on average, labor force participation follows a similar but more stark pattern.  About half of young adults aged 16 to 24 work, rising to over 80% by the mid portion of ones life, and falling away to just 8% working once one is 75+ years/old.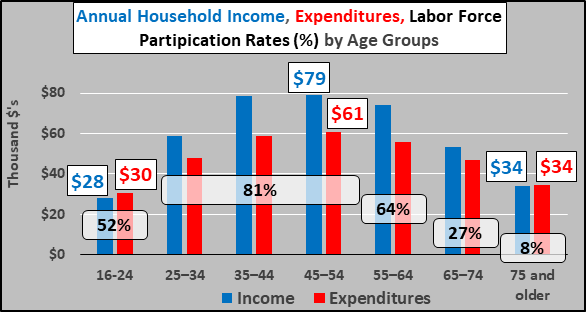 So, income and expenditures rise and fall as labor force participation rises and falls…but the fall in income and expenditures is softened by cash flowing investments, savings, and Social Security and the like.  While the data above represents the US, the principle is true globally.
3) Critically, the growth of the global 45 to 54 year/old population of nations with income per capita above $4k/year (detailed by the World Bank, 
HERE)
 essentially ends in 2020, declines until 2029, rises just a tad to 2037, and falls indefinitely thereafter.  The growth of the "prime-est" of prime consumers among the nations with 90% of the income, savings, and access to credit…the nations that consume 90% of the earth's energy and likewise global exports…comes to an end.  These nations represent half the worlds population.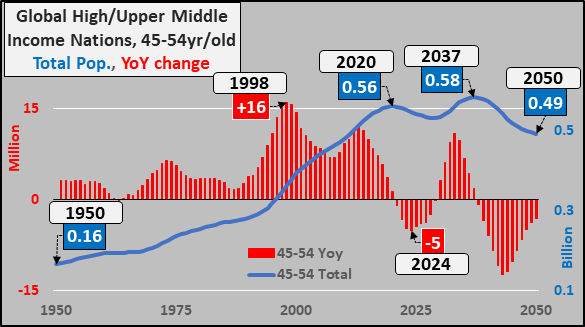 After 7 decades of unending growth among the most critical of earners and spenders, "the times they are a changing".  This is the new, low to no growth world we now inhabit.
If you feel I'm cherry picking or not showing the full picture, please feel free to peruse my recent article detailing the UN World Population Prospects 2019 reports, 
HERE
.
660 views