7-10yr curve now less than 3bps

have you noticed all the Finance media folks who 6 months ago told ya @federalreserve would never let curve invert now claiming an inverted yield curve will be meaningless this time

thats a bigger lie than SUBPRIME IS CONTAINED

— Dividend Master (@DividendMaster) July 10, 2018
What Happens Next? t.co/dy0g4zGVgL

— zerohedge (@zerohedge) July 10, 2018
Harley Bassman: "The Yield Curve will not invert until near the December FOMC meeting"

— zerohedge (@zerohedge) July 10, 2018
Federal Reserve Bank of St. Louis President James Bullard said Thursday he is watching the flattening of the yield curve with concern and said the Fed should slow its rate increases to keep it from turning negative.
Speaking in St. Louis, Mr. Bullard noted that an inverted yield curve has been a reliable recession signal in the past.
Thanks to Fed, an Inverted Yield Curve Is Imminent
The central bank signals that it plans to hike rates beyond neutral in short order.
If Federal Reserve officials are truly trying to avoid an inverted yield curve, they have a funny way of showing it.
Policy makers on Wednesday raised the central bank's benchmark as expected while also shifting their "dot plot" higher for the next two years. They now anticipate a total of four quarter-point rate hikes in 2018, up from three previously. In 2019, the median estimate calls for a 3.125 percent fed funds rate (or a range of 3 percent to 3.25 percent). That means for the first time since the projections were introduced in 2012, the forecast for the following year is higher than officials' estimate of the longer-term neutral rate at 2.875 percent.
A U.S. Recession Indicator Flashes Red for Leuthold's Paulsen: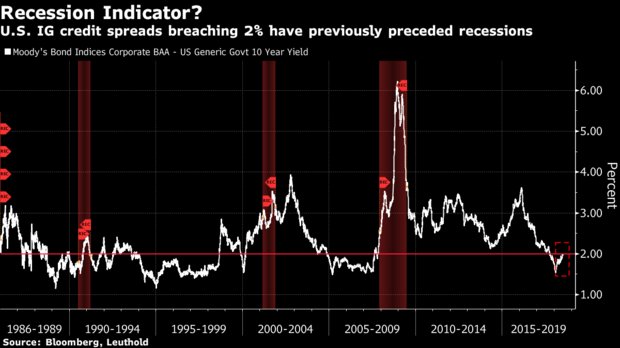 1,126 views