by Thinker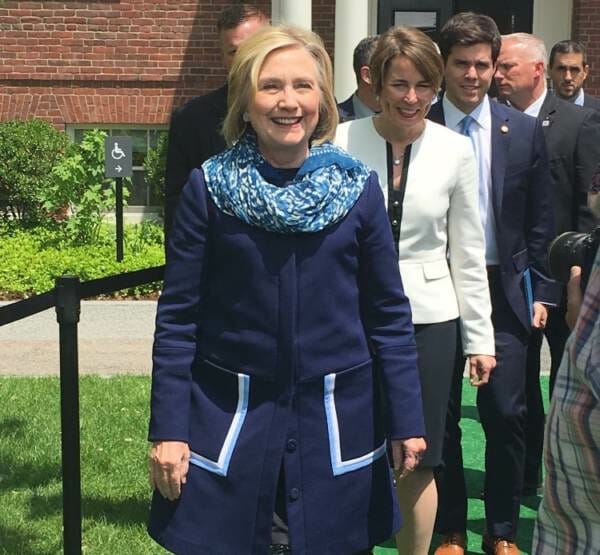 What is Hillary Clinton hiding?
On Friday, Hillary Clinton stepped out into the sweltering Boston, MA heat in a heavy coat and scarf. Hillary health problems??? Hillary Clinton received the Radcliffe Award at Harvard on Friday. The twice-failed presidential hopeful told the audience she would be the CEO of Facebook given the chance "because it's the biggest news platform in the world."
Odd…
The Attorney General of Massachusetts, Maura Healey posted the photo of Hillary in the sweltering heat.
www.thegatewaypundit.com/2018/05…ston-heat/
TWO HILLARY'S??? – NO "BACK-BRACE" AT THE OCTOBER FEST – Bill Clinton Goes Full Bavarian at Oktoberfest, Hillary Sticks to Her Way – CLINTON USING STARGATE TO GET BETWEEN NATIONS???
© REUTERS / Lucy Nicholson -Europe – 16:31 06.10.2018(updated 16:33 06.10.2018) Get short URL 5315
As the former US first couple has had a date at the world's most famous beer festival, which comes to an end on October 7 in Munich, the ex-president in his leather shorts and a vest has attracted stares as well as local women in traditional dirndl dresses.
Following in the footsteps of many celebrities, including Arnold Schwarzenegger and a few top football stars, Bill and Hillary Clinton have showed up at the traditional German beer festival Oktoberfest. The power couple, accompanied by a security detail, has dropped by the famous Kaefer tent, especially favored by movie, TV and sports stars, to grab a beer and have some Bavarian-style fun.
Bill and Hillary:
sputniknews.com/europe/201810061…l-hillary/
1,785 views