by UPFINA
We just had a very strong September retail sales report, so it's counterintuitive to think this will be a weak holiday shopping season, but you must consider the changes to the economy since then. This most important change is the increase in initial jobless claims; the labor market is getting worse. The 2nd most important change is that people received a backlog of benefits in September which won't be repeated. They got a few weeks of benefits at once. Not only will that not happen again, but also some states ran out of extra ($300-$400) in weekly assistance money. The 3rd change is the spike in COVID-19 cases which is causing economic restrictions in the Midwest.
The 4th is the potential for the pandemic unemployment assistance to end at the end of December. People don't like being on unemployment benefits because they are unstable. The computers could stop working (need to be updated) or the benefits could be cut. As of now, the people on pandemic benefits will stop getting money by the end of the year. We think pandemic benefits will be extended, but it makes no sense to spend a lot of money if you're on them. It's not worth the risk.
"This is shaping up to be the roughest [holiday] spending season in more than a decade. .. 40% of households making $40,000 or less have experienced the loss of a job or income, and holiday spending among that cohort will almost certainly be uniformly weak." @joebrusuelas pic.twitter.com/vnl6aSKcVc

— Carl Quintanilla (@carlquintanilla) October 19, 2020
The people working in the industries most hurt by COVID-19 will not be getting their jobs back in time for the holiday shopping season. The only hope is a fiscal stimulus. Obviously, a $1,200 check changes a lot. For now, we make assumptions without the stimulus. As you can see from the chart above, estimates are for just 0.5% sales growth which is the lowest since 2009. Physical store sales will be weak and online growth won't make up for it enough for this to be a great holiday season.
40% of households making $40,000 or less have experienced a loss of a job or income. It's easy to cut holiday spending. The middle class and rich have more limited spending options as concerts and travel are limited. Stay at home items have already been bought. Another laptop or treadmill would be redundant. That's not to say there won't be even more stay at home themed gifts of course.
Consumers Have Less Leeway
Even though money is free flowing for corporations, the banks have tightened lending standards. That's because speculators and the Fed have eased the burden in the bond market. It's different for bank lending which is unfortunate for consumers who need money. Whenever you need money the most, you can't get it. Whenever you don't need money, it's easy to get it. That's where the phrase 'it's expensive to be poor' comes from.
As you can see in the chart below, lending standards as of the end of July were tighter than the worst of the financial crisis. It makes sense to not want to lend to people who lost their jobs. Banks are circling the wagons, trying to limit the amount of loans that are being deferred. It's a new risk where loans that were thought to be safe became unsafe.
Credit conditions aren't so loose for people who need money most. Despite trillions of dollars of Fed stimulus & near record low benchmark rates, a record proportion of banks reported tightening lending standards on consumer credit card loans as of July 31: Fed data pic.twitter.com/06QYSyX7pM

— Lisa Abramowicz (@lisaabramowicz1) October 19, 2020
Forbearance Loans Fall
As we mentioned in a previous article, the real problem is for renters, not home owners. Mortgages were given out to the best borrowers this past cycle because we just came out of the housing bubble burst. Bubbles aren't repeated right after they happen. Sure enough, we've seen the forbearance rate decline as you can see from the chart below. There have been particularly large declines in the past couple weeks which is impressive because that's around when the labor market started falling backwards.
MBA Survey: "Share of Mortgage Loans in Forbearance Declines to 5.92%" t.co/5ngN5SPU9c pic.twitter.com/prnGavnmee

— Bill McBride (@calculatedrisk) October 19, 2020
The housing market is on fire. There is less of a juxtaposition between home buyers and home owners who are in forbearance. However, we still have the juxtaposition between people who are in desperate need of assistance and upper middle-class people swooping up single family homes.
As you can see from the chart below, the home builder sentiment index hit a record high. It's even stronger than it was in the housing bubble.
October NAHB homebuilder sentiment index was the highest since records began in 1985. While mortgage rates are at historical lows this is pretty remarkable given the fact that #unemployment is still relatively high. pic.twitter.com/HGnRfnVoGE

— jeroen blokland (@jsblokland) October 19, 2020
We have some people moving from the city to single family homes, millennials buying their first homes, tight supply, and very low interest rates. The average 30 year fixed rate just fell to 2.81% which is the lowest rate ever. Imagine how strong the housing bubble would have been if rates weren't in the 6s. If rates rise, it would create weakness for new homes, but borrowers wouldn't be in trouble because rates are fixed unlike many in the 2008 bubble.
Cheap Stocks Are Very Cheap
Cyclical stocks and low growth firms are always cheaper than high growth companies with secular trends supporting them. It's not that value investors think these cyclical weaker companies will overtake growth firms. They think the valuation gap will shrink. It's not a straightforward concept, but it's easy to see when you look at graphs. As the chart below shows, the cheapest decile of U.S. stocks is cheaper than the rest of the market by more than ever as measured by three popular metrics.
Probability we look back in tears at an opportunity missed? (Hat tip: @alphaarchitect data.) pic.twitter.com/RuUjvnMCUa

— Matt Tracey (@MattTracey13) October 19, 2020
Digging deeper, emerging market cheap stocks are even more extreme. Most of these stocks are commodity companies. This is what happens when rates hit a record low and inflation is very low. Central banks are on the side of these value stocks as they are trying to boost inflation. Plus, we have record fiscal stimulus. The match could be ignited if we get a solution to COVID-19. Without that, policy makers are pushing on a string. Even growth industries like electric cars, rely on commodities (cobalt, lithium, copper, etc). We aren't in a post-commodity world just because software is more important.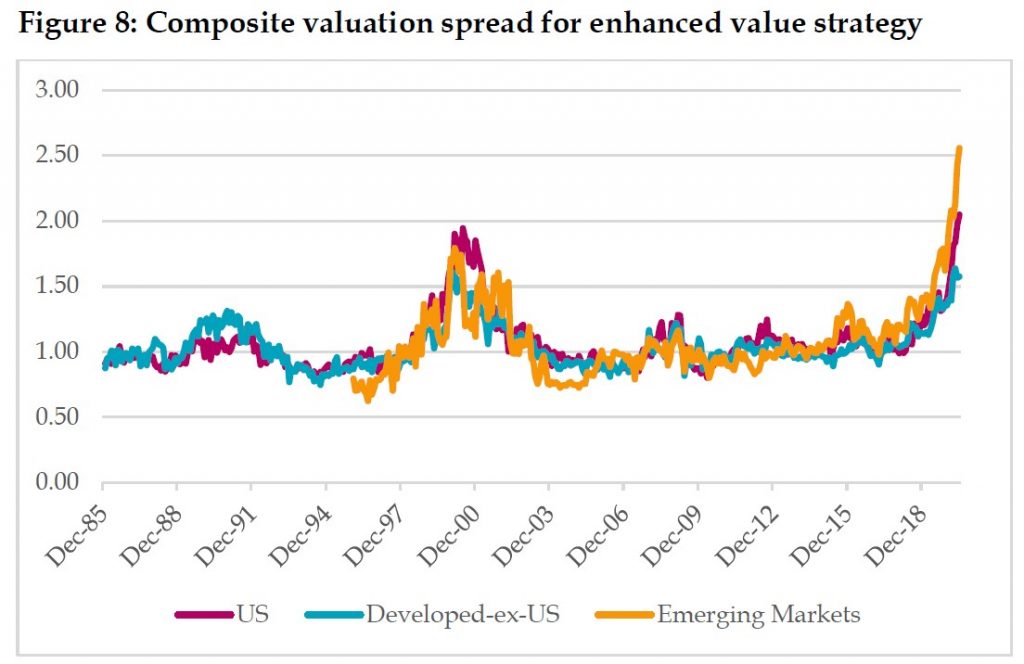 Conclusion
This is poised to be the worst holiday shopping season since 2009 if there is no fiscal stimulus. $1,200 checks and unemployment benefits change the game. Those are temporary solutions until a final solution to COVID-19 arrives. The death rate has fallen, but based on perception and policymakers, it's not enough to be a gamechanger. Banks aren't lending to consumers as freely. The good news is mortgages in forbearance are falling. The housing market is on fire as builders are more confident than ever. As a rule of thumb, you want to sell stocks in cyclical industries where confidence is at a record high. Even if the industry stays strong, optimism won't get much higher. Value stocks are cheaper than ever. And value stocks in emerging markets are relatively cheaper than American value stocks.
226 views