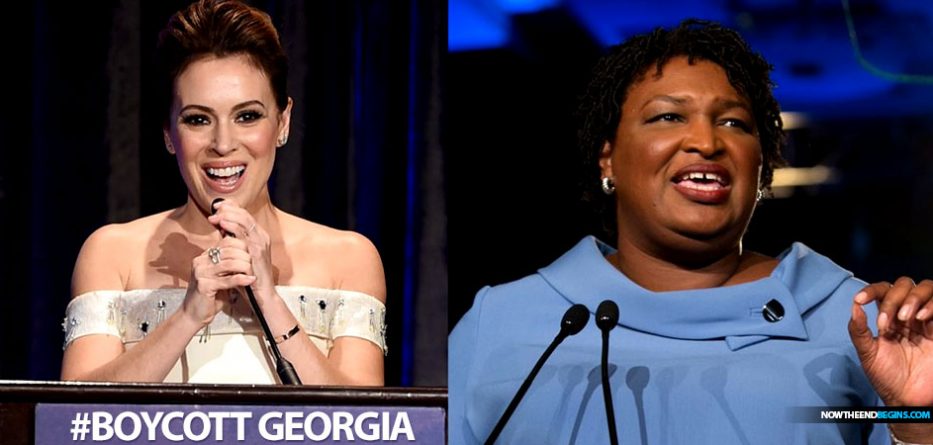 The hashtag #boycottgeorgia began to trend after Stacey Abrams, a former Democratic state representative and romance novelist, announced Friday that she would no longer challenge the Georgia Secretary of State's election results.
Hollywood Liberals are so angry that a candidate they supported lost, Stacey Abrams in Georgia's governor race, that they are now calling for a boycott on all future filming in Georgia. Georgia film projects add over 2 billion dollars per year in jobs and revenue, so that means that a boycott on that industry would inflict great financial harm on people in the state of Georgia, and likely put hundreds of Georgians out of work.
But that's fine with the Hollywood Liberals who have millions of dollars in their bank accounts. A generation of rich crybabies who were raised getting trophies for merely participating in life events cannot fathom the real-world concept that when someone wins, the other person loses. Remember when the presenters at the Oscars used to say "..and the winner is" until they replaced it with "…and the Oscar goes to"?
Rich, entitled Liberals cannot ever see themselves as losers even at the moment they are handed a loss. Their candidate lost in Georgia, and instead of sucking it up and formulating a new plan like Conservatives to, they roll out the scorched earth policy to extract their revenge. The real losers are the soon to be unemployed film and television workers in Georgia, most of them Liberal Democrats, if this boycott actually happens.
There are over 20 productions shooting in Georgia.

Is the entertainment industry willing to support the economy of a totally corrupt state that suppresses democracy; where the winner isn't the best choice for the people but the best schemer or crook?

— Alyssa Milano (@Alyssa_Milano) November 17, 2018
Leading the #boycottgeorgia charge is actress Alyssa Milano, who started her career on the hit show "Who's The Boss?" back in the late 1980's. Well, in the interest of full disclosure, I worked with her on a number of those episodes, and how well I remember her pulling up to the set in her top-of-the-line BMW M3 that was outrageously expensive. As I recall, Alyssa was 16 at the time. She has lived a very privileged life for quite a long time now, and I'm happy for her, I truly am. Successful people inspire me. But she would do well to remember that all the people she is about to put out of work in Georgia with her sore loser, crybaby boycott don't own 6-figure fancy foreign sports cars, and work quite hard to put food on the table.
Hollywood Actors Threaten Boycott of Georgia After Kemp Victory
FROM THE TENNESSEE STAR: While Stacey Abrams acknowledged Brian Kemp would be the winner of the election, she refused to call her speech a "concession" because a "concession means to acknowledge an action is right, true, or proper."
Before Brian Kemp was certified as the official victor, actors were already threatening to boycott working in Georgia, a state with a large film industry that's been dubbed the Hollywood of the South.
GOV. NATHAN DEAL'S OFFICE SAID TUESDAY THAT TOTAL FILM SPENDING IN THE STATE TOPPED THE $2 BILLION MARK FOR THE FIRST TIME EVER IN THE 2016 FISCAL YEAR THAT ENDED JULY 31. TOTAL FILMING AND OTHER MOVIE AND TELEVISION PRODUCTION EXPENDITURES WERE UP NEARLY 19 PERCENT COMPARED TO BUDGET YEAR 2015 AND MORE THAN SEVEN TIMES THE FIGURE HOLLYWOOD SPENT IN GEORGIA IN 2008. SOURCE
The reaction from Hollywood comes after Abrams has continued to argue, without evidence, that Kemp purposely suppressed black voters while he led the Georgia Secretary of State's office. Abrams mounted several lawsuits over the election results and repeatedly declared she wouldn't admit defeat until every vote was counted.
Abrams has since responded to the calls for a boycott, saying that while she appreciates Hollywood's calls for action, she does not want them to hurt people who make a living in the state's film industry. Instead, the Democratic politician wants them to get involved in a new voting rights organization she is launching called "Fair Fight Georgia."
In a Sunday morning interview with CNN's Jake Tapper, Abrams refused to call Kemp a "legitimate" governor and claimed there was "a deliberate and intentional disinvestment and I think destruction of the administration of elections in the state of Georgia."
Abrams said during the interview that she plans on running for office again. READ MORE
836 views