For a publicity stunt as staged as the migrant caravan from Central America, one that one might have expected to have been carefully choreographed to advance their narrative of needy people with sob stories needing asylum, what does it say that all we see are military-aged young men, some with tattoos, illegally entering the U.S. under the Honduran banner and angrily flashing the middle finger in what might be their first moments in America?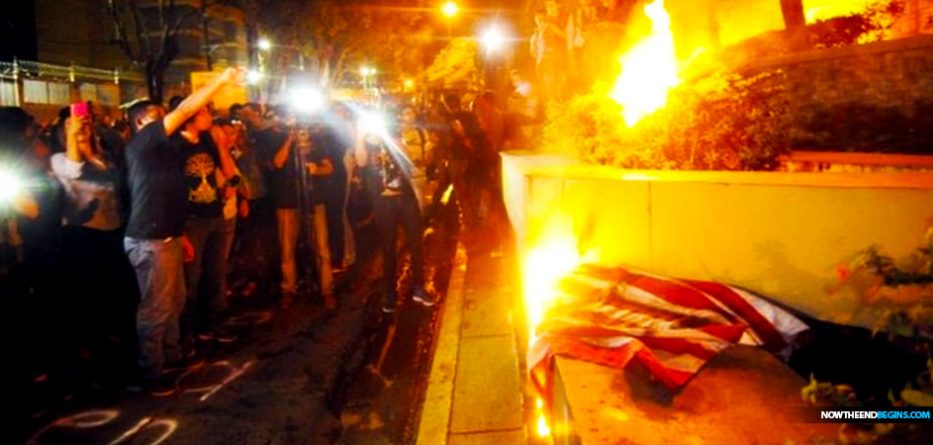 Buried in a News 8 broadcast from San Diego was footage of illegal migrants and their supporters on the U.S. side breaching the U.S. fence on the border, waving a big Honduran flag, victory-style, and whipping out a big middle finger at America.
As the migrant caravan gets closer to the US border, one thing becomes frightfully clear. These are not poor and needy, economically deprived people just looking for food, clothing and shelter. Not only that, women and children are conspicuously absent from this march north.
The vast number of people in the caravan are young to middle age men, and they are angry and they are hostile. In times past, a mob of men defiantly waving the colors of their nation and approaching on the border of a sovereign nation would have been seen as an act of war. At this point,  there can be no question that this migrant mob movement has been created as a disruption to the midterm elections, and I can only think of one person with enough money to make that happen. George Soros.
You do not need any other illustration to validate and justify our need to build a border wall than to simply turn on the news and watch this angry mob of migrants prepare to take our border by force.
FROM THE AMERICAN THINKER: In times past, arriving immigrants used to kiss the earth.  Today, they wave the middle finger at us.  Look at these photos, both from News 8 and the CBS national report, rough and blurry, admittedly, showing just what that caravan was about in all its anti-American tenor, which frankly, should have been the lede to the story.
For a publicity stunt as staged as the migrant caravan from Central America, one that one might have expected to have been carefully choreographed to advance their narrative of needy people with sob stories needing asylum, what does it say that all we see are military-aged young men, some with tattoos, illegally entering the U.S. under the Honduran banner and angrily flashing the middle finger in what might be their first moments in America? READ MORE
Views: