via Sid Verma
HSBC's famed bond bull Steven Major has a bearish warning as short-term dollar funding costs swell to levels last seen in the financial crisis.
The Federal Reserve's monetary tightening will increase yields on Treasury bills further and weigh on financial conditions, testing appetite for assets sensitive to the discount rate, he says.
"Higher Treasury bill yields will pull other private-sector rates upwards," Major, the global head of fixed-income research at HSBC Holdings Plc, wrote in an email to Bloomberg. "The funding markets are starting to anticipate this."
Those markets will be challenged as yields on Treasury bills hit 2 percent within the next six months, according to Major, who correctly projected the record low in benchmark yields in 2016. Stock valuations will be tested along the way, he said.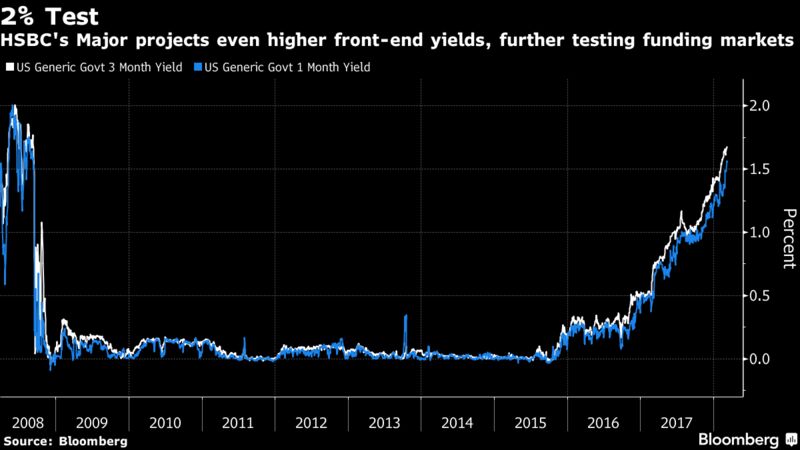 U.S. bill issuance has already risen by more than $250 billion this year — pressuring short-term yields — since lawmakers last month resolved their impasse over the nation's debt ceiling.
Treasury supply is also poised to rise further as the Fed winds down its balance sheet. At the same time, the spread between Treasury bills and the interest rate on two post-crisis monetary tools is likely to tighten as the Fed normalizes monetary policy, said Major. That is, the rate on excess reserves held by banks at the Fed and the reverse repo facility, which is primarily aimed at money-market funds.
As the yield on Treasury bills "will be close to the IOER paid on reserves by the Fed there will be an interesting challenge for asset markets," HSBC's fixed-income guru wrote in a report earlier this week. "Treasury bills have started to directly compete with private sector short rates for the first time in a decade."
LONG BULL
There's one quantum of solace for those fearful of a looming Treasury test: Major remains a bull on the longer end of the curve, thanks in part to structural forces, demographics and capital flows. HSBC reckons 10-year benchmark yields will consolidate within a 2.70 to 2.95 percent range this month, while the two year will stay within a 2.15 to 2.25 percent band.
That sanguine projection isn't stopping him sounding the alarm that higher front-end yields in the world's largest bond market could undercut risk appetite, akin to fears that spurred the February rout.
"Our view is that the correction in risky asset markets should be taken as a warning of what could follow," Major wrote in the report. "Historical correlations between asset classes are unlikely to be stable as the global economy adjusts for the normalization of unconventional monetary policy."
574 views