via Sven Carlin:
Summary
Even if HTHT's stock is already 37% below its 52-week high, there is more room to fall. Its valuation is stretched when compared to its outlook and competition.
Both Huazhu and its competition have big growth plans. Expansion within a market with low occupancy rates should improve margins.
Red flag: using a loan of $550 million to buy stocks is a risky move.
Huazhu Group Limited (HTHT) is a very tempting stock. Who wouldn't want to own a Chinese hospitality stock operating in a market that is growing at 15.9% per year.
Figure 1 The Chinese travel market is growing at a faster pace than the Chinese retail market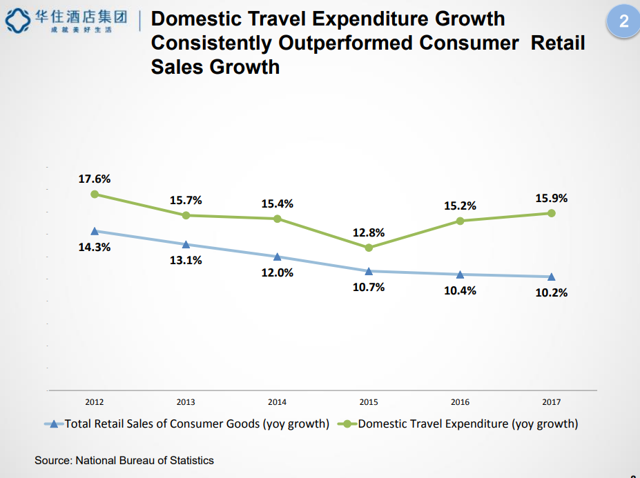 Source: HTHT Company presentation
In line with the above image, HTHT has seen revenue growth of 26% in the last quarter. Unfortunately, not all that shines is gold.
The video contains the following:
(0:52) – Company overview where I explain its business model, growth story and discuss its core business.
(2:29) – When a company from China, takes a $550 million loan to buy a 4.5% stake in a French hotel company from the open market, you have to be worried.
(3:55) – I created two small earnings models to see what kind of growth and valuation would justify the current stock price.
(4:40) – Comparing HTHT with Shanghai Jin Jiang Group (OTC:SJJIY).
The video ends with a discussion of the risks from low occupancy rates and one on the fair value of HTHT and what could be a possible short strategy. Enjoy the video.
Disclosure: I/we have no positions in any stocks mentioned, and no plans to initiate any positions within the next 72 hours.
I wrote this article myself, and it expresses my own opinions. I am not receiving compensation for it. I have no business relationship with any company whose stock is mentioned in this article.
Additional disclosure: This article was provided for informational purposes only. Nothing contained herein should be construed as an offer, solicitation, or recommendation to buy or sell any investment or security, or to provide you with an investment strategy. Nor is this intended to be relied upon as the basis for making any purchase, sale or investment decision regarding any security. Rather, this merely expresses my opinion, which is based on information obtained from sources believed to be accurate and reliable and has included references where practical and available. However, such information is presented "as is," without warranty of any kind, whether express or implied. The author makes no representation as to the accuracy, timeliness, or completeness of any such information or with regard to the results to be obtained from its use should anything be taken as a recommendation for any security, portfolio of securities, or an investment strategy that may be suitable for you.
Editor's Note: This article discusses one or more securities that do not trade on a major U.S. exchange. Please be aware of the risks associated with these stocks.
583 views