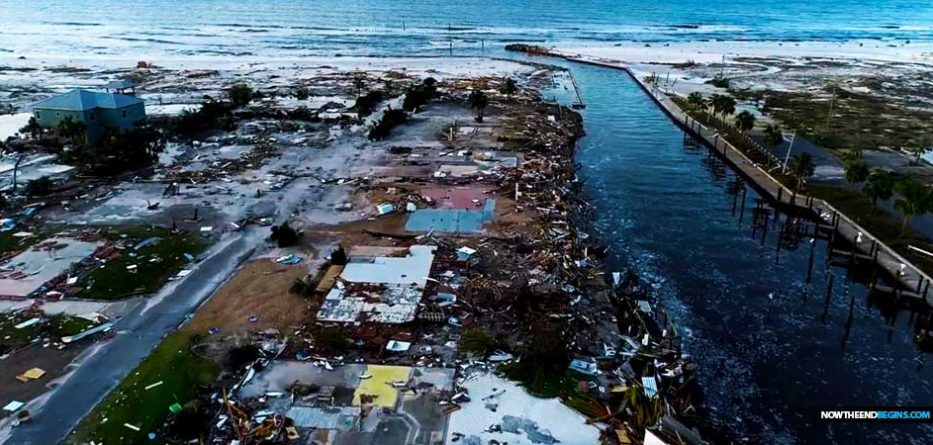 Incredible footage from the eye of Hurricane Michael has emerged as the Category 4 storm battered Florida's Panhandle with one of the most powerful hurricanes ever to strike the U.S. mainland, leaving at least five people dead and blitzing every home in its path.
Hurricane Michael spent a very short time as a hurricane in the Florida Panhandle, roughly only about 24 hours or so. But in that incredibly short time, Michael did damage on a scale akin to a bomb going off. Nearly the entire town of beautiful Mexico Beach was flattened to an unrecognizable war zone.
Pray for the people of the Panhandle as they struggle to deal with the still-rising surge levels, and the first responders trying to restore some semblance of order and safety.
FROM DAILY MAIL UK: Hurricane Michael was downgraded to a Tropical Storm on Thursday as it took its drenching rains to Georgia and the Carolinas – just one day after unleashing deadly fury on Florida with its 155 mph winds.
The Air Force Reserve Hurricane Hunters filmed their aircraft flying directly into the eye of the 'monstrous' storm as it was making landfall on the small tourist town of Mexico Beach on Wednesday afternoon.
The footage showed a rare pilot's view of the eye wall and revealed a breathtaking stadium-like effect set again the clear sky.
"The surge came in and when it did…it picked the houses up and just destroyed them and just brought them to where we were." A Florida man describes the destruction caused by #HurricaneMichael. @ShepNewsTeam t.co/O437yinOOM pic.twitter.com/ozbpf2TVkQ

— Fox News (@FoxNews) October 11, 2018
But down below, Michael was shattering buildings, bringing down power lines and ripping out trees as it crashed ashore and caused deep seawater flooding with storm surges as high as 14-feet in some areas of Florida's Gulf coast.
Hurricane Michael devastation in Panama City, Florida seen in drone video, photos t.co/iZhqGBD7R2 pic.twitter.com/5UUn4u6utM

— Fox News (@FoxNews) October 11, 2018
Search-and-rescue teams fanned out across the Florida Panhandle to reach trapped people in Michael's wake on Thursday as daylight yielded scenes of rows upon rows of houses smashed to pieces.
At least six deaths were blamed on Hurricane Michael, including Sarah Radney, an 11-year-old girl in Seminole County, Georgia, who died after a tree fell on her home. A man in Greensboro, Florida was also killed when a tree crashed through his home and trapped him. Three other people also died in Florida and a man was killed in his car in North Carolina. READ MORE
Aerial view of devastation at #MexicoBeach, Fl caused by #HurricaneMichael

Courtesy LSM/Brandon Clement pic.twitter.com/hqHTdkOz2E

— ABC 33/40 News (@abc3340) October 11, 2018
1,459 views