via Steven Hansen
Summary
The Consumer Price Index released this week shows core inflation running at 2.1% with the CPI-U at 2.5%.
The GDP price index showed inflation at 2.8%.
As inflation now is above the Fed target of 2.0% – what is next?
It does appear that inflation has finally reached the Federal Reserve target of 2%. The Fed has believed its actions should have caused this feat many years ago (as evidenced in the past FOMC meeting minutes). But the real question is where inflation is going from here.
By historical standards, 2% inflation is rather mild – but compared to the extremely low inflation since the Great Recession, 2% is a big deal. The San Francisco Fed writes there are two types of inflation:
Demand-pull inflation occurs when aggregate demand for goods and services in an economy rises more rapidly than an economy's productive capacity…

Cost-push inflation, on the other hand, occurs when prices of production process inputs increase. Rapid wage increases or rising raw material prices are common causes of this type of inflation…
There is no evidence of demand-pull factors triggering inflation. Look at personal consumption expenditures.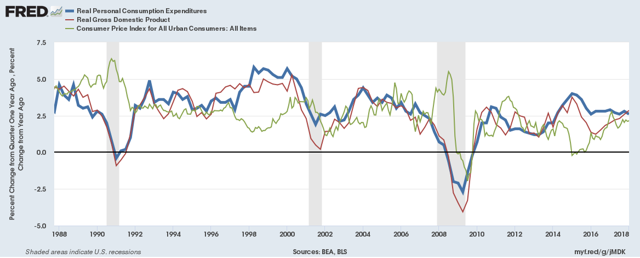 There is no evidence:
That the consumer's appetite for goods and services (blue line on above chart) has accelerated over the last 3 years; or,
that the rate of growth is any higher than other economic expansion cycles; or,
that the relationship of consumer spending to GDP has significantly changed.
Eliminating demand-pull as the cause of inflation would mean that what is being experienced is cost-push inflation. There is little evidence that wages are driving a cost-push cycle even though wages are in a very modest upward trend.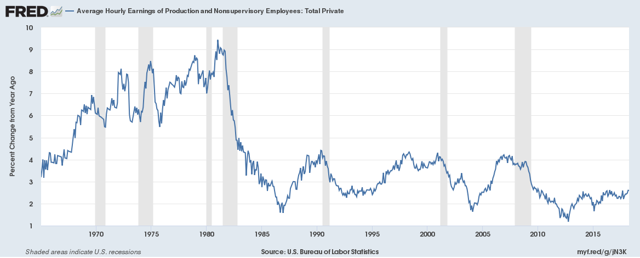 But materials prices seem to be affecting inflation. From this week's Producer Price Index: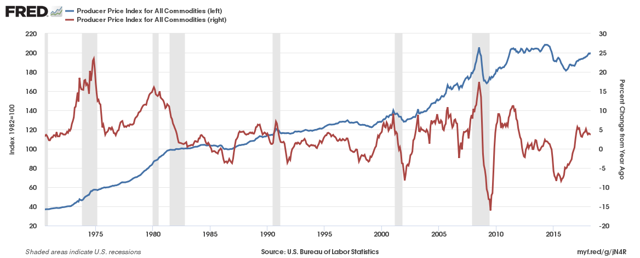 The red line on the above chart (which shows the year-over-year commodity price growth) shows no real recent change in the rate of growth of commodity prices – BUT commodity price growth is running at nearly twice the rate of inflation for over the past year. At some point, the price increase of materials begins to affect prices. The outlook is for continued strength in commodity prices. From Bloomberg:
Less than three years into a recovery, commodities are gaining momentum vs. the decade-long rally in stocks. Favorable demand vs. supply and a multiyear price decline vs. bottoming equity-market volatility from the lowest in decades should continue to favor commodities … Despite a sharp recovery in the dollar, commodities' divergent strength in April indicates their outperformance vs. equities and bonds should accelerate. The 2018 increase of about 3% through April vs. a flat S&P 500 may be just the beginning as the Bloomberg Commodity Spot Index plays catch-up with stocks.
One last point, there has been a commodity price spike leading into most recessions. Commodity price increases are usually the last hurrah in an economic or business cycle.