In our market wrap note yesterday, we said that the Chinese Yuan surged to its strongest against the dollar since June 2018, rising above 6.50, and was now "at a critical level that has prompted volatility-inducing devaluations in the past."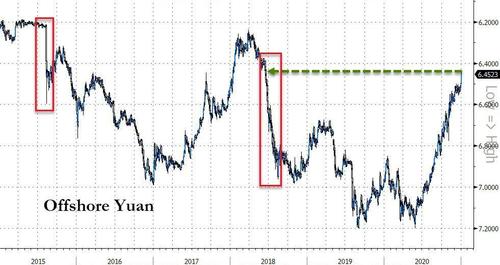 This was only the latest time in the past few weeks we have speculated that the recent surge in the dollar has put Beijing in the very unpleasant position of being forced to decide just how it will let some steam out of the soaring yuan, which is rapidly becoming a lead deflationary anchor dragging down the broader Chinese economy.
We didn't have long to wait to get a very clear signal that Beijing is now actively contemplating a devaluation. In fact, it took just a few hours for China's yuan to abruptly erase its overnight advance in a move early on Tuesday, when big state banks were seen suddenly dumping the yuan for the first time in years.
The yuan erased a gain of about 0.5% within an hour in late morning trade, and was at 6.4577 per dollar as of 2:21 p.m. in Shanghai. As Bloomberg first reported, the move came as a few big Chinese state banks actively offloaded the currency against the greenback after the yuan hit 6.43. Bloomberg was also kind enough to provide a translation for the cheap seats: "while the lenders could be taking profits on long-yuan positions, they could also be acting on behalf of the authorities to rein in the appreciation."
www.zerohedge.com/markets/china-about-devalue-yuan-local-banks-start-dumping-yuan