Link to the report: www.instituteforsupplymanagement.org/ismreport/mfgrob.cfm?SSO=1
If anyone was wondering why the market dipped again after 10AM here's why. Trade policy concerns and supply chain impacts are being cited as some of the largest reasons for slowing orders and leaner inventories. This is one of the indicators the FOMC is going to be looking at when they make their next rate decision and this is the first time this particular indicator has been in contraction territory in years.
www.bloomberg.com/news/articles/2019-08-30/u-s-consumer-sentiment-falls-most-since-2012-on-tariff-concern
U.S. consumer sentiment fell the most in six years, slumping to the lowest level of Donald Trump's presidency as Americans expressed concern about how his tariffs will affect the economy.
The University of Michigan's final sentiment index fell to 89.8 in August from a previously reported 92.1 and 98.4 in July, data showed Friday. The gauge of current conditions dropped to the lowest since October 2016, while the expectations index matched January as the weakest since that same period.
The data follow somewhat mixed consumer sentiment readings. The Conference Board's confidence measure eased in August but posted the best assessment of current conditions since 2000. Bloomberg's weekly comfort gauge rose for a second week, while the monthly expectations saw more Americans reporting the economy's getting worse.
Separately Friday, data showed U.S. personal spending accelerated more than expected in July, indicating household consumption remained solid at the start of the third quarter.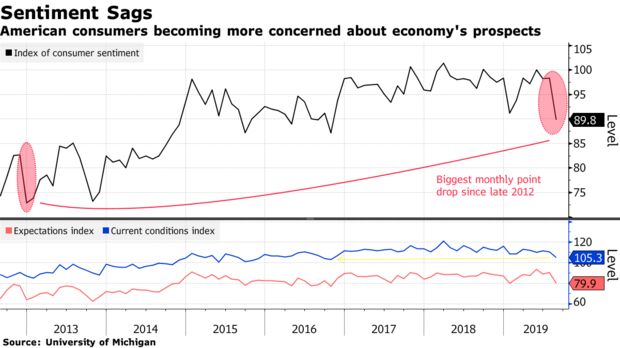 838 views