It all became real the summer before my senior year of college. It was 2010, and my home phone still had a cord, which I wrapped around my fingers as I waited not-so-patiently for the apathetic representative on the other end to tell me the bad news about my student loan debt. My father was in front of me, his typically ruddy face redder than usual. "A 9.25 percent interest rate?" he yelled, "How can you put that on a kid?" It was clear he was worried, and he had every right to be — as the cosigner of my loans, my debt would be his responsibility, too.
The loan, ironically called a "Smart Option" loan, has a variable interest rate that fluctuates based on changes in the financial market — which may have been explained to me at the time (I truly don't remember), but I know I didn't fully grasp what that meant. Either way, neither of my parents wanted me to take it — I could tell that much. My mother didn't even have to say it, as she sat wordlessly next to me on the couch. Like most working-class parents, she couldn't fathom paying more than $30,000 a year for my education (let alone $60,000). My father, an electrician who worked nights driving Amtrak trains to put himself through trade school, only earned his associate's degree in his mid-30s. My mother held a few random part-time jobs over the years while she devoted herself to raising my brother and me, but she never graduated from high school. The concept of attending a private college, let alone paying for it, was completely foreign to them. They wanted me to chase something bigger than they ever had access to. They just didn't want "bigger" to mean drowning for the next 20 years in an all-consuming pile of debt.
At this point in my education, after two years of private college (and one in a public university), I had already taken out eight substantial loans totaling over $67,000, whose repayment I hadn't even begun to contemplate. Knowing how much debt I had already amassed, my father tried to impress upon me the difference between this new loan and all of the others I had already taken out — whose average interest rate meted out to a little under 6 percent — and why this loan would be harder to pay in a sea of already-hard-to-pay debt. I knew racking up one more loan and another $24,000 wasn't ideal, but what was the alternative? Dropping out? Transferring to a new school and hoping my credits would translate? Leaving all the relationships I had cultivated with students and professors alike behind? So I chose to take the loan. In my final year of college, with my back against the wall, Sallie Mae made me an offer I did not know how to refuse.
Now, eight years later, that loan — one of nine that left me $95,000 in debt upon graduation (because, yes, interest does accrue while you're in school) — very clearly marks the exact moment when I lost control of my own financial destiny.
According to a February 2018 study published by the Levy Economic Institute, a nonpartisan policy think tank at Bard College, there are 44.2 million Americans with student loans, which adds up to about $1.4 trillion in debt. There already exists a myriad of research-driven articles that wax on the impact of the student loan crisis on the future of this country(screwed), our economy (broken), and the weight of the loan crisis(crippling). Those are all important to read, but this story isn't one of them. I've learned that citing the national student loan debt totals in the trillions doesn't get across how this massive problem impacts us individually, in real life. So, I'd rather talk honestly about what it's like to live this… to explain in everyday dollars and cents how I get by living in a debt spiral, month to month, paycheck to paycheck.
When I was 18, I fully believed that taking out student loans was the only way to achieve my dream and my parents' dream for me — to transcend my working class upbringing. I was desperate and uninformed and, because of this, I entered into a dangerous relationship with a loan company that will last half my lifetime. Now, I'm finally facing up to the brutal details (after years of sticking my head in the sand) and learning the ins and outs of my debt — and the truth is mind-blowing.
I had no idea so much of the money I was paying did nothing but abate rising interest, barely touching the principal sum.
Part of the problem lies in how complicated it is to find that truth in the first place. Navient, as Sallie Mae's student loan division is now known after it splintered into two companies in 2014, doesn't make it easy to access the specific details of your loans; sure, it's online portal does have a tab that says "Loan Details," but inside that section, only the money you still owe is listed (not the money you've already paid).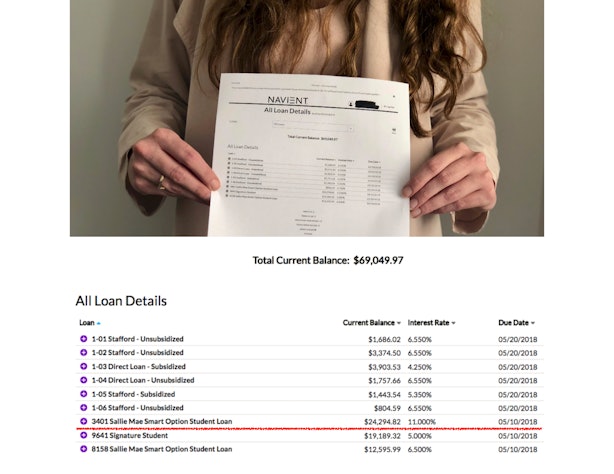 (You can also see here that the interest rate for that loan isn't 9.25 percent anymore. Because it's a loan with a variable interest rate, it's up to 11 percent — a fact I only learned when I called to ask why my monthly payments had increased. As my lender matter-of-factly loan-splained,"We're not legally required to disclose when we change your interest rate, as per the contract." I had missed that clause in the multi-page contract I signed when I was 20.)
In order to determine how much money you've actually paid to a loan, you have to browse your "Account History" and download a jumbled Excel file that's filled with extraneous details that don't make simple addition or subtraction easy. (That's if the files work at all — my browser crashed repeatedly for weeks just trying to get this information. When I called Navient to report this, they offered to mail me the details, which they said would arrive within 18 days.)
Maybe it's technically difficult to list what a client has paid thus far on that details page… or maybe that information made readily available and visible to the world would catapult most borrowers into fits of rage. It's hard to tell, and my repeated calls to Navient media reps for comment received no reply. No matter why it's so difficult to find, the truth behind my payments and how they were allocated stopped me dead in my tracks. I had no idea so much of the money I was paying did nothing but abate rising interest, barely touching the principal sum.
504 views