From Bloomberg:
Nomura Instinet analyst Romit Shah downgraded Tesla Tuesday to neutral from buy in a note titled "No Longer Investable." The note to clients starts by pointing out that previously he's been one of the biggest bulls on the Street since initiating coverage last October.
Shah slashed his price target on the company to $300 from $400 citing the "erratic behavior of CEO Elon Musk." Among Shah's concerns: The increasing number of Musk tweets per day, his cave diver accusations, his outburstson an earnings call, his taunts of short sellers and his appearance on Joe Rogan's podcast.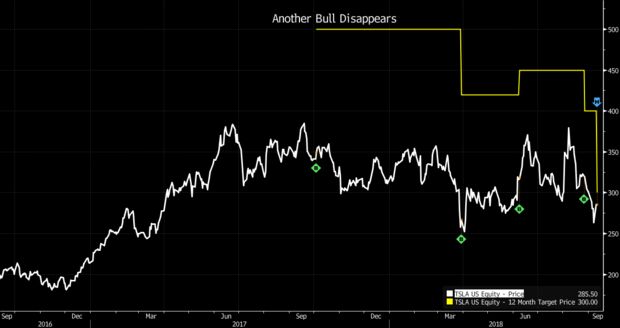 Shah continues to believe that Tesla can out-innovate the competition and that the company may eventually be much bigger than it is today, but says it's better to remain on the sidelines until the company has better leadership. Tesla shares have lost over 20% of their value since early August in the wake of Musk's "funding secured" tweet.
Tesla fell as much as 4.2% to $273.64 at 11:35 a.m. in New York. The stock is pointing to a decline for September, hasn't seen back-to-back monthly gains since December and January, and is off almost 30% since hitting the $385 all-time high almost a year ago.
1,236 views