Summary
Manhattan home sales fell the most since 2009 as Bloomberg reports.
Sales of condo's and co-ops fell 25% in Q1 2018 compared to Q1 2017.
It is unclear whether the drop is related to the tax plan or a broader economic slowdown.
2017 also showed a drop in sales volume which makes the case that this is tax related harder to swallow.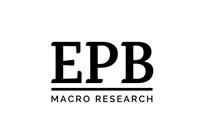 MANHATTAN HOME SALES TUMBLE
Bloomberg News reported (click here) that home sales in Manhattan plunged by the most since the recession, falling 25% in terms of volume compared to one year ago.
Appraiser Miller Samuel Inc. and Douglas Elliman Real Estate compile a report that showed sales of condos and co-ops in New York fell 25% in the first quarter of 2018.
Manhattan Home Sales Volume Year over Year: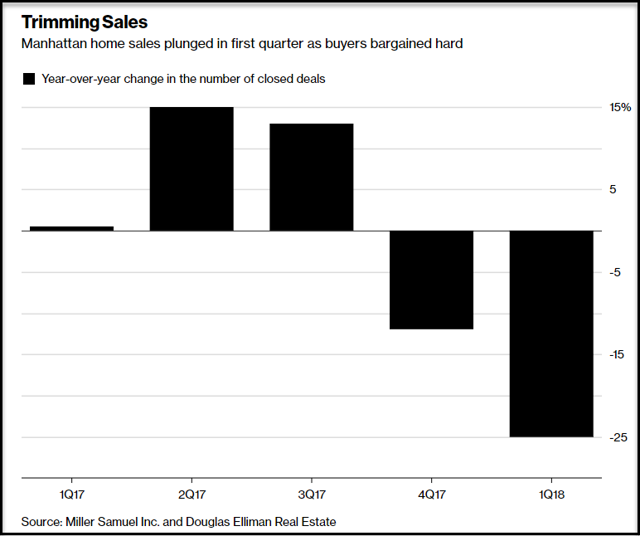 Source: Bloomberg, Miller Samuel Inc., Douglas Elliman Real Estate
The impact of the removal of the SALT deduction was a clear negative to New York real estate given the high state and local taxes. The fourth quarter of 2017 and the first quarter of 2018 show a decisive move towards a slow down in real estate for New York.
The slowdown is clearly related to the tax change but is there an underlying economic weakness that is contributing to the magnitude of the decline? I'd submit the answer is yes and you can find a detailed analysis of my economic view in many of my recent articles (click here).
What is very critical is that Bloomberg reported, " The drop in sales spanned from the highest reaches of the luxury market to workaday studios and one-bedrooms."
This is a broad-based slow down in NYC real estate.
The median sales price of all sales in NYC that closed in Q1 of 2018 was $1.095 million, down over 5% compared to one year ago.
Looking for other data to corroborate the slowdown, the well trusted Case-Shiller report on home prices also provides a look at volume trends.
The latest data for the Case-Shiller report is for January 2018 which shows a drop of nearly 12% in the volume of home sales in NYC.
Home Price Sales Pair Count Year over Year New York, New York: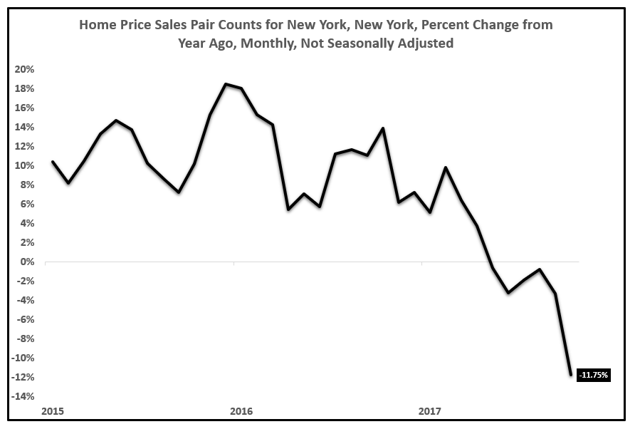 Source: S&P, Dow Jones, EPB Macro Research
The Case-Shiller report also shows a plunge down to -6.27% for Condo sales growth in NYC.
Condo Price Sales Pair Count Year over Year New York, New York: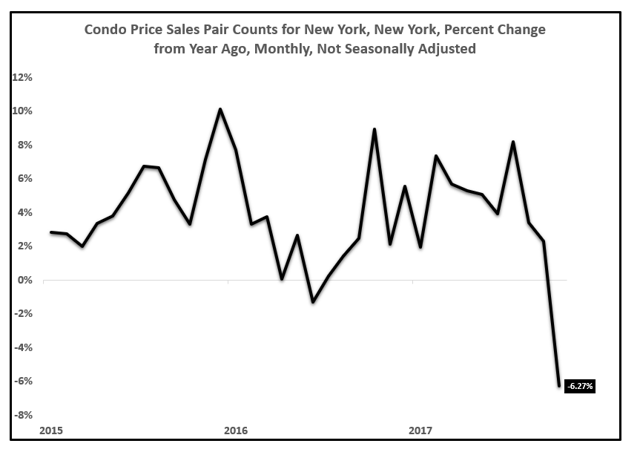 Source: S&P, Dow Jones, EPB Macro Research
Based on the report from Miller Samuel Inc. & Douglas Elliman Real Estate, the trend in the Case-Shiller report should start moving lower in terms of volume and prices.
Home prices are the last positively trending data point for the housing market in the United States. If the price growth trend rolls over and starts to meaningfully decelerate as this report suggests it will, homebuilding stocks (ITB) and other home goods related stocks such as (HD) will start to decline.
Home Depot (HD) is down 16% from January 26th compared to 9% for the S&P 500 (SPY) over the same time period.
Housing stocks are starting to take note of this pending slowdown in real estate.
For a full analysis of the real estate market in the United States, read my latest blog post by clicking here.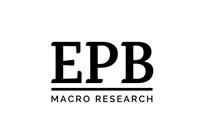 1,900 views