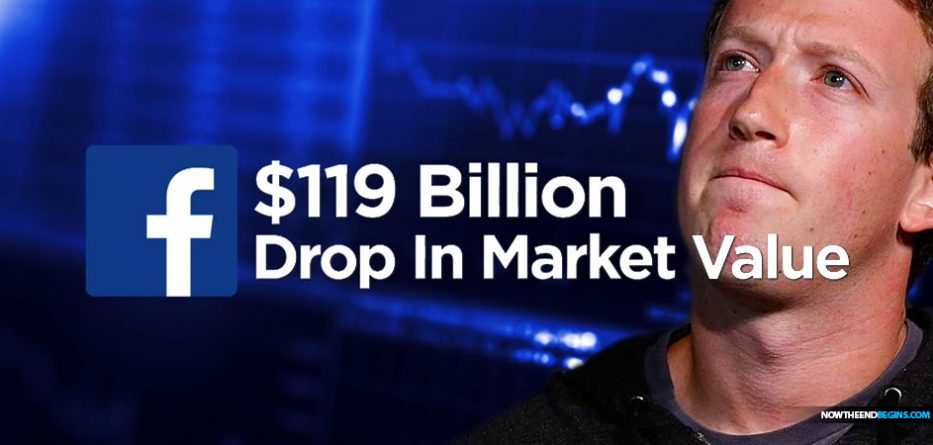 Facebook is in real, serious trouble, and it just set the record for the biggest one day stock loss in American history. And it couldn't have happened to a nicer guy.
Facebook's growth has been nothing short of absolutely amazing, and its fall is threatening to equally spectacular. After years of doing whatever he felt like, whenever he felt like doing it, Mark Zuckerberg is helplessly watching his cash cow Facebook publically imploding.
From humble beginnings as the stalker-friendly FaceMash, to its present day status as the 800lb gorilla of the tech world, Facebook is the biggest game in town. But years of lying to their users, breaking promises, and selling their data is finally catching up to Zuckerberg. Combined daily active users in the wealthy U.S. and Europe slipped by about 3 million during the second quarter—the first decline since at least early 2014.
"And this is the writing that was written, MENE, MENE, TEKEL, UPHARSIN. This is the interpretation of the thing: MENE; God hath numbered thy kingdom, and finished it." Daniel 5:25,26 (KJV)
We are primarily funded by readers. Please subscribe and donate to support us!
---
Sensing real trouble, Facebook founder Mark Zuckerberg has sold over $3.5 billion of his stock in the company since the most recent scandals began back in March. The handwriting is on the wall, and he knows it.
FROM BLOOMBERG: Eight Facebook Inc. insiders combined to sell about $3.9 billion worth of stock since the Cambridge Analytica data-mining scandal first surfaced on March 17. The sales were part of pre-determined trading plans. Chief Executive Officer Mark Zuckerberg accounted for about 90 percent of the total, according to data from InsiderInsights.com, which analyzes such transactions. Most of Zuckerberg's sales are part of a plan announced last September to sell as much as 18 percent of his Facebook stock. Zuckerberg and wife Priscilla Chan pledged in December 2015 to sell most of their shares over time to invest in philanthropic causes. READ MORE
FROM CNBC: Facebook on Thursday posted the largest one-day loss in market value by any company in U.S. stock market history after releasing a disastrous quarterly report. The social media giant's market capitalization plummeted by $119 billion to $510 billion as its stock price plummeted by 19 percent. At Wednesday's close, Facebook's market cap had totaled nearly $630 billion, according to FactSet. No company in the history of the U.S. stock market has ever lost $100 billion in market value in just one day, but two came close. READ MORE
PERSONALLY, IT WOULD BE A SHAME IF FACEBOOK COLLAPSED COMPLETELY. IT IS A TREMENDOUS PLATFORM FOR CONNECTING AND ENGAGING WITH PEOPLE ON A GLOBAL LEVEL. NTEB HAS EXPERIENCE INCREDIBLE GROWTH BY POSTING OUR ARTICLES TO FACEBOOK ON A DAILY BASIS. BUT FACEBOOK IS A CRUEL MISTRESS AND SHE ALWAYS GETS HER POUND OF FLESH.
But it would not be a shame to see Mark Zuckerberg take a much-reduced role, or be removed from Facebook altogether. Maybe then Conservative and Christian news publishers will stop being banned simply because we are Conservatives and Christians.
Views: