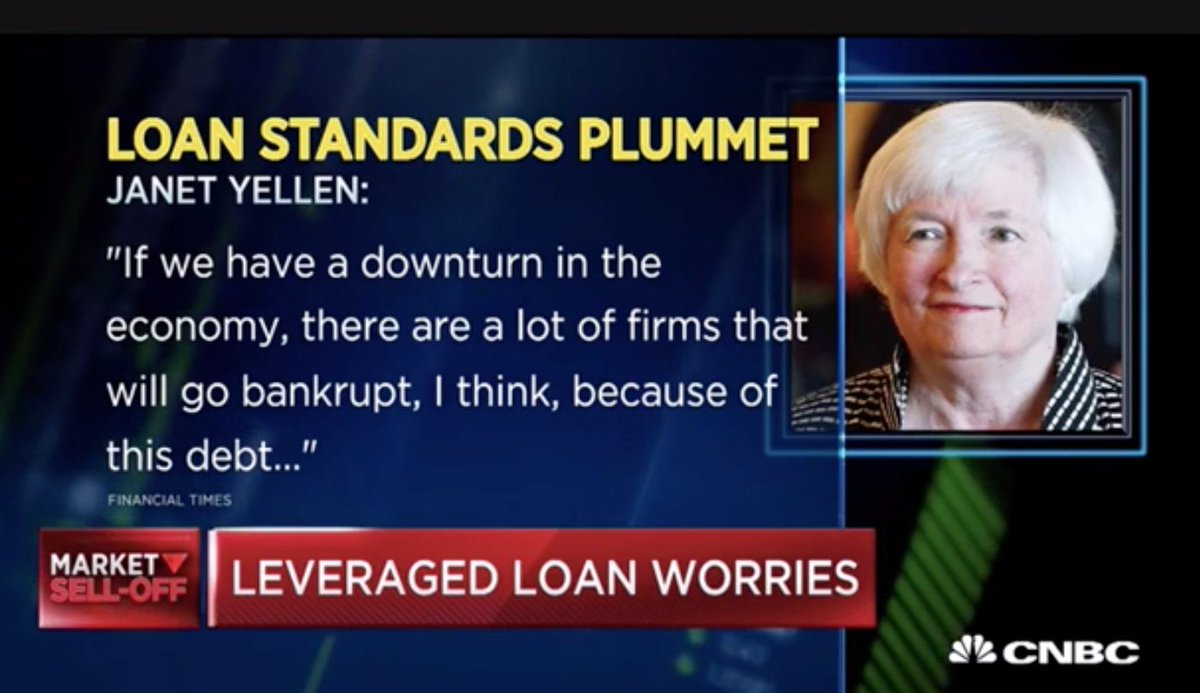 via CNBC:
Covenant quality, or the protections lenders get in the leveraged loan markets, reached a historic low in the third quarter.
Former Fed Chair Janet Yellen warned last month that investors in the space face dangers similar to what happened during the financial crisis.
Leveraged loan volume has now surpassed the $1.2 trillion junk bond market.
Investors in the kinds of corporate debt that former Fed Chair Janet Yellen warned about a month ago have never been more exposed, according to Moody's Investors Service.
Covenant quality, or the protections lenders get, reached a historic low in the third quarter, the most recent period for which data are available, according to an indicator the ratings agency uses. The reading sank to 4.16 on a scale that considers 1 the maximum protection and 5 the minimum.
"Lenders are exposed to greater risks than ever before," Derek Gluckman, senior covenant officer at Moody's, said in a research note with others. "Once again, our scores reflect weaker protections on a year-over-year basis in nearly every risk category we assess. Given the breadth and depth of covenant weakness, existing loans are in uncharted territory."
Leveraged loans are given to companies that already have high levels of debt versus capital and often have poor credit. So they're already risky, and the lack of strict covenants makes then even more so.
Retail investors pull another $1B from US #leveragedloan funds. That's 10 straight withdrawals = $18B pic.twitter.com/b4G1YIwkW2

— Leveraged Loans (@lcdnews) January 24, 2019
CNBC: The All-Important, Onion-Skin Difference Between "Investment-Grade" and "Junk" Debt
Investors are watching closely the bond market's "fallen angels," or those at the low end of the investment-grade scale in danger of being classified as junk.
Bad years for junk bonds are usually followed by strong years, but some strategists think this year could be an exception.
Despite concerns over corporate debt, money has been pouring into bond funds during the stock market's bout of volatility.
The riskiest part of the corporate bond market is off to a strong start in 2019. Investors, however, might not want to get too comfortable.
Instead, this could well be the year that "fallen angels," or former investment-grade debt that gets downgraded to speculative, shapes up as one of the more compelling fixed income stories and poses the greatest risk to a sector that has attracted considerable levels of investor cash.
Coming off a brutal 2018, high-yield bonds — junk, in the market vernacular — have started the new year with a bang. A popular play in the sector, the $14.8 billion iShares iBoxx $ High Yield Corporate Bond exchange-traded fund, has been one of the leaders in attracting investor cash, pulling in $1.18 billion in inflows this year.
This year's rebound comes off a December when the high-yield market dried up. Low-rated companies stopped issuing debt amid a freeze in market activity and a big drop in the stock market that reflected a general risk-off attitude.
Bond market pros are warning, though, that the more constructive atmosphere looks to be temporary and that worries over corporate debt will last through the year.
407 views