Two Dead after shots in the hall – offender tried, in synagogue to penetrate
In the case of shots in the hall, a man and a woman were killed. A suspect was arrested, the other perpetrators may still be on the run. Target the Jewish community was apparently.
www.spiegel.de/panorama/justiz/sachsen-anhalt-schuesse-in-halle-mindestens-zwei-tote-a-1290701.html
Halle (Saxony-Anhalt) – attack on the synagogue in Paul's district in Halle / Saale! At least two people were killed by the assassin Stephan Balliet (27) hung. Also explosives he placed in front of the building.
Hours the fact the police held in suspense, the SEC moved the main station in the hall was locked. In about 15 km away from Landsberg (saalkreis), shots fired. The village the village, a District of Landsberg, has been completely sealed off.
www.bild.de/regional/sachsen-anhalt/sachsen-anhalt-news/halle-anschlag-vor-synagoge-mindestens-zwei-menschen-erschossen-65233386.bild.html
Earlier in the day, the local police said that the attack left two people killed. According to the Bild newspaper, a hand grenade was also thrown at a Jewish cemetery.
Two people were killed after shots fired near a synagogue on Wednesday afternoon in Halle, Germany, according to the media outlet Bild.
German police said that one person has been detained after the shooting in Halle.
Unsere Kräfte haben eine Person festgenommen.

Bleiben Sie trotzdem weiterhin wachsam.

Wir sind mit starken Kräften in und um #Halle präsent und stabilisieren die Lage, bis alle Informationen gesichert vorliegen.#hal0910

— Polizei Halle (Saale) (@Polizei_HAL) October 9, 2019
sputniknews.com/world/201910091076996805-at-least-one-dead-in-synagogue-shooting-in-helle-germany—reports/
twitter.com/search?f=tweets&q=Landsberg&src=typd
twitter.com/search?f=tweets&q=Halle&src=typd
Two people have been killed in a shooting incident near a synagogue in the eastern German town of #Halle. One person was arrested. The attackers escaped in a car. A machine gun and a hand grenade were used in the attack. Shots were also fired in #Landsberg. t.co/xnGR106e0m

— Newsandopinion (@newsandopinion) October 9, 2019
#Halle pic.twitter.com/mFJ1DBZVHI

— ElisaDeAmicis 🌹 (@elisadeamicis1) October 9, 2019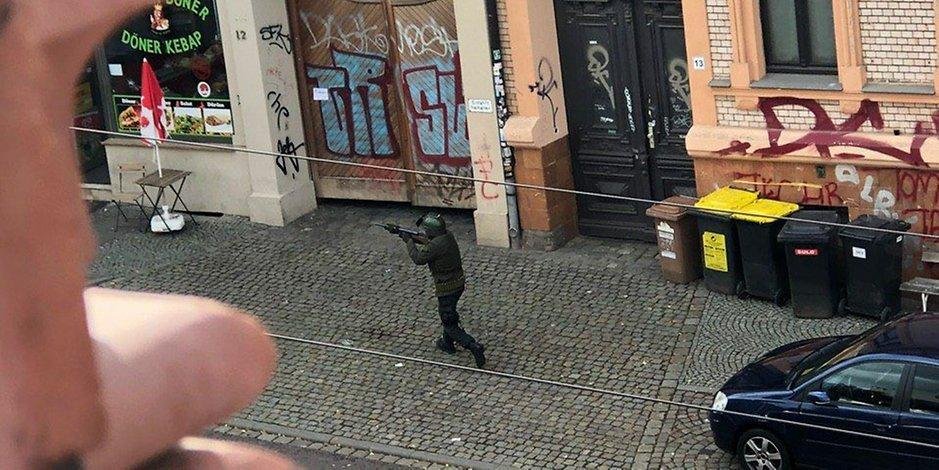 The perpetrators are said to have fired several shots with a submachine gun, shot a woman and injured several people. The shooters are said to be on the run and heading in the direction of Leipzig, according to the Bild, more shots have just been heard in Landsberg, the situation is ongoing.
Shooting near a synagogue in the German city of #Halle. Multiple attackers and with machine guns, some sources said at least 2 dead so far.
597 views