Even the cheapest homes are waiting for buyers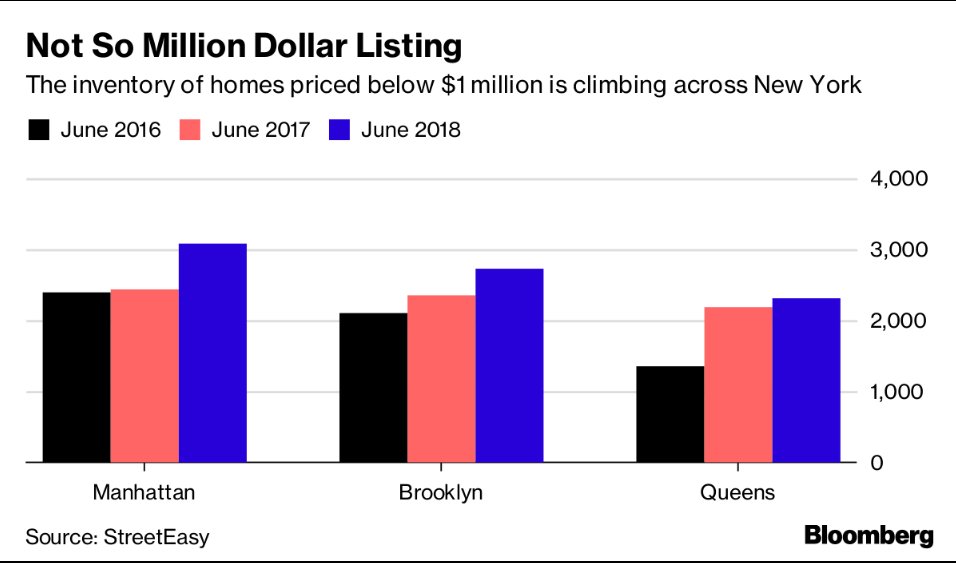 Units for less than $1 million — within reach of far more people than a Billionaires' Row penthouse — are hurting for buyers
It's not just luxury-home listings that are piling up in New York City. Even units for less than $1 million — within reach of far more people than a Billionaires' Row penthouse — are hurting for buyers.
In Manhattan, the inventory of sub-$1 million apartments surged 27 percent in June from a year earlier to 3,087, the most for the month since 2013, according to StreetEasy. Such listings jumped 17 percent to 2,738 in Brooklyn, and climbed 6 percent to 2,314 in Queens, a borough usually sought out for its relative affordability.
Buyers at all price points are taking their time to shop around for the best deal — if they make a purchase at all. When combined with listings over $1 million, Brooklyn and Queens both had the largest number of available homes for June since 2008, according to StreetEasy. Total inventory in Manhattan hasn't been this high for month since 2011.
California gains just 800 jobs in June; unemployment remains at record low
California's economic engine paused in June, as employers added a meager 800 new jobs. The unemployment rate held steady at a record low of 4.2%, according to data released Friday by the state's Employment Development Department.
The June numbers represent a pullback from May, when the Golden State added 7,200 jobs. And the gains in May were much smaller than April, when employers boosted payrolls by nearly 26,000.
The slowdown could signal that California is simply reaching full employment. Employers are struggling to find workers. Or it could be a sign of sagging confidence among executives. A growing trade war with China, for example, has unnerved companies in California's logistics industry and beyond.
Economists, however, cautioned against reading too much into one or two months of data.
Lynn Reaser, chief economist of the Fermanian Business and Economic Institute at Point Loma Nazarene University, said June's disappointing figures "warrant attention" and could be a sign of uncertainty around trade. But they are not cause for "undue alarm at this point."
"June's weak performance could be temporary," she said in an email.
Others said it was too early to see effects from the tariffs the Trump administration has placed on Chinese goods. An initial levy on $34 billion of Chinese goods, along with countermeasures by China, took effect in July following months of tariff threats and saber-rattling between the world's two largest economies. More tariffs have been threatened.
879 views