By Michael Snyder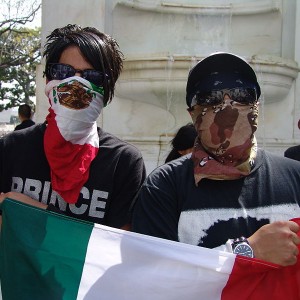 Instead of making sure that U.S. employers are not hiring illegal immigrants, the Obama administration has actually signed a secret deal with Mexico to protect "the rights" of illegal immigrants in the workplace.  According to this "memorandum of understanding", the Equal Employment Opportunity Commission will spend U.S. taxpayer dollars to educate illegal immigrants about their civil rights, workplace safety, and minimum wage laws.  This is yet another example of how the Obama administration is openly flouting the law and doing all that it can to promote even more illegal immigration.  We are rapidly becoming a lawless nation that has absolutely no regard for the rule of law, and it all starts with the horrendous example that is being set at the very top.
I was absolutely stunned when I first heard about this new agreement.  How in the world can the U.S. government promise to assist illegal immigrants in the workplace?  This deal probably breaks a whole bunch of existing immigration laws, but nobody is doing anything about it.  The following is an excerpt from the press release about this new deal…
The Miami District Office of the U.S. Equal Employment Opportunity Commission (EEOC) entered into a Memorandum of  Understanding (MOU) in Orlando today with the Consulate General of Mexico in  Miami and Consulate of Mexico in Orlando.  The agreement establishes an ongoing collaboration between these  entities to provide Mexican nationals with information, guidance, and access to  resources on the prevention of discrimination in the workplace regardless of immigration status.  Mexican Consul Efran Nicolas Leyva Acevedo of Orlando and Miami District Office Director Malcolm S. Medley signed the agreement.  Acting  Mexican Consul General Vladimir Hernandez Lara of Miami signed the document  prior to the meeting today.
"By signing this Memorandum of Understanding today with the Mexican Consulate, we of the EEOC's  Miami District have solidified our continued and longstanding commitment to this underserved community," said Medley.  "This agreement provides the opportunity for on­going education, outreach and service  by the EEOC to Mexican nationals in our area.  We look forward to a long-lasting and significant partnership."
Under the terms of the MOU, the EEOC will expand its relationship with these two consulates by providing them with Spanish-language materials explaining the laws enforced by the federal agency.  In addition, the EEOC will partner with consulate  offices to provide information and training to areas of the state where migrant farm workers and other Mexican nationals live and work.
And of course this comes at a time of high unemployment for U.S. citizens and at a time when wages are being driven down by competition from illegal immigrants inside this country and by competition from foreign workers overseas.
Unfortunately, the Obama administration does not seem to care about that.  What is important to them is the radical political agenda that they are relentlessly pursuing.
The following is what former police detective Iris Aquino had to say about this agreement…
"In other words, the Obama administration has been siding with — and protecting — lawbreakers, while persecuting and prosecuting American business owners, who in the past administrations were denigrated and even arrested for hiring — or harboring — illegal aliens"
But of course this is not the first time the Obama administration has done this sort of thing.  Over the years the Obama administration has made it abundantly clear that it is on the side of the illegal immigrants.  In fact, the Obama administration has even gone after employers that require their employees to speak English in the workplace even though federal law permits them to do so…
Although federal law allows employers to require English on the job, a national healthcare firm will dish out nearly half a million dollars to settle a discrimination lawsuit in which the U.S. government alleges Hispanic workers were punished for speaking Spanish.
Filed by the federal agency that enforces the nation's workplace discrimination laws, the Equal Employment Opportunity Commission (EEOC), the suit accuses Skilled Healthcare Group Inc. of enforcing an English-only rule against Hispanics. The firm operates nursing homes and assisted living facilities in Western and Southern states and the government says Hispanic employees were harassed for not speaking English.
And the Obama administration has also tried to do all that it can to get more immigrants enrolled in federal welfare programs.  In fact, the government actually has a website that teaches immigrants how to sign up for welfare programsonce they arrive in the United States.  On WelcomeToUSA.gov, immigrants are encouraged to sign up for all of the "government benefits" that they are eligible for.  Here is an excerpt from that page…
Depending on your immigration status, length of time in the United States, and income, you may be eligible for some federal benefit programs. Government assistance programs can be critically important to the well-being of some immigrants and their families. Frequently, however, there is a lack of information about how to access such benefits. Benefit programs can be complicated and you may be given misleading information about how they operate.
But illegal immigrants are not supposed to be eligible for welfare programs such as food stamps, right?
Technically yes, but the Obama administration has widely distributed materials that inform illegal immigrants that their immigration status will not be checked by government officials when they apply for food stamps.
How bizarre is that?
And not only is the Obama administration doing all that it can for illegal immigrants, it is even stopping state governments from enforcing our immigration laws.  In fact, the Obama administration actually took the state of Arizona to court to keep them from cracking down on illegal immigration.
Meanwhile, illegal immigration continues to have a very negative effect on thousands of communities all over the United States.  If you doubt this, please see my previous article entitled "19 Very Disturbing Facts About Illegal Immigration That Every American Should Know".
So what do you think about all of this?
Do you believe that the Obama administration should be helping illegal immigrants in the workplace?
Please share what you think by posting a comment below…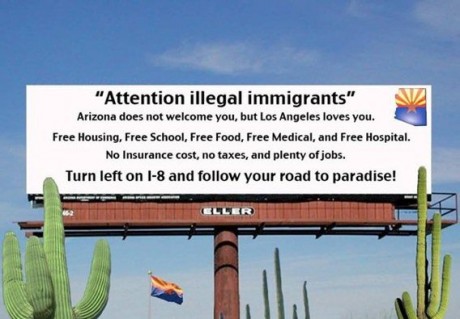 Views: