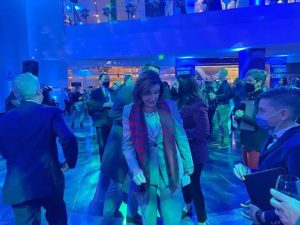 Rules for thee, but not for me! Nancy Pelosi, who wants to muzzle everyone, was spotted at a public event hosted by the California State Society without a mask. All children over the age of 2 were forced to wear masks, but the law did not apply to Pelosi. In fact, she was seen giving children fist bumps instead of handshakes while standing inches away from them. These politicians truly think we are dumb. Pelosi's barefaced appearance comes just days after President Biden requested the public begin wearing masks again due to the omicron variant. "Sooner or later we are going to see cases of this new variant here in the United States," Biden said days before omicron was detected in America. "Please wear your mask when you're indoors, in public settings around other people."
Pelosi knows the rules she helps to impose on others do not apply to her. She enjoys wearing masks on the House floor that match her pantsuits but has been seen disobeying mandates numerous times. Last year, after the state of California closed down all salons, Pelosi visited one without a mask to style her hair. "It was a slap in the face that she went in, you know, that she feels that she can just go and get her stuff done while no one else can go in, and I can't work," the salon owner told reporters. "We have been shut down for so long, not just me, but most of the small businesses and I just can't – it's a feeling – a feeling of being deflated, helpless, and honestly, beaten down," she continued. Pelosi's people responded by saying the salon had a special permit and rules that only applied to one individual in the entire state.
If Pelosi believed that masks would prevent her from contracting the virus, she would wear one. She is 81-years-old and in a high-risk demographic. Anyone who calls others "anti-mask" or "anti-vax" does not understand that the people imposing these restrictions do not believe in what they are selling.