Significant shares of Facebook users have taken steps in the past year to reframe their relationship with the social media platform.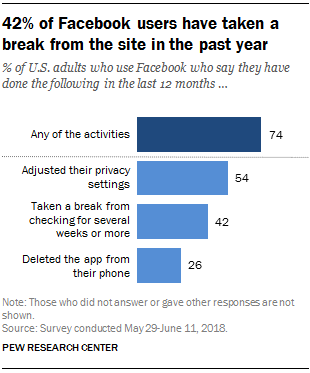 Just over half of Facebook users ages 18 and older (54%) say they have adjusted their privacy settings in the past 12 months, according to a new Pew Research Center survey. Around four-in-ten (42%) say they have taken a break from checking the platform for a period of several weeks or more, while around a quarter (26%) say they have deleted the Facebook app from their cellphone. All told, some 74% of Facebook users say they have taken at least one of these three actions in the past year.
The findings come from a survey of U.S. adults conducted May 29-June 11, following revelations that the former consulting firm Cambridge Analytica had collected data on tens of millions of Facebook users without their knowledge.
www.pewresearch.org/fact-tank/2018/09/05/americans-are-changing-their-relationship-with-facebook/
Sandberg's New Job Is to Fix FACEBOOK Reputation — and Her Own…
Facebook Inc. Chief Operating Officer Sheryl Sandberg was the architect of a business strategy that built the social network from a fast-growing but wobbly startup into a global advertising juggernaut with a market value of more than half a trillion dollars.
But during five nightmarish days in March, she and her communications team couldn't figure out how to address the public's mounting outrage over allegations that political firm Cambridge Analytica had improperly accessed data on tens of millions of Facebook users. While…
www.wsj.com/articles/sheryl-sandberg-leans-into-a-gale-of-bad-news-at-facebook-1536085230
635 views