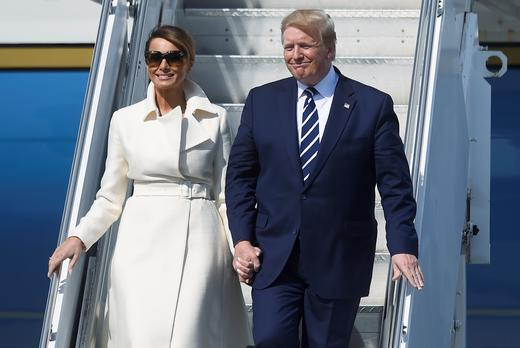 Republican support for Trump rises after racially charged tweets: Reuters/Ipsos poll
NEW YORK (Reuters) – Support for U.S. President Donald Trump increased slightly among Republicans after he lashed out on Twitter over the weekend in a racially charged attack on four minority Democratic congresswomen, a Reuters/Ipsos public opinion poll shows.
The national survey, conducted on Monday and Tuesday after Trump told the lawmakers they should "go back and help fix the totally broken and crime infested places from which they came," showed his net approval among members of his Republican Party rose by 5 percentage points to 72%, compared with a similar poll that ran last week.
Trump, who is seeking re-election next year, has lost support, however, with Democrats and independents since the Sunday tweetstorm.
Among independents, about three out of 10 said they approved of Trump, down from four out of 10 a week ago. His net approval – the percentage who approve minus the percentage who disapprove – dropped by 2 points among Democrats in the poll.
Trump Sets the 2020 Tone: Like 2016, Only This Time 'the Squad' Is Here
WASHINGTON — With three days of attacks on four liberal, minority freshman congresswomen, President Trump and the Republicans have sent the clearest signal yet that their approach to 2020 will be a racially divisive reprise of the strategy that helped Mr. Trump narrowly capture the White House in 2016.
It is the kind of fight that the president relishes. He has told aides, in fact, that he is pleased with the Democratic reaction to his attacks, boasting that he is "marrying" the House Speaker Nancy Pelosi and the Democratic Party to the four congresswomen known as "the Squad."
His efforts to stoke similar cultural and racial resentments during the 2018 midterm elections with fears of marauding immigrant caravans backfired as his party lost control of the House. But he is undeterred heading into his re-election campaign, betting that he can cast the entire Democratic Party as radical and un-American.
"He's framing the election as a clash of civilizations," said Charlie Sykes, a conservative writer who is critical of Mr. Trump. The argument Mr. Trump is making is both strategic and cynical, he said. "They're coming for you. They hate you. They despise America. They are not you."
"And if you look at the Electoral College map," Mr. Sykes added, "the places that will play are the places Donald Trump will need to win the election."
688 views