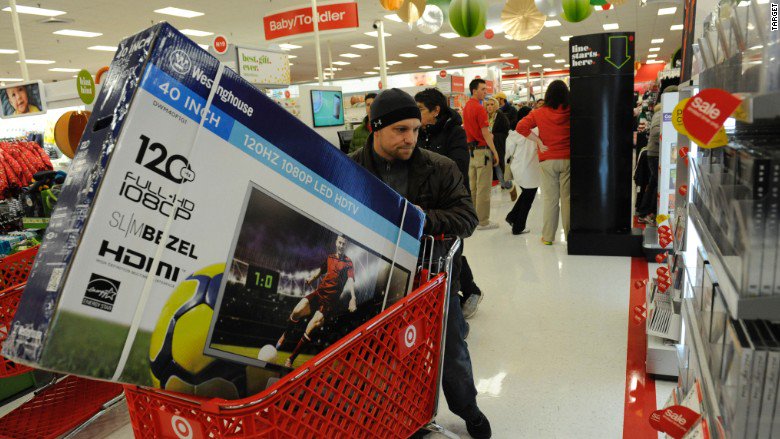 Pre-dawn waits for door busters diminish, but Black Friday weekend still important for retailers

After paging through the door buster ads, Jean Wendt, her sisters and nieces will head out around 8 p.m. on Thanksgiving Day to begin their Black Friday shopping.
The sisters have gone holiday shopping together for years, back to the days when consumers had to line up in the early morning darkness and cold to get the best deals. They wear matching shirts for the occasion.
"I don't really like shopping online on Black Friday — or the whole weekend. It kind of loses some of the magic and the energy and the fun," said Wendt, of Milwaukee. "It's just more fun to go hop store to store and meet different people."
www.jsonline.com/story/money/business/2017/11/22/door-busters-black-friday-weekend-online-shopping/875142001/
Amazon With Pumpkin Pie? Holiday Shopping Starts on Your Phone After Dinner
Mobile phones have accelerated a fundamental change in holiday shopping: online buying on Thanksgiving
After Rachel Guffey of Lawrence, Kan., wraps up Thanksgiving dinner and a round of family trivia this year, she plans to sneak away from the table to start shopping on her phone for deals.
Her phone is "right here in my pocket," says the 33-year-old dog treat baker, who plans to shop on Amazon.com Inc. and Target Corp. for cheap video games and DVDs. "It's just a lot more convenient."
Ms. Guffey is one of millions of consumers who will turn to their phones instead of lining up at a store after chowing down on turkey this year, accelerating a fundamental change in holiday shopping as more consumers spend online.
Better mobile e-commerce sites and easy one-click payment options—as well as earlier deals—are set to confirm the 24 hours starting Thursday evening as the biggest online shopping period of the year, according to retail experts. The period is expected to 
eclipse Cyber Monday
, the first Monday after Thanksgiving, and give brick-and-mortar stores new competition for Black Friday.
Consumers last year 
spent 19% more online on Black Friday
 than on Cyber Monday, according to Salesforce.com Inc.'s Commerce Cloud, which analyzes data from 500 million shoppers worldwide across more than 2,750 retail sites. Salesforce expects the pattern to repeat again this year. Over Thanksgiving weekend last year, an estimated 109 million people shopped online, compared with 99 million in stores, according to a National Retail Federation survey.
www.wsj.com/articles/amazon-with-pumpkin-pie-holiday-shopping-starts-on-your-phone-after-dinner-1511438400
Thanksgiving e-commerce sales up 18% year-on-year, average order value $114
Black Friday, the day after a quiet Thanksgiving Thursday, traditionally has been thought of as the start of the holiday sales season, but the rise of e-commerce in the last few years has changed all that, and the action is already kicking off today.
Early numbers from Adobe and IBM, two of the companies that track traffic to a vast swathe of e-commerce properties, show that numbers are up compared to 2016. According to Adobe, which says it measures 80 percent of online transactions at 100 of the largest retailers on the web in the U.S., sales are up 17.6 percent year-on-year, and that $360 million in total has already been spent online.
The 17.6 percent mirrors the rest of the month so far. Between November 1 and November 22, overall spending has been up 17.9 percent compared to 2016, with all 22 days seeing over $1 billion in online spend. This is a mark not just of consumer confidence, but the fact that the promotions actually have started earlier and earlier, has likely also played a role.
Bypassing the fact that many stores are closed on Thursday, a number of businesses are taking advantage of the fact that most people in the U.S. are not working today to get them started on their winter shopping with cut price deals and more.
techcrunch.com/2017/11/23/2017-thanksgiving-ecommerce-sales/
 
BLACK FRIDAY OR BUST: STORES FIGHT FOR SURVIVAL
New York (AFP) – The photo op with Santa Claus has long been a holiday mainstay for American children. But this year, shopping malls in several states are scheduling glamour shots for man's best friend.
As the Christmas shopping season kicks into high gear on Black Friday, the day after Thanksgiving, portraits of St. Nick with a family's beloved dog are just one way retailers are looking to attract customers in the face of exploding e-commerce.
www.yahoo.com/news/black-friday-nears-us-stores-creative-battle-e-080346093.html