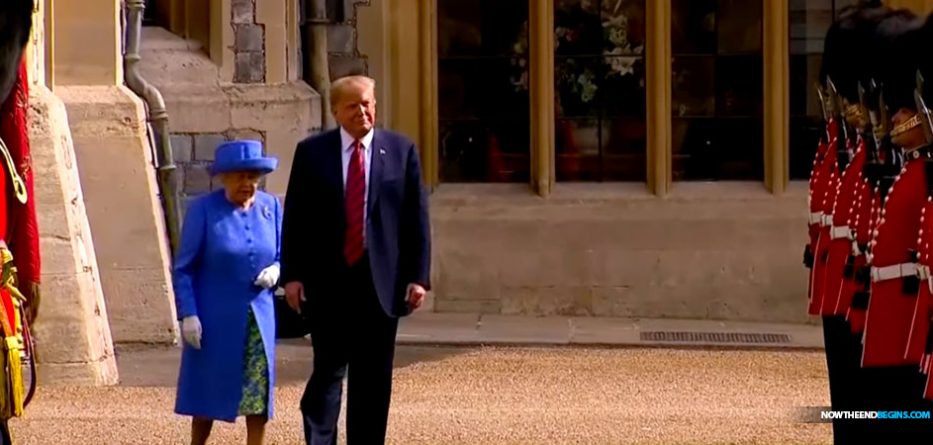 Coming off a 
contentious NATO summit

 and a trip to the U.K. in which he seemed to undercut the government of America's closest ally, President Trump took aim at another Western institution just days before his high-stakes meeting with Russian President Vladimir Putin.

If you are one of the 63 million of American patriots who voted for Donald Trump in 2016, then this has been an absolute fantastic week for you. President Trump has blown through Europe like the wrecking ball that God intends for him to be. We have always said that Barack Obama was God's judgment on America, and Donald Trump is God's judgment on the world order.

So many great things happened already it's hard to know which was my favorite. But if I had to pick one, it would be President Trump's refusal to bow to the Queen of England, but rather extend his hand to her as an equal.

FROM THE DAILY MAIL UK: Donald Trump has sparked online criticism for his 'disrespectful' failure to follow royal protocol when he met the Queen on Friday. The president was late for his first meeting the 92-year-old monarch who was waiting at Windsor Castle for between 12 and 15 minutes in the 80 degree F heat when he was late for their meeting on Friday. The Queen can be seen in the footage checking her watch as she waited for the President and his First Lady. And when the first couple's black Range Rover did finally pull up to Windsor Castle, Trump almost immediately breached rigid royal protocol. READ MORE

During the 8 years of the Obama administration, Americans got used to the idea that America is really nothing special, and that the America president is not really the most powerful person on the face of the earth. Obama as president bowed to just about everyone, but not so in Trump's America. President Trump shook hands with the Queen of England because in 1776 America decided to throw off the shackles of English suppression.
THE TRUMP TRAIN ROLLS INTO EUROPE AND THEN ROLLS OVER IT
OBAMA SURE DID BOW A LOT
"I THINK THE EUROPEAN UNION IS A FOE," TRUMP SAYS AHEAD OF PUTIN MEETING IN HELSINKI
Now as President Donald Trump prepares to meet Putin in Helsinki, he tells news outlets that he views the European Union as 'a foe'. Seriously, does it get any better than this? On one night, I can understand the apoplectic reactions from the fake news media. They had gotten used to a second-rate America for 8 long years, and like a drug addict coming off a heroin, they are being forced to come to grips that America is coming back from our sequester. Obama bowed to Saudi kings, he bowed to Pope Francis, he bowed to just about everybody including a Japanese robot!
New day, new sheriff.
FROM CBS NEWS: In an interview with "CBS Evening News" anchor Jeff Glor in Scotland on Saturday, President Trump named the European Union — comprising some of America's oldest allies — when asked to identify his "biggest foe globally right now." "Well, I think we have a lot of foes. I think the European Union is a foe, what they do to us in trade. Now, you wouldn't think of the European Union, but they're a foe. Russia is foe in certain respects. China is a foe economically, certainly they are a foe. But that doesn't mean they are bad. It doesn't mean anything. It means that they are competitive," Mr. Trump said at his golf club in Turnberry, Scotland. "I respect the leaders of those countries. But, in a trade sense, they've really taken advantage of us and many of those countries are in NATO and they weren't paying their bills," he added. READ MORE
And through it all, the fake news Far Left media makes prediction after gloomy prediction about President Trump, and wind up being wrong virtually every time. From the election itself, to the economy, all the way  up to North Korea, the fake news media could not be more consistently wrong.
I was very proud of our president this week, and I know that when he meets Putin, the Trump Train will continue its upwards trajectory.
982 views