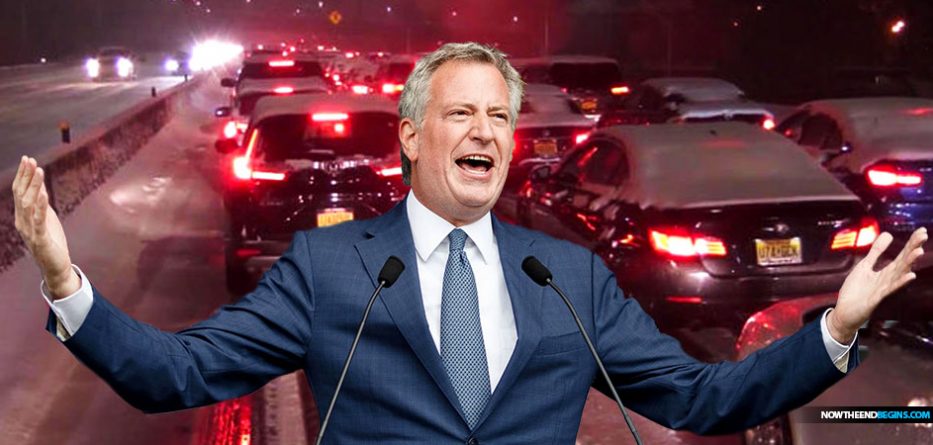 Drivers were trapped on gridlocked, snowy roads for hours. Middle schoolers in New Jersey had to spend the night at school. The upper level of the George Washington Bridge — one of the busiest bridges in the world — came to a standstill with drivers abandoning their cars.
I was born and raised in New Jersey, and have experienced a whole lot of winters there. When I was in Catholic high school, which was not close to my house, I took the bus every day. How well I remember praying for a foot of snow in the winter so the schools would be closed. Why a whole foot? Because back then, schools didn't close down for much less than a foot a snow, and almost never if it only snowed 6 inches out. My, my, how times have changed.
When friends from New Jersey started calling me to tell me that people had waited 8 hours in traffic jams because it had snowed a mere 6 inches out, I honestly thought it was a joke. But they weren't joking. How is it possible in an area of the country that has experienced hundreds of harsh winters to be plunged into chaos with 6 inches of snow? Because New York and New Jersey are run by hardcore Progressive Liberals who, as my dad used to say, don't have enough brains in their head to empty their boots in the rain.
Want to see the slums of Bangladesh but can't afford a trip to India? No problem, just drive over to California and see mile after mile of the tent cities set up by the homeless. Who runs California? Gov. Moonbeam and his loonie Liberals, that's who. Want to pay property taxes that are so high that one year's tax can equal the original purchase price of the house? Then Progressive New Jersey is for you! Want to spend 8 hours trapped in a 6-inch snow 'storm'? Move to ultra-Liberal Manhattan and you'll live in a town whose leaders couldn't punch their way out of a paper bag with a batting ram.
Want to visit the excruciating poverty of Socialist Venezuela without leaving the United States? Just pour a cup of coffee and wait, the Liberals will make your third world dreams come true.
Six inches of snow paralyzed the New York area. What went wrong?
FROM THE WATERTOWN DAILY: The New York- New Jersey region was all but paralyzed by an early winter storm that led to recriminations and second-guessing on Friday about what exactly went wrong.
Mayor Bill de Blasio said the city was caught off guard by the ferocity of the storm after early forecasts predicted a light dusting. At Central Park, there were 6.4 inches of snow as of 5 a.m. Friday — the biggest one-day November snowfall in at least 136 years.
"We're going to do a full review," de Blasio said in an interview on NY1 on Friday morning. "I'm not happy with the end result. It's unacceptable."
Still, de Blasio said a confluence of events — a "perfect storm" as he called it — had conspired to throw off the city's snow-fighting efforts. The city's Sanitation Department had performed miracles plowing roads in the past, but they did not have good access to the roads because they were clogged with vehicles.
"They can't levitate above the traffic," the mayor said.
If the city had known how bad the storm would be, officials could have encouraged commuters to stay home Thursday, de Blasio said.
The weather improved by Friday morning, but the region was still recovering from the horrific mess that unfolded Thursday evening. There were problems on the subway and commuter railroads, but some of the worst incidents happened on the roads, where cars and buses were stuck in snarled traffic.
"Our buses were held hostage to massive gridlock citywide," said Jon Weinstein, a spokesman for the Metropolitan Transportation Authority, which runs the city's subways and buses. "Our bus operators and front-line employees fought through epic traffic and kept the subways moving — and we're grateful for their dedication during a tremendously difficult commute."
In the suburbs, the story was at least as bad with major highways turning into parking lots and side streets made impassable by icy conditions and countless accidents. The perilous road conditions crippled commuter bus service causing the Port Authority Bus Terminal, the busiest bus station in the country, to do something it almost never does — close several floors.
There were countless stories about people who were stranded — from drivers to school children. Across the region, students were trapped on school buses snarled in traffic for hours with no bathroom or food, according to parents and elected officials.
A bus carrying preschool students left a Harlem school for children with special needs around 2 p.m. Thursday and still had five students on board around midnight as it crawled through the Bronx, according to City Councilman Ben Kallos, who helped a mother track down the bus by calling the bus driver's cellphone. Police officers were dispatched to escort the bus as it finished dropping off children in the early morning hours.
JENNIFER REYNOSO'S 3-YEAR-OLD SON WAS ON THE BUS FOR 10 HOURS. SHE WAS SO WORRIED THAT SHE GOT IN HER CAR AROUND 6 P.M. TO SEARCH FOR THE BUS. FINALLY, SHE CAUGHT UP TO THE BUS AT MIDNIGHT. "IT WAS HORRIBLE BECAUSE I DON'T KNOW WHETHER HE WAS OK," SHE SAID. "I DIDN'T KNOW WHAT WAS GOING ON."
Reynoso said her son was exhausted and sleeping on the bus. He had not eaten since noon and had been in the same diaper all day. He was so upset that he did not speak to her until they got home.
"We shouldn't need the police to rescue our children from a school bus," said Kallos, who himself has a young daughter. "Parents shouldn't have to wonder where their children are. I could never imagine being in that situation."
In West Orange, New Jersey, about 80 students who were stranded for hours on school buses sought refuge in the Chit Chat Diner until about midnight, said Leo Novakidis, the manager who was on duty Thursday night.
The West Orange police called about 7:30 p.m. and asked if Novakidis could take in some hungry children. About 30 minutes later, he said, a procession of 11 buses started arriving, carrying children from 5 years old to teenagers.
The children lined up for the bathrooms, then devoured chicken fingers and french fries, Novakidis said. "That stuff is fast to make and they were starving," he said.
Some fell asleep in booths before school officials took them back to a school around midnight to spend the night, Novakidis said.
The West Orange school district website said students stayed overnight in several schools, including at a preschool. The district, which closed its schools on Friday, said buses had taken the stranded students home Friday morning. SOURCE
1,279 views