Bezos Faces Berlin Protest on Tax Policy, Worker Treatment
SPD leader Nahles among demonstrators against Bezos award

German labor union has pushed for years for better wages

Amazon.com Inc. Chief Executive Officer Jeff Bezos faced protests against the company's tax policy and its treatment of workers when he arrived in Berlin to collect an award Tuesday.
Andrea Nahles, the newly elected leader of Germany's Social Democratic Party, the junior partner in Chancellor Angela Merkel's government, joined a demonstration organized by labor union Ver.di outside Axel Springer SE's headquarters, where Bezos was presented a prize for innovation.
Outside, about 350 protesters blew whistles, banged drums and waved signs that read "make Amazon pay." Nahles, an outspoken former party rebel, was elected SPD leader on Sunday and is billed as a possible chancellor candidate for the next election in 2021. The German labor union has been pushing for higher pay for Amazon's thousands of workers in the country for several years, claiming they receive lower wages than workers in other retail jobs.
www.bloomberg.com/news/articles/2018-04-24/amazon-ceo-faces-berlin-protest-from-merkel-s-coalition-partner
Here Are the Floor Plans for Jeff Bezos's $23 Million DC Home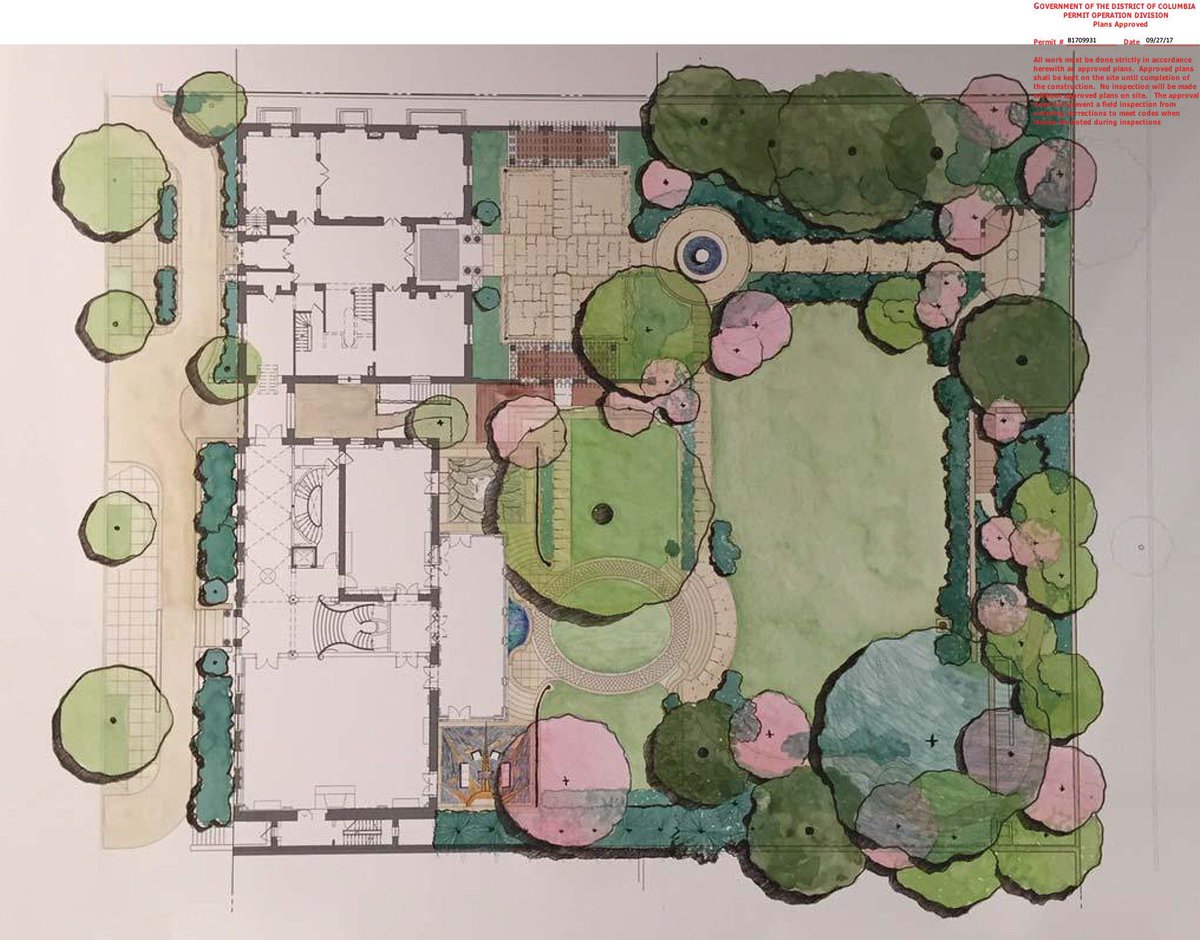 Jeff Bezos has been quietly jetting into Washington over the past few years, becoming quite the hobnobber around town (for all the details of his local life, click here). Soon, Washingtonians may see even more of him. In 2016, the Amazon founder and Washington Post owner paid $23 million in cash for the former Textile Museum in Kalorama (yes, his neighbors are the Obamasand Kushner-Trumps). At 27,000 square feet, the mansion was already the biggest home in Washington before he began a $12 million renovation and expansion last year.
Bezos and his wife, MacKenzie, plan to use the home for A-level socializing. And we're not talking your cozy Washington dinner party, although presumably there'll be plenty of those, too. Washingtonian filed a public-records request with the city's zoning office to get copies of the blueprints for the renovations. They reveal a party pad of epic proportions.
www.washingtonian.com/2018/04/22/here-are-the-floor-plans-for-jeff-bezos-23-million-dc-home/
AMAZON begins delivery — to vehicles…
SAN FRANCISCO — Amazon's latest perk … free delivery to your car.
The Seattle company on Tuesday began offering delivery in 37 cities to Amazon Prime members who own newer General Motors or Volvo vehicles.
The company will expand the number of locations as well as eligible vehicle makes and models going forward.
Amazon has steadily expanded its reach into places long considered no-go zones for most people outside of the immediate family, starting with smart speakers in the home that await voice commands to come to life.
www.seattletimes.com/business/get-into-my-car-amazon-begins-delivery-to-vehicles/
1,405 views