via Markos Kaminis
SUMMARY
Tariffs and the possibility of an escalating trade war threaten the profitability of homebuilders, the housing recovery and the affordability of homes.
It appears rising costs of home construction is playing a role in rising home prices, which may be impeding sales growth.
Relative tariffs and trade war appear to be a threat to the real estate sector, despite strong underlying support from economic growth, full employment and freer capital access.
Talk of trade war is dominating Wall Street these days. Main Street should be concerned as well. Tariffs and trade war are likely to lead to an increase in the cost of homeownership. It appears to be an unnecessary burden for prospective homebuyers and builders of homes to contend with, and it may weigh against home sales as the year progresses.
THE TRADE WAR HAS ALREADY BEGUN
The President's tariffs on steel and aluminum threaten to raise the cost of new homes. This is not the first important tariff to impact housing either, as the trade war has already begun. New tariffs follow a 20.83% tariff levied on Canadian softwood lumber producers late last year (in rebuttal to Canada's taxing of U.S. dairy products). One-third of all softwood lumber used in new home construction is sourced from Canada. The softwood tariffs were intended to create new jobs in the American lumber industry, but they have also pressured the price of lumber some 15% higher since, according to Aaron Terrazas, senior economist at Zillow (Nasdaq: Z).
According to data provider Statista, the construction industry (including commercial and for infrastructure) accounted for some 40% of all U.S. steel demand in 2017. As per housing, steel and aluminum make up approximately 1% of a home's construction cost, according to the Zillow's Terrazas. Apartment buildings and condos employ more steel for their support structure skeletons, to strengthen cement, for stairwells, emergency fire escapes and elevators. Thus, rental rates may also rise as these costs are passed on.
THE COST OF LABOR IS PRESSURED FOR HOMEBUILDERS, TOO
The President's immigration policy is likely also raising the cost of trade labor by restricting the available supply of immigrant laborers, who come at lower cost. Based on my intimate knowledge of the industry, immigrants are employed by small private builders, not large public companies. Larger companies have been facing a labor shortage as well though; I recall Toll Brothers (NYSE: TOL) executives speaking about it almost a decade ago at a conference I attended. Though, those labor pressures came as a result of the real estate crisis, with construction workers seeking new careers after being laid off, and, thereafter, because of a lack of enthusiasm among youth to enter trade businesses. We'll note, the President wants to change that as well, and we may see free education (community college) coming for such skill-trade hopefuls.
NOT MANY FANS OF TARIFFS IN REAL ESTATE
These new tariffs and the potential for trade war are not being well-received anywhere within the construction sector. Randy Noel, Chairman of the National Association of Homebuilders (NAHB), issued this public statement. Noel indicates that tariffs on construction materials like lumber, steel and aluminum are "unfortunate," and will pressure the profit margins of homebuilders and raise the cost of homes to consumers.
The American Institute of Architects ((NYSEARCA:AIA)) indicates "The Administration's announcement of new tariffs on steel and aluminum imports threatens to drastically increase the prices of many building materials specified by architects. These metal products are some of the largest material inputs in the construction of buildings. Structural metal beams, window frames, mechanical systems, and exterior cladding are largely derived from these important metals."
And the AIA says the impact extends beyond home construction: "…the Administration's proposed infrastructure funding will not achieve the same value if critical materials become more expensive. Furthermore, the potential for a trade war risks other building materials and products. Any move that increases building costs will jeopardize domestic design and the construction industry, which is responsible for billions in U.S. Gross Domestic Product, economic growth, and job creation."
The increase in lumber costs is also likely to impede new investment in single family structures as fewer homeowners choose to spend for home improvements. This will work against earnings growth for the likes of Home Depot (NYSE: HD) and Lowes (NYSE: LOW).
TRADE WAR = INFLATION = HIGHER MORTGAGE RATES
Another result of trade war and tariffs is inflation, as prices rise across a swath of goods and services. Inflation translates into higher mortgage rates, which we have already seen this year. The rate of 30-year treasury yields is up 33 basis points this year through March 6. Freddie Mac last week reported that 30-year fixed rate mortgage rates rose for the eighth straight week, marking an increase of 48 basis points over just the course of the year-to-date. We know that rising rates have a funny way of slowing home sales. So, this is yet another way a trade war may impede real estate sector growth.
RECENT HOME SALES DATA IS CONCERNING
Recently, existing home sales declined for the second straight month, falling 3.2% month-to-month, however softness in January is regular against December. Still, this January's sales pace also fell short against the prior year period, declining 4.8% year-to-year. We attributed the decrease in existing home sales to the extremely short supply of homes for sale that is causing a bottleneck between supply and demand.
New home sales, reported last week for January, fell to an annual pace of 593K, from 643K in December (revised from 625K). The prior month was exceptional, however, January's sales were down 1.0% year-to-year. The annual declines in sales pace for both new and existing homes are important, and while much attribution for it is due to extremely tight supply, there's more than that at play today. It appears some of the price increase in homes may be attributable to rising materials costs. And home price gains may be impeding sales.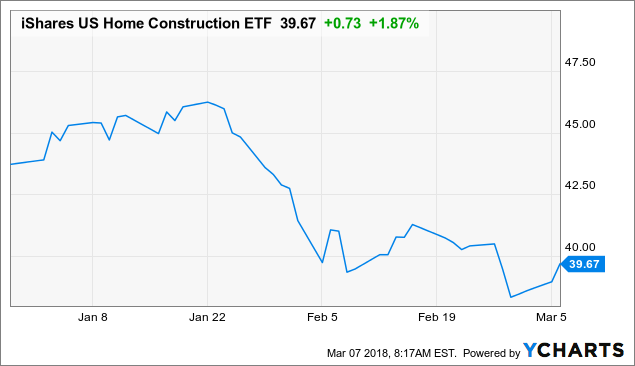 The shares of homebuilders have been pressured recently, a situation I would normally have viewed as opportune for new investment. However, I am concerned that these latest inflationary developments might damage share prices further in the near-term and impede the full recovery of the housing sector as well.
CONCLUSION: TARIFFS AND TRADE WAR ARE TROUBLE FOR REAL ESTATE
In conclusion, it seems clear these latest tariffs and what may follow in a trade war will work against the real estate sector. We still have the tailwind of an expanding domestic economy, fully employed labor market and less restricted capital access working for us. However, I wonder how much increase in home prices prospective American home buyers will bear.
1,096 views