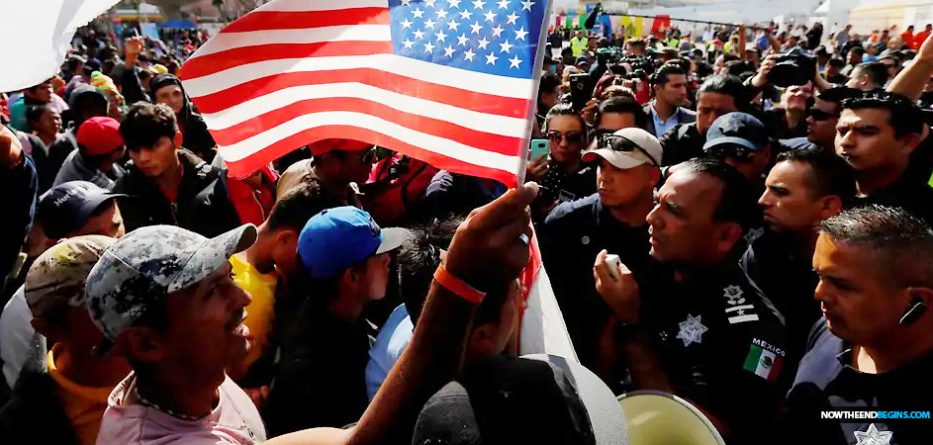 The Trump administration has won the support of Mexico's incoming government for a plan to remake U.S. border policy by requiring asylum seekers to wait in Mexico while their claims move through U.S. courts, according to Mexican officials and senior members of president-elect Andrés Manuel López Obrador's transition team.
It's not The Wall, but in terms of negotiating it's every bit as incredible. President Trump has struck a deal with Mexico to keep asylum seekers waiting in Mexico instead of in the United States as it always has been done.
It's called 'Remain In Mexico' and in typical Trumpian style, he has broken with the status quo of previous administrations to do something that's so simple yet revolutionary. Trump's critics are absolutely shocked that he could get Mexico to agree to a deal like this, but Trump knew what he was doing all along. Why else do you think he deployed US troops on the Mexican border? He was giving Mexico an offer they couldn't refuse. And they didn't.
That's what #winning is all about.
Deal with Mexico would make asylum seekers wait outside U.S. border: Mexican officials
FROM THE CHICAGO TRIBUNE: The agreement would break with long-standing asylum rules and place a formidable new barrier in the path of Central American migrants attempting to reach the United States and escape poverty and violence. By reaching the accord, the Trump administration has also overcome Mexico's historic reticence to deepen cooperation with the United States on an issue widely seen here as America's problem.
According to outlines of the plan, known as Remain in Mexico, asylum applicants at the border will have to stay in Mexico while their cases are processed, potentially ending the system Trump decries as "catch and release" that has until now generally allowed those seeking refuge to wait on safer U.S. soil.
"FOR NOW, WE HAVE AGREED TO THIS POLICY OF REMAIN IN MEXICO," SAID OLGA SÁNCHEZ CORDERO, MEXICO'S INCOMING INTERIOR MINISTER, THE TOP DOMESTIC POLICY OFFICIAL FOR LÓPEZ OBRADOR, WHO TAKES OFFICE DEC. 1. IN AN INTERVIEW WITH THE WASHINGTON POST, SHE CALLED IT A "SHORT-TERM SOLUTION."
"The medium- and long-term solution is that people don't migrate," Sánchez Cordero said. "Mexico has open arms and everything, but imagine, one caravan after another after another, that would also be a problem for us."
While no formal agreement has been signed, and U.S. officials caution that many details must still be discussed, the incoming Mexican government is amenable to the concept of turning their country in to a waiting room for America's asylum system.
While they remain anxious the deal could fall apart, U.S. officials view this as a potential breakthrough that could deter migration and the formation of additional caravans that originate in Central America and cross through Mexico to reach the United States. They have quietly engaged in sensitive talks with senior Mexican officials, attempting to offer a diplomatic counterbalance to President Donald Trump's threats and ultimatums.
Alarmed by Trump's deployment of U.S. military forces to California, Arizona and Texas, and his threats to close busy border crossings, Mexican officials were further determined to take action after migrants traveling as part of a caravan forced their way onto Mexican soil last month, pushing past police blockades at the border with Guatemala.
The prospect of keeping thousands of Central American asylum seekers for months or years in drug cartel-dominated Mexican border states – some of the most violent in the country – has troubled human-rights activists and others who worry that such a plan could put migrants at risk and undermine their lawful right to apply for asylum. READ MORE 
744 views