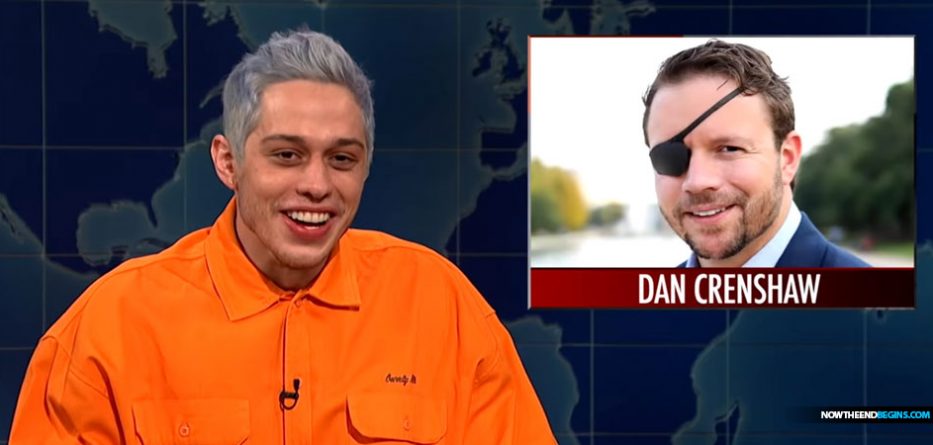 A 'Saturday Night Live' cast member mocked the appearance of Texas congressional candidate Dan Crenshaw, a former Navy SEAL who lost an eye while serving in Afghanistan.
They may want to abolish the 2nd Amendment, but Democrats love to shoot themselves in the foot. How else do you explain last night's Weekend Update on SNL where Pete Davidson took the time to mock Texas Republican candidate Dan Crenshaw over losing his eye on the battlefield defending America back in 2012?
I hope Texans will watch this video and get so mad that they go out and vote a straight Red ticket on Tuesday, and I hope that all of America will do the same. I already have.
'SNL' mocks ex-Navy Seal candidate Dan Crenshaw: 'I know he lost his eye in war — or whatever'
FROM THE WASHINGTON EXAMINER: During "Weekend Update," Pete Davidson came on to give his thoughts on candidates ahead of the 2018 midterm elections. When he got to Crenshaw, a photo appeared on the screen with the candidate, wearing an eye-patch and smiling. "This guy is kind of cool — Dan Crenshaw," Davidson began.
"YOU MAY BE SURPRISED TO HEAR HE'S A CONGRESSIONAL CANDIDATE FOR TEXAS AND NOT A HIT-MAN IN A PORNO MOVIE," DAVIDSON SAID WHILE LAUGHING AT HIS OWN QUIP.

"I'M SORRY. I KNOW HE LOST HIS EYE IN WAR — OR WHATEVER," HE ADDED.
Dan Crenshaw, a retired lieutenant commander in the U.S. Navy who is now a Republican running in Texas's Second Congressional District, lost his eye during a deployment six years ago.
THE BIOGRAPHY ON CRENSHAW'S CAMPAIGN WEBSITE EXPLAINS WHAT HAPPENED, AND HOW HE PERSEVERED AFTER THE INCIDENT, CONTINUING THE SERVE:
"On Dan's third deployment in 2012, his life changed forever. After six months of combat operations, Dan was hit by an IED blast during a mission in Helmand province, Afghanistan. He was evacuated and awoke from his medically induced coma learning that his right eye had been destroyed in the blast and his left eye was still present, but badly damaged. Dan was completely blind and the doctors did not believe he would ever see again. Tara [his wife] stood by him every day and night, keeping faith and praying he would see again. After several difficult surgeries, he eventually regained sight in his left eye, a miracle according to the head surgeon. Dan refused to quit and went on to deploy twice more, first back to the Middle East in 2014 and then South Korea in 2016.
Weekend Update: Pete Davidson's First Impressions of Midterm Election Candidates
Pete Davidson stops by Weekend Update to give his first impressions of candidates running for office in the 2018 midterm elections. Highlights include mocking former Navy SEAL candidate Dan Crenshaw for losing an eye on the battlefield in Afghanistan in 2012. 
"Dan was medically retired in September of 2016, after ten years in the SEAL Teams. He left service with two Bronze Stars (one with Valor), the Purple Heart, and the Navy Commendation Medal with Valor, among many other recognitions. Soon after, Dan completed his Master in Public Administration at the Harvard Kennedy School of Government. In September of this year, he was back in Houston, volunteering for days on end in areas of Katy devastated by Hurricane Harvey. He saw first-hand the unthinkable losses that his neighbors suffered, but he also saw Texan grit and resilience. He wanted to do more, and this November Dan and Tara decided that the best way to serve the people of Texas would be in elected office." READ MORE
1,284 views