By Michael Snyder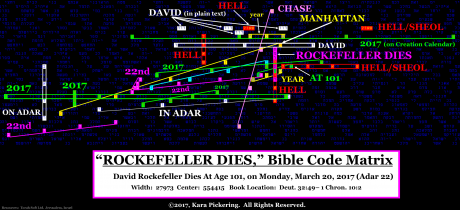 Did someone know in advance that David Rockefeller would die on March 20th, 2017? What I am about to share with you is absolutely astounding. Bible code researcher Kara Pickering has found an incredible Bible code matrix that contains the phrase "Rockefeller dies" along with the terms "Chase", "Manhattan", "2017" and the specific date on the Hebrew calendar (Adar 22) when he actually died. Of course David Rockefeller served as the CEO of Chase Manhattan for over a decade, and he was widely considered to be one of the strongest proponents of a "New World Order".
When my wife and I first received this Bible code matrix from Kara Pickering we were completely floored, and she has given us permission to share it with all of you. As you can see, the specific details that it contains about Rockefeller are quite stunning…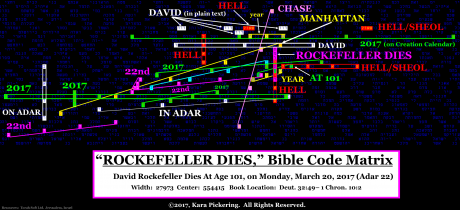 These are just some of the key terms that Kara Pickering was able to discover in this amazing matrix…
-"Rockefeller dies"
-"David" appears five times
-"Chase"
-"Manhattan"
-"2017" appears five times
-"Adar" appears twice
-"22nd" appears three times (Adar 22nd is March 20th on our calendar)
-"At 101" (the age Rockefeller was when he died)
You can view the original Bible code matrix created by Kara Pickering right here. In the chart above, you can see that "hell" shows up five times, but she told us that it is actually in there quite a few more times.
Is it just some sort of extremely bizarre coincidence that all of these phrases can be found in a single matrix?
Of course other researchers have been making extraordinary Bible code discoveries for many years. It truly does appear that information about our future was encoded within the pages of Scripture thousands of years ago, and this is something that skeptics have a very hard time dealing with.
If you are not familiar with the Bible code phenomenon, the following is a pretty good summary from Wikipedia…
The Bible code (Hebrew: ????? ???"????, hatzofen hatanachi), also known as the Torah code, is a purported set of secret messages encoded within the Hebrew text of the Torah. This hidden code has been described as a method by which specific letters from the text can be selected to reveal an otherwise obscured message. Although Bible codes have been postulated and studied for centuries, the subject has been popularized in modern times by Michael Drosnin's book The Bible Code and the movie The Omega Code.
Many examples have been documented in the past. One cited example is that by taking every 50th letter of the Book of Genesis starting with the first taw, the Hebrew word "torah" is spelled out. The same happens in the Book of Exodus. Modern computers have been used to search for similar patterns and more complex variants, as well as quantifying its statistical likelihood.
God knew who David Rockefeller would become before he was born, and God also knew the day he would die.
Big corporate news outlets such as the New York Times are greatly praising Rockefeller for his "contributions" to American society, but others remember him as a master manipulator that was always trying to influence the direction of U.S. politics from behind the scenes. The following comes from an excellent piece by Whitney Webb…
No one person encapsulates the enduring legacy of the "robber barons" of the Industrial Age quite like David Rockefeller. Rockefeller, who died yesterday at the age of 101, was the last surviving grandson of John D. Rockefeller, the oil tycoon who became America's first billionaire and the patriarch of what would become one of the most powerful and wealthiest families in American history. David Rockefeller, an undeniable product of American nobility, lived his entire life in the echelons of U.S. society, becoming symbolic of the elite who often direct public policy to a much greater extent than many realize, albeit often from the shadows.
Rockefeller made it clear that he preferred to operate out of public view despite his great influence in American – and international – politics. Due to his birthright, Rockefeller served as an advisor to every president since Eisenhower, but when offered powerful positions such as Federal Reserve chairman and Secretary of the Treasury – he declined, preferring "a private role."
In particular, Rockefeller is often criticized for his role in trying to integrate the United States into a "New World Order". In his autobiography, Rockefeller stated that he was quite proud of what he had accomplished in this regard…
"Some even believe we (the Rockefeller family) are part of a secret cabal working against the best interests of the United States, characterizing my family and me as 'internationalists' and of conspiring with others around the world to build a more integrated global political and economic structure—one world, if you will. If that's the charge, I stand guilty, and I am proud of it."
Another thing that Rockefeller is often criticized for was his involvement with the Bilderberg Group. At the 1991 meeting, he reportedly made the following infamous statement…
"We are grateful to The Washington Post, The New York Times, Time magazine, and other great publications whose directors have attended our meetings and respected their promise of discretion for almost forty years. It would have been impossible for us to develop our plan for the world if we had been subject to the bright lights of publicity during those years. But the world is now more sophisticated and prepared to march towards a world government. The super-national sovereignty of an intellectual elite and world bankers is surely preferable to the national auto-determination practiced in past centuries."
For Rockefeller, death caught up with him before he ever got to see the fulfillment of his New World Order dream.
No matter how much money one might have, the truth is that all of our mortal bodies wear out eventually.
Instead of focusing on temporal matters and the things of this world, perhaps Rockefeller should have spent more time focusing on the things that are eternal.
There is a God, and He is speaking to us in a multitude of ways. My hope is that this Rockefeller Bible code matrix that Kara Pickering has discovered will wake many people up and will cause them to starting thinking about the things that really matter.
1,080 views