Americans are hoping the energy crisis in Asia and Europe won't spread stateside. But industry insiders warn that winter blackouts across the US are possible as low fossil fuel stockpiles may lead to shortages amid heightened demand.
The latest concern is ultra-low stockpiles of heating oil (distillate fuel oil). In the winter of 2019–2020, about 5.5 million households used heating oil as their primary heating source, and 81% of those households were in the Northeast.
Energy Information Administration (EIA) reports there are only 31.2 days of the demand for heating oil, the lowest levels since 2000.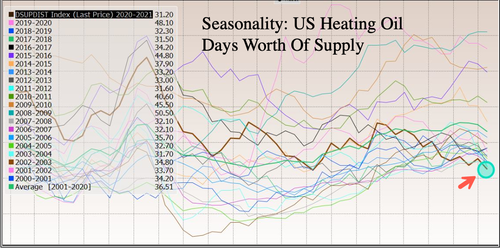 Low stockpiles ahead of cooler weather could be problematic for consumers who may be burdened with high energy costs, or worse, fuel shortages. Below is the two-week forecast for the US Lower 48, underlining cooler weather trends are nearing and how consumers shouldn't wait until the last minute to fill up their tanks.
vaccineimpact.com/2021/industry-insiders-warn-that-winter-blackouts-across-the-us-are-possible-as-us-heating-oil-supplies-lowest-in-decades/
Current stockpile covers only 31.2 days of distillate demand
Costs set to rise for heating, truckers, and farmers
www.bloomberg.com/news/articles/2021-10-07/u-s-diesel-inventories-dwindle-to-historic-low-ahead-of-winter
Fuel shortage forces shutdown of Lebanon's main power plants; outages expected for days
Erratic power supplies have put hospitals and essential services in crisis mode.
www.nbcnews.com/news/world/fuel-shortage-forces-shutdown-lebanon-s-main-power-plants-outages-n1281176
Obama-era gas prices have returned to America, CNN reported this week. Gas prices nationwide are an average of $3.19 cents, the highest price since 2014 when they were $3.30 under former President Barack Obama. Gas prices have gone up $1 overall since last October before Trump lost the presidential election to Joe Biden.
www.shorenewsnetwork.com/2021/10/10/cnn-reports-u-s-gas-prices-at-the-highest-levels-since-obamas-term-in-2014/
CHINA'S COAL SHORTAGE JUST BECAME A WORSE
Heavy rains and flooding expanded mine shutdowns in China's biggest coal producing region, sending prices to a record and hindering efforts by Beijing to boost energy supplies for winter.
Floods have closed 60 of the 682 coal mines in Shanxi province, a region that has produced 30% of the China's supply of the fuel this year, adding to a worsening energy crisis that threatens the country's economic growth. Thermal coal futures surged to a new intraday record after trading opened Monday.
The mine outages are complicating China's efforts to boost coal output and ensure power supplies for the winter heating season. The powerful State Council on Friday said it will allow higher electricity prices in a bid to boost generation amid the rising costs.
www.bloomberg.com/news/articles/2021-10-11/china-coal-futures-surge-to-record-amid-flooding-in-key-mine-hub
h/t LET'S GO BRANDON!