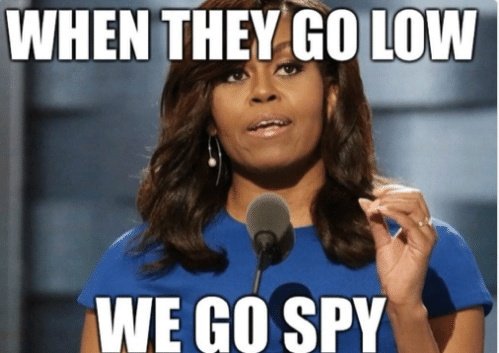 Image from @SecOfState70 on Twitter
By Bob Shanahan
As I covered in Part I of SPYGATE: The 21st Century's Watergate, the Obama administration oversaw a widespread wiretapping scheme and implemented a propaganda narrative of Trump colluding with Russia to win the presidential election in 2016. They then attempted to cover it up after Trump was elected president by smearing him with unfounded connections to Russia. This illegal action would be highlighted and heralded as one of the most damaging and dangerous political scandals in American history if this was a Republican acting against a Democrat. Sadly, it is only being covered in your conservative and alternative news sites as deranged liberals continue to dismiss the severity of #SPYGATE.
In this article, I will continue to highlight Sharyl Attkisson's investigative reporting on the outrageous and still continuing collusion against Trump. In a recent piece, she compiled an exhaustive timeline which unveils the many steps the Deep State and the Democratic Party establishment have made to keep Trump from the White House and then to subsequently dethrone him.
We have learned much more over this past year that proves the organized effort to collude against Trump the candidate and Trump the president.
Some highlights Attkisson points to were:
"Anti-Russian Ukrainians allegedly helped coordinate and execute a campaign against Trump in partnership with the Democratic National Committee and news reporters.
A Yemen-born ex-British spy reportedly delivered political opposition research against Trump to reporters, Sen. John McCain, and the FBI; the latter of which used the material–in part–to obtain wiretaps against one or more Trump-related associates.
There were orchestrated leaks of anti-Trump information and allegations to the press, including by ex-FBI Director James Comey.
The U.S. intel community allegedly engaged in questionable surveillance practices and politically-motivated 'unmaskings' of U.S. citizens, including Trump officials.
Alleged conflicts of interests have surfaced regarding FBI officials who cleared Hillary Clinton for mishandling classified information and who investigated Trump's alleged Russia ties."
Now, let's dig into the timeline that was made possible by Obama's actions in 2011 and then delve into the 2015-2016 election-era collusion against Trump.
2011: Obama administration greenlights intelligence agencies to further expand its surveillance authority, giving it permission to spy on Americans who merely "mention a foreign target in a single, discrete communication." The NSA, CIA, and FBI then began storing in an intelligence database communications of American citizens who were "incidentally" captured during surveillance on foreign targets.
October 2013: The Washington Post sells to Amazon CEO Jeff Bezos, which would soon become the anti-Trump propaganda machine for the Democratic Party.
Late 2015: Ukrainian-American and Democratic operative Chalupa expands her opposition research on Paul Manafort to include Trump's "ties" to Russia. She increasingly shares her findings with the DNC (AKA the Clinton campaign).
December 4, 2015: Donald Trump surpasses all other Republican presidential candidates by 20 points in a CNN poll.
January 2016: Democratic operative Chalupa tells a senior DNC official that she "feels" there's a Russia connection with Trump.
March 25, 2016: Chalupa meets with top Ukrainian officials in the Ukrainian Embassy in DC to "expose ties between Trump, top campaign aide Paul Manafort and Russia," according to Politico. Chalupa has worked for the Clinton administration in the past. Ukraine's embassy then begins to work "directly with reporters researching Trump, Manafort and Russia to point them in the right directions," according to an embassy official. Manafort is hired days later as manager of July's Republican convention.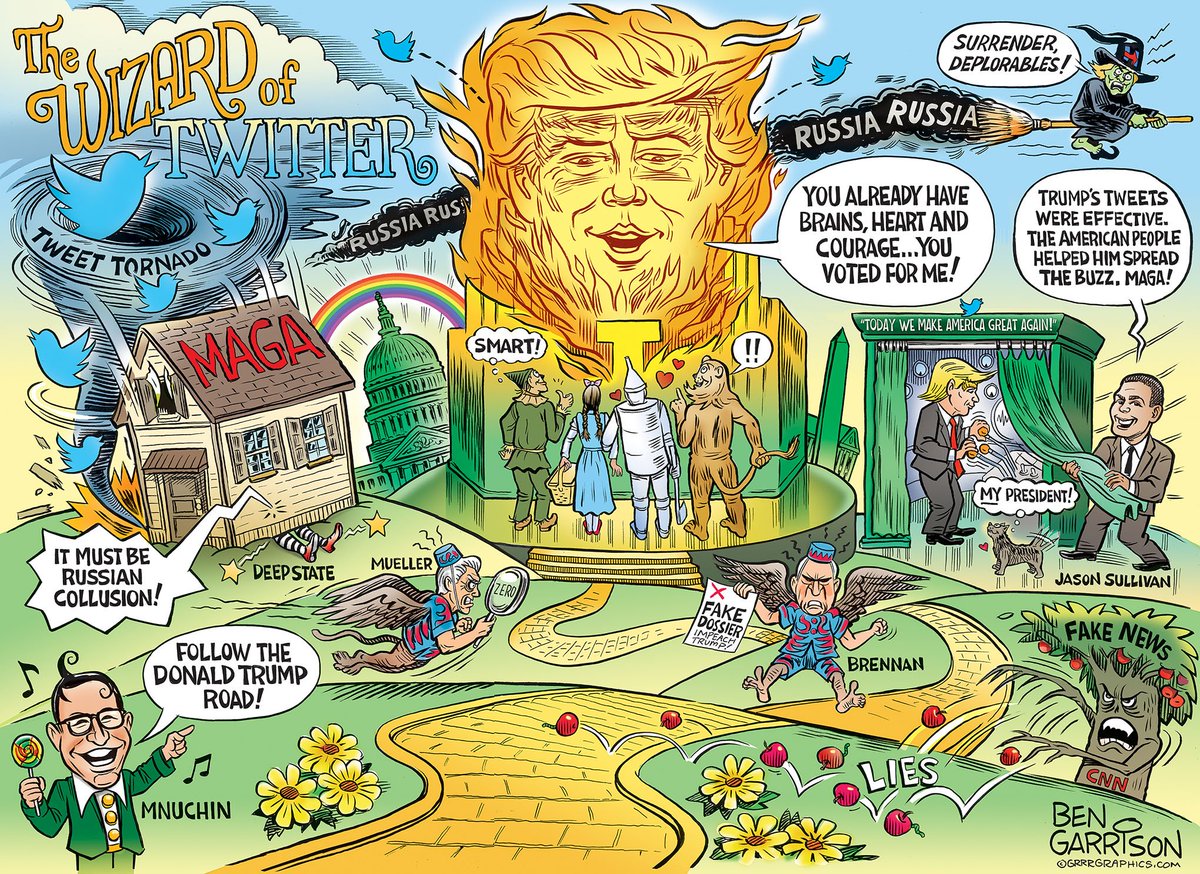 Image courtesy of BenGarrison Cartoons from Twitter
March 30, 2016: Chalupa briefs DNC staff on Russian ties to Manafort and Trump. Chalupa asks Ukrainian embassy, with "DNC's encouragement," to discuss Manafort's lobbying efforts on behalf of Ukraine's former president Viktor Yanukovych. The embassy declines but becomes "helpful" in trading info and leads to U.S. media.
May 4, 2016: Trump cinches the Republican nomination for president.
May 19, 2016: Manafort becomes Trump's campaign chair.
June 2016: Fusion GPS' Glenn Simpson hires Yemen-born ex-British spy Christopher Steele for political opposition research damaging to Trump. Steele obtains information from Russian sources "close to Putin" in the creation of an unverified "dossier" later leaked to reporters and used as firepower for the FBI to secretly wiretap the Trump campaign. The Guardian writes that the FBI applied for a FISA warrant to "monitor four members of the Trump team suspected of irregular contacts with Russian officials," although the "initial request was denied."
June 17, 2016: The Russian collusion hysteria commences. The Washington Post puts out a front page story linking Trump to Russia: "Inside Trump's Financial Ties to Russia and His Unusual Flattery of Vladimir Putin."
July 2016: One-time CIA operative Stefan Halper reportedly begins meetings with Trump advisers Carter Page and George Papadopoulos, secretly gathering information for the FBI. These contacts begin prior to the date FBI Director Comey later claimed the Russian investigation began.
July 31, 2016: FBI commences counterintelligence investigation on Russia.
Summer 2016: Fusion's Christopher Steele briefs FBI on unverified dossier. Weeks later, this information reaches Peter Strzok and his team after they recently began an investigation into Trump's aide George Papadopoulos.
Why are Schumer and Pelosi trying to cancel a meeting about the spy placed in the Trump Campaign? What are they hiding? Americans need to know the truth about how all of this mess was manufactured & orchestrated by Obama and his Administration who were all Democrats #SPYGATE pic.twitter.com/GHochowaY3

— Diamond and Silk® (@DiamondandSilk) May 23, 2018
August 15-19, 2016: CNN reports on the FBI's inquiry into Manafort's payments from pro-Russia interests in Ukraine that ended seven years before becoming campaign chair. After meeting with FBI Deputy Director Andrew McCabe, Lisa Page and Peter Strzok exchange texts of requiring an "insurance policy" in case Trump is elected. Manafort resigns as campaign chairman on the 19th.
Late August 2016: Reportedly working for the FBI, one-time CIA operative Professor Halper meets with Trump campaign co-chair Sam Clovis offering his services as a foreign-policy adviser, according to The Washington Post. Halper would later offer to hire Carter Page.
August 2016: FBI starts a new wiretap campaign against Manafort that lasts into 2017.
September 2016: Steele becomes a source for the FBI and tells Associate Deputy Attorney General Bruce Ohr he's "desperate that Donald Trump not get elected." President Obama warns Russia to not interfere in the election. Page and Strzok text that "President Obama wants to know everything we're doing."
Late September 2016: Steele's FBI contact tells him the agency needs to see his oppo research "right away," offering to pay him $50,000, according to the New York Times. Steele jets off to Rome to meet with the FBI and provide a "full briefing." Simpson and Steele meet with reporters (NYT, WaPo, Yahoo, New Yorker, CNN, ABC). One meeting is held at the office of the DNC's general counsel.
Early October 2016: Steele meets in New York with David Corn, Washington-bureau chief of Mother Jones. According to The Guardian, the FBI submits a more narrowly focused FISA wiretap request to replace the one turned down in June to monitor four Trump associates.
Mid-October 2016: Steele briefs reporters from NYT, WaPo, and Yahoo again on his political oppo research on Trump.
Oct. 19, 2016: Steele writes his final memo for anti-Trump "dossier" provided to the FBI, which  authorizes payment to Steele totaling $160,000.
Obama Administration's Spying on Trump a Departure From Norms t.co/poIPEakYTH

— Townhall.com (@townhallcom) May 25, 2018
Late October 2016: The Justice Department and FBI apply for wiretapping on Carter Page, pointing to new "evidence" available from Fusion's dossier and a related Yahoo article. The FBI fails to mention to the court that the Clinton campaign and the DNC funded the "evidence." Mother Jones reports on the dossier, quoting a source that has to be Steele. FBI terminates relationship with Steele following the leaking of his involvement that came out in the Mother Jones piece. Steele maintains a backchannel with Deputy Associate Attorney General Bruce Ohr. The New York Times reports on the FBI's investigation of Trump that found no connection to Russia.
November 8, 2016: We all know what happened that day…
November 18-20, 2016: Senator John McCain attends a security conference in Nova Scotia where former UK ambassador to Russia Sir Andrew Wood tells him about the Fusion GPS dossier. McCain's associate David Kramer flies to London to meet with Steele for a briefing. Then, Fusion's Glenn Simpson gives McCain a copy of the dossier. Then, Steele passes anti-Trump info to the top UK government official in charge of national security. McCain arranges a meeting with FBI Director Comey.
December 8/9, 2016: McCain meets with Comey at FBI headquarters and hands over the dossier, bringing the FBI into the matter. The FBI then compiles a two-page summary and includes it in a briefing note to President Obama.
twitter.com/Da_Godfather907/status/999961430018461696
December 15, 2016: Obama's intelligence officials "incidentally" spy on Trump officials meeting with a UAE crown prince in Trump Tower. Identities of Americans accidentally captured in this way are supposed to be protected and "masked" inside intelligence agencies for privacy reasons. Rice unmasks the names of Bannon, Kushner, and Flynn. National Intelligence Director Clapper expands rules to allow NSA to disseminate classified surveillance material within the government.
December 29, 2016: President-elect Trump's national security adviser Michael Flynn speaks with Russian Ambassador to the U.S., Sergey Kislyak. The call is wiretapped and subsequently leaked to the press.
If only this was the extent of it. Sadly, the collusion continues with Trump in the White House and is expanded following the creation of the Mueller special counsel. Nonstop attempts to remove a duly elected president from the highest office in the world continue to this day. Find out more in Part III of SPYGATE: The 21st Century's Watergate that concludes with the collusion against Trump in 2017 and 2018.
Follow me @BobShanahanMan
Bob is a freelance journalist and researcher. He remains forever skeptical of the mainstream media narrative and dedicated to uncovering the truth. Bob writes about politics (in DC and CA), economics, cultural trends, public policy, media, history, real estate, Trump Derangement Syndrome, and geopolitics. Bob grew up in Northern California, went to college in Southern California, and lived 4+ years in Seattle. He now lives in sunny Sacramento. His writing also appears in Citizen Truth and has been posted on ZeroHedge.
3,907 views