by SpontaneousDisorder
The markets are grinding toward a peak setting near records in low volitility, valuation, investor commitment to stocks and optimism.
This indicator shows just 16.7% bears currently, the rally since 2009 has seen incredible investor optimism by this measure.
s23.postimg.org/xedq3fspn/investorsintelligence.png Source: www.yardeni.com/pub/stmktbullbear.pdf
This is reflected by the lack of short sellers, an article in the WSJ today is called Short Sellers Give Up as Stocks Run to New Records (great headline for a contrarian call on its own).
Bets against the SPDR S&P 500 exchange-traded fund, the largest ETF tracking the broad index, fell to $38.9 billion last week, the lowest level of short interest since May 2013, according to financial-analytics firm S3 Partners. Short sellers borrow shares and sell them, expecting to repurchase them at lower prices and collect the difference as profit.
Bearish investors say they are scaling back on these bets not because their view of the market has fundamentally changed, but because it is difficult to stick to a money-losing strategy when it seems stocks can only go up.
"There seems to be an overall view that people are invincible, that things will always go up, that there are no risks and no matter what goes on, no matter what foolishness is in play, people don't care," said Marc Cohodes, whose hedge fund focused on shorting stocks closed in 2008.
Mr. Cohodes is now a chicken farmer based in California who is looking to get into goat herding in Canada. He shorts a handful of individual stocks personally, but isn't focused on the broader market.
The practice of shorting companies is also going by the wayside as stocks continue to notch new records. Short-biased hedge funds had $4.3 billion in assets at the end of March, down from $7.1 billion at the end of 2013, according to Hedge Fund Research Inc. … In one sign of capitulation among the bears, stock pullbacks have been getting shorter. This year, there have been two times when the S&P 500 has closed down 1% or more.
ZeroHedge published an article No More "Cash On The Sidelines": Private Client Cash Levels Drop To Record Low (see article for charts)
One can finally put all references to "cash on the sidelines" in the trash can, not only for purely logistical reasons (when someone buys a stock, the seller ends up with the cash), but also from a purely cash allocation basis. According to the latest BofA flow show report, Michael Hartnett writes that as of the latest week, private client cash – i.e., high net worth individuals, or those who still allocate capital to single-stocks and ETFs on a discretionary basis (unlike the broader US public which has long ago given up on the stock market), is now at a record low, taking out the cash levels observed in the period just prior to the last market peak in 2007: "GWIM cash allocation % AUM falls to all-time low of 10.4%."
VIX, the volitility index has been setting the lowest readings since the christmas holidays of 1993. A similar period occured in early 2007, both briefly before drops in the stock market.
The stock market hasn't been this confident in 24 years


s11.postimg.org/bhb97u05f/J12_CE2b.png
the VIX, a measure designed to track stock market fear, is at its lowest level in 24 years.
"At this point I'm not worried about a low VIX," Michael Antonelli, an institutional equity sales trader and managing director at Robert W. Baird in Milwaukee, told Business Insider. "One of the hallmarks of our current bull market is a tape that slowly and relentlessly grinds higher, and that just crushes volatility. There's just so much to be bullish about, so many sectors and charts that look spectacular." [This is the confidence that comes with a big top]
VIX has closed a record 6 straight times below 10 and there are massive short positions held by speculators against it.
Meanwhile these are the valuation measures with about a 90% correlation with subsequent 12 year returns. (From John Hussman)


s1.postimg.org/68g5gjxwf/wmc170619d.png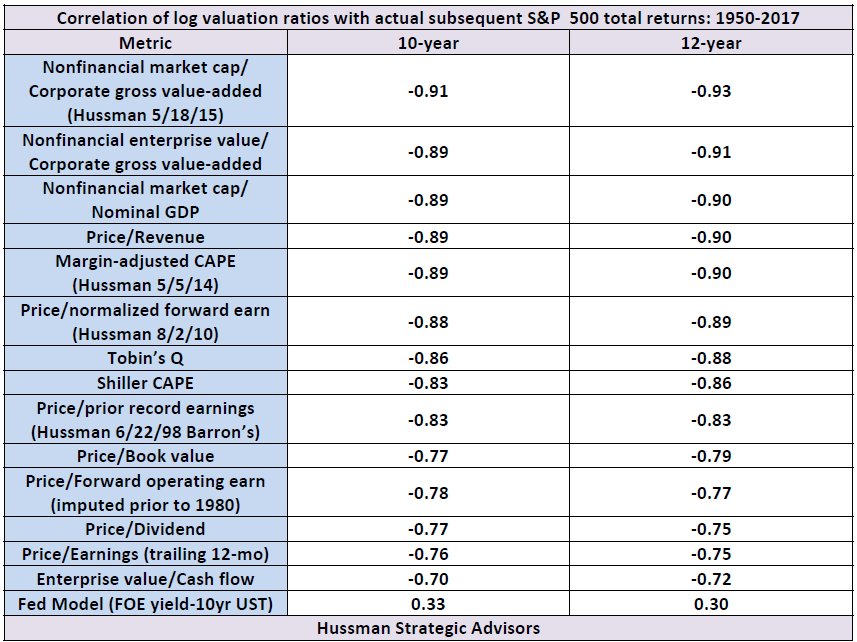 pbs.twimg.com/media/DFQ6Xt6XkAA2hYs.jpg
Feeling confident?