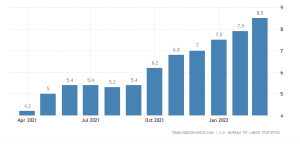 The Consumer Price Index soared 8.5% in March year-on-year, according to the report released by the Labor Department on Tuesday. Prices have not been this inflated since Reagan was in power in December 1981.
Former Fed Chair Ben Bernanke set the target level of inflation at 2% back in 2012. Once the Federal Reserve began pursuing a 2% level of inflation in 2012, that standard was soon set as the target for numerous central banks across the world. This all changed when the world collectively agreed to stop spinning for the coronavirus. As you can see, median inflation in the US was declining prior to 2020.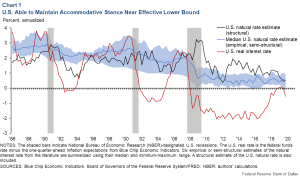 The 2% level remained in place for some time until they realized that inflation was not "transitory" and artificially low rates had diminished the central bank's ability to control the situation. Guidelines and restrictions were lifted chaotically. The US government continued to spiral into debt by adopting new socialistic spending programs. Unemployment levels are just now recovering three years later, but the damage from COVID cannot be ignored. While wages are increasing, inflation has reached such an unsustainable level that everyone's buying power has decreased.
By August of 2020, the Federal Reserve carefully changed its language:
"Notably, the Fed changed its language on inflation, replacing its 2 percent inflation target commitment, and instead said it will "[seek] to achieve inflation that averages 2 percent over time."
Inflation made a notable uptick in April 2021 (4.2%) at a pace not seen since the Great Recession. By the end of Q4 2021, Chairman Powell admitted inflation was not "transitory," and underplayed the situation that would unfold. We are now in the midst of a supply chain crisis, energy crisis, and wage-price spiral. Every variable of this situation contributes to inflation on top of a government that does not take measures to address any crisis.
White House Press Secretary Jen Psaki tried to do damage control a day before the report was released. "We expect March CPI headline inflation to be extraordinarily elevated due to Putin's price hike," Psaki said. The numbers do not lie. Inflation was on the rise well before Putin engaged with Ukraine. Government and central bank mismanagement have caused the current situation. Powell admitted they should have moved a bit quicker, but Biden remains wholly unaware of the problem and continues to worsen matters with his policies that are intended to destroy America before Build[ing] Back Better.
Views: