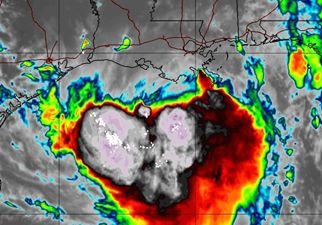 Tropical Storm Barry Inches Toward Gulf Coast; Heavy Rain Moves In; Dangerous Flooding Ahead in Lower Mississippi Valley
At a Glance
Tropical Storm Barry will make landfall today along the northern Gulf Coast, possibly as a hurricane.
A major threat of rainfall flooding is in play over the northern Gulf Coast and lower Mississippi Valley.
New Orleans and Baton Rouge, Louisiana, are among the cities in a high risk for flooding rainfall.
Hurricane, tropical storm and storm-surge warnings have been issued for the northern Gulf Coast.
Storm-surge flooding will also add to the water worries, particularly along and east of Barry's track.
Power outages are likely in parts of Louisiana and Mississippi.
Tropical Storm Barry will make landfall today, possibly as a hurricane, along the northern Gulf Coast, spreading torrential rain up the lower Mississippi Valley, leading to major river flooding and flash flooding in parts of Louisiana, Mississippi, Alabama, Arkansas and Tennessee, along with storm-surge flooding and strong winds.
The center of Barry is continuing its slow crawl toward the coast with forward speed only around 5 mph.
'It's powerful': Tropical storm starts lashing Louisiana
NEW ORLEANS (AP) — Homeowners sandbagged their doors and tourists trying to get out of town jammed the airport Friday as Tropical Storm Barry began rolling in, threatening an epic drenching that could test how well New Orleans has strengthened its flood protections in the 14 years since Hurricane Katrina.
With the storm expected to blow ashore early Saturday near Morgan City as the first hurricane of the season, authorities rushed to close floodgates and raise the barriers around the New Orleans metropolitan area of 1.3 million people for fear of disastrous flooding.
The storm was expected to inflict the most damage on Louisiana and parts of Mississippi, with wind and rain affecting more than 3 million people.
About 3,000 National Guard troops, along with other rescue crews, were posted around Louisiana with boats, high-water vehicles and helicopters. Drinking water was lined up, and utility crews with bucket trucks moved into position.
"This is happening. … Your preparedness window is shrinking," National Hurricane Center Director Ken Graham warned. He added: "It's powerful. It's strengthening. And water is going to be a big issue."
As Barry strengthened Friday and inched closer to shore, residents in the Gulf states were rushing to prepare ahead of the storm's expected landfall on Saturday.
While the city of New Orleans has not issued a mandatory evacuation, New Orleans Mayor LaToya Cantrell held a press conference with local officials to warn residents of the incoming threat and to declare an emergency. Extreme flooding related to the storm had already sparked a flash flood emergency as high waters inundated parts of New Orleans on Wednesday.
Cantrell stressed in the press conference that residents need a plan for the approaching storm, whether that is to shelter in place or to evacuate the city. Due to the time the storm is expected to hit and the fact that the storm is forecast to be a potent tropical storm or Category 1 hurricane at the time of landfall, the city is not issuing mandatory or voluntary evacuations. "Sheltering in place is our strategy," Cantrell told reporters, adding that the city wouldn't call for evacuations unless the storm was Category 3 force or stronger.
Residents of southeast Louisiana need to finalize preparations for widespread and severe flooding this weekend with the approach of Tropical Storm Barry. Packing top sustained winds of 65 mph, slow-moving Barry will push its way onshore Saturday, possibly as a Category 1 hurricane. What matters most with Barry isn't a Saffir-Simpson rating, though, but instead the massive rains it will dump on a highly vulnerable region—most of it arriving well after landfall from Saturday into Sunday.
"It doesn't matter what the storm is called," emphasized weather.com's Jon Erdman. "We are still expecting a major rainfall flood event."
NEW ORLEANS, July 12 (Reuters) – City officials warned New Orleans residents on Friday to secure their homes, stock up on supplies and prepare to huddle indoors with Tropical Storm Barry poised to make landfall as the first Atlantic hurricane of 2019.
Barry's maximum sustained winds were clocked at 65 miles per hour (100 kph) as it churned through the northern Gulf of Mexico toward Louisiana. Meteorologists warned that torrential rains – as much as 2 feet (60 cm) in some places – are likely to unleash severe flooding.
1,031 views