by Umar Farooq
Traditional financial players have largely shunned the web-based "crytpocurrency," viewing it as too volatile, complicated and risky, and doubting its inherent value. But bitcoin, invented in 2008, performed better than any other currency in every year since 2010 apart from 2014, when it was the worst-performing currency, and has added almost a quarter to its value so far this year.




Source: seekingalpha


Many market observers have emphasized that bitcoin prices could soon enjoy significant upside if the SEC approves the proposed Winklevoss Bitcoin ETF, an investment fund which has an approval deadline on 11th March. Traders have already incorporated this event into bitcoin prices, according to several analysts. Some analysts say regulatory approval of a bitcoin ETF would make the currency relatively attractive to the often more cautious institutional investor market.

But despite potentially high returns, low correlations with other currencies and assets, falling volatility and increasing liquidity, there is scant evidence so far that most major players are considering investing in the digital currency.

"Bitcoin is just not liquid enough for us to even think about," said Paul Lambert, fund manager and head of currency investment at Insight, in London. "We manage billions and billions of dollars we'd need to be able to go into that market and trade in hundreds of millions of dollars at a time, and my sense is it's not like that."

The price of bitcoin could hit $3,000 by the end of the year after recently trading above gold and hitting a fresh record high, an analyst told CNBC on Tuesday. A rise on this scale would represent a near 150 percent increase from bitcoin's current price of $1,204 at the time of publication, and a more than 130 percent increase from the fresh $1293.47 high it set last week, according to CoinDesk data. The price of bitcoin currently is not trading above an ounce of gold, but the recent rise in price, which is up 195 percent in the past 12 months, has been attributed to a number of geopolitical and broader market factors.

"In terms of price this year, I think it will go up to $3,000. As it becomes more pervasive and more generally accepted, I think you'll see rapid growth in adoption," Davies told CNBC in an interview on Tuesday. "People are unsure about what is going on in the world, and digital currencies unlike the U.K. pound sterling have been hit badly because of Brexit, so people are looking to divest into bitcoin. There is a definitely upward trend. So the drivers will be hedging against currency fluctuations and insecurity in the markets."

The digital currency bitcoin is now more valuable than gold — and investing in it may soon become a lot simpler. The value of one bitcoin rose to $1,290 Friday as the value of an ounce of gold sank to $1,228, marking the first time that the e-currency became more valuable than the precious metal.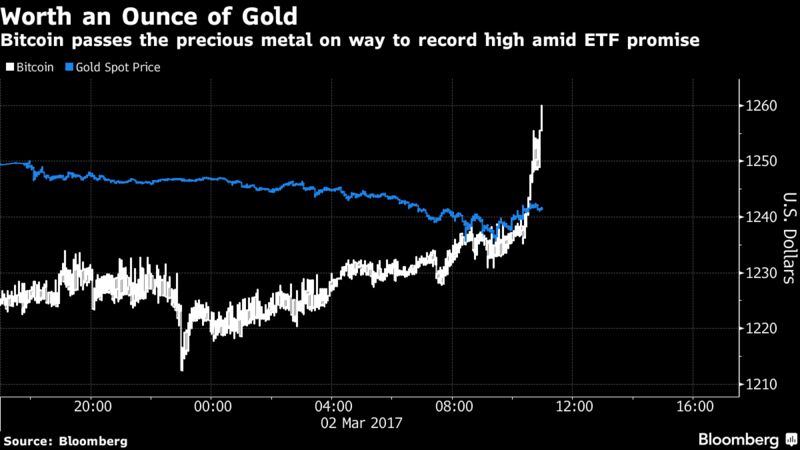 Source: bloomberg
In short, if any of the three bitcoin trusts are granted SEC regulatory status, it would open bitcoin up to an abundance of new investors. Currently, anyone who wants to trade bitcoin must open a bitcoin account and trade on specific online bitcoin exchanges. With a publically traded ETF, investors could buy shares more easily through their brokers.