by Umar Farooq

Gold futures have posted the biggest monthly gain since June, on investor anxiety over moves by the President Trump that included imposing restriction on entry of seven predominantly Muslim nations' citizens and dismissal of the acting U.S. attorney general for refusing to implement the order. The dollar has weakened and headed for a third straight decline against a basket of 10 currencies, and U.S. stocks fell.
Confusion over U.S trade and immigration policies has helped revive haven demand for gold, which in December capped its biggest quarterly decline in more than three years. Money is also flowing back to precious metals as speculation mounts that the Federal Reserve may be more cautious in raising U.S. interest rates amid concerns Trump's policies could stifle economic growth.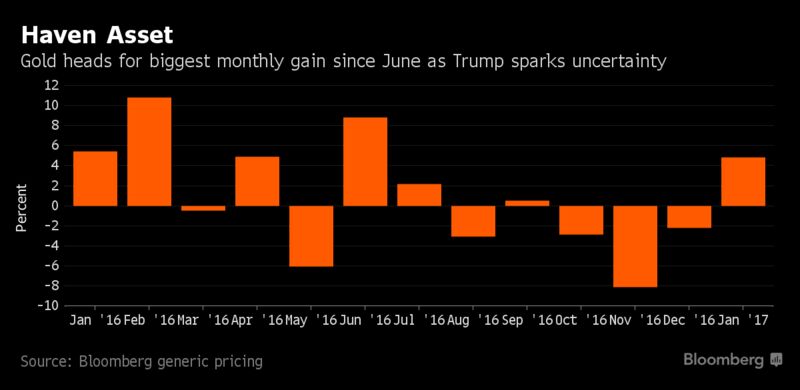 "The gold market is in thrall to the Donald Trump show," David Govett, head of precious metals trading at Marex Spectron, said by e-mail from London. "If Trump sticks to his immigration policy of the last few days, then gold should remain supported." "Uncertainty will keep equities and the dollar soft as the market comes to terms with the fact that Trump is the first politician in living memory, or ever, to actually enact every electoral promise he had made to the letter," Jeffrey Halley, a senior market analyst at Oanda Corp. in Singapore, said by e-mail. "Gold and other safe-havens should be the main beneficiaries."
"There's a lot of uncertainty and a lot of backlash over recent administration policies and that's causing uncertainty in the market, and then all of a sudden the gold market has come back to life," Phil Streible, a senior market strategist at RJO Futures in Chicago, said in a telephone interview. "The Fed may be slightly more cautious. It's one thing to bring back jobs, but it's another thing to cause protests and instability."
Alongwith Gold, other metals are also posting gains. Silver futures gained as much as 2.8 percent to $17.635 an ounce, the highest since Nov. 11. On the New York Mercantile Exchange, platinum and palladium futures also rose. A gauge of 16 senior global producers tracked by Bloomberg Intelligence advanced 1.5 percent. It has risen 11 percent in January, poised for the biggest monthly rally since July. Newmont Mining Corp., Kinross Gold Corp., and Goldcorp. Inc. were among the biggest gainers Tuesday.

Views: