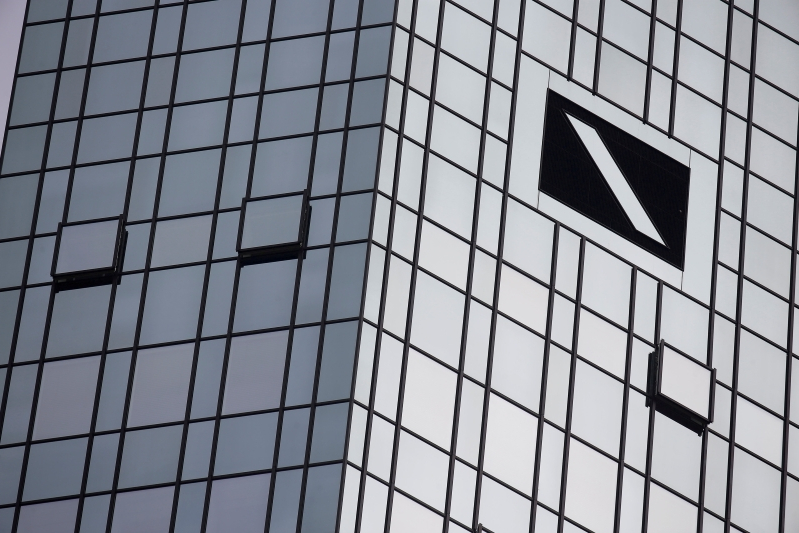 If you work for Deutsche Bank and are wondering about the veracity of the redundancy rumours, you do not have long to wait. Deutsche Bank's board meets Sunday to discuss Christian Sewing's proposed 15,000 to 20,000 redundancies and insiders say an announcement is expected Sunday evening. Ominously, there are already signs that DB is preparing for the worst.
"All the meeting rooms have been booked out on Monday morning," claims one Deutsche Bank equities insider. When banks make layoffs, it's common for people losing their jobs to be taken into meeting rooms for a chat with HR and line managers.
Deutsche Bank declined to comment on the availability or not of meeting rooms next week. However, in the event that the board does decide to go the full 15k-20k and to get rid of staff as soon as possible, Monday could bring Lehman-style box carrying scenes to New York and London.
The equities division will bear the brunt of the cataclysm. In fixed income sales and trading, the future may be brighter. – And in fixed income, Deutsche has been doing some big, big hiring this year.
Hire to fire?
Fixed income headhunters say Deutsche has recruited over 30 credit and macro traders in London in 2019. Most are additions to headcount instead of replacement.
Even at this juncture, people are still arriving.
DB's latest recruits are understood to include Campbell Gilbert, the former head of linear rates derivative trading at Mizuho. Gilbert worked at Deutsche Bank for 15 years until 2015 when he left for Mizuho. Now, he's said to be coming back again.
Tanveer Abbas, a former director in high yield special situations trading at HSBC, is also understood to be joining DB soon.
Deutsche has also recruited at least four emerging market credit traders from Nomura in recent weeks. They follow the arrival of traders like Manav Gupta, Sylvain Lebre and Olivier Gazzolo in London, and Bret Corrigan and Drew Meany in New York earlier this year.
news.efinancialcareers.com/us-en/3001516/deutsche-bank-redundancies
Deutsche Bank is pulling out of the Stock Market 
The situation with Deutsche Bank has been heating up right now. This is the same bank that the IMF referred to as the most dangerous bank in the world. I have talked about this as well and the dangers it imposes simply because it cannot be sustained. You cannot create a monster and expect it not to run loose on the system at some point. It's inevitable. No solutions can be provided.
This is the bank that poses the biggest risk to the global financial system – Business Insider
www.businessinsider.com/r-imf-says-deutsche-banks-global-links-make-it-biggest-potential-risk-2016-6
Deutsche_Bank_Annual_Report_2018.pdf
www.db.com/ir/en/download/Deutsche_Bank_Annual_Report_2018.pdf
Deutsche Bank Culls Top Leadership, Plans New Bad Bank Arm – Bloomberg
www.bloomberg.com/news/articles/2019-07-06/deutsche-bank-plans-to-replace-retail-head-strauss-in-overhaul
What's a Bad Bank and How Can It Help Deutsche Bank?: QuickTake – Bloomberg
www.bloomberg.com/news/articles/2019-07-06/what-s-a-bad-bank-and-how-can-it-help-deutsche-bank-quicktake
DEUTSCHE BANK IN RED
Deutsche Bank announced Sunday that it will pull out of its global equities sales and trading business as part of a sweeping restructuring plan to improve profitability.
The bank will also slash 18,000 jobs for a global headcount of around 74,000 employees by 2022. The bank aims to reduce costs by 6 billion euros.
Deutsche expects its restructuring plan to cost 7.4 billion euros by the end of 2022.
The German bank also expects to report a net loss of 2.8 billion euros in the second quarter of 2019. It will release its second quarter results on July 25.
www.cnbc.com/2019/07/07/deutsche-bank-will-exit-its-global-equities-business-and-scale-back-investment-bank.html
INVESTIGATIONS SWIRL
Investigations surrounding Deutsche Bank's more than decade-long relationship with President Donald Trump and his business have created a crisis for the German financial giant.
It's caught in a legal tug of war between Trump and House Democrats for the president's financial records and calls for broad investigations of its anti-money laundering practices.
But for the 150-year old bank, Trump is just the beginning of its problems.
www.stamfordadvocate.com/business/article/Trump-is-a-huge-headache-for-Deutsche-but-the-14077336.php
DealBook Briefing: Deutsche Bank's Bloodletting May Soon Begin
The embattled German lender's board is expected to vote as soon as Sunday on an extensive turnaround plan that could lead to 20,000 layoffs, close entire businesses and cost nearly $6 billion.
What's on the table, according to Bloomberg:
• The potential closing of some or all of the bank's unprofitable non-European equities business.
• 15,000 to 20,000 layoffs, Deutsche Bank's biggest staff cut in decades.
• The departure of senior executives like Garth Ritchie, the head of its investment bank; Sylvie Matherat, its chief regulatory officer; and James von Moltke, its C.F.O.
• The creation of a "bad bank" to hold tens of billions of euros worth of derivatives.
It's an unwinding of Deutsche Bank's ambitions to become the "Goldman Sachs of Europe." Under a generation of leaders, the German bank expanded into investment banking — only to be undercut by the financial crisis and new regulations that required it to hold much more capital.
But it's well overdue. The firm's investment bank alone has 38,300 employees, the same number as all of Goldman Sachs, according to the JPMorgan Chase analyst Kian Abouhossein. And the non-European equities business reportedly loses 600 million euros, or $676 million, a year.
Whether the turnaround will succeed is an open question. An unnamed regulator told the FT that the plan "is the final bullet" that could save the lender. But some analysts aren't sure that the businesses that would be left are profitable enough to sustain the firm.
www.nytimes.com/2019/07/05/business/dealbook/deutsche-bank-turnaround.html
1,429 views