by Terroristslayer1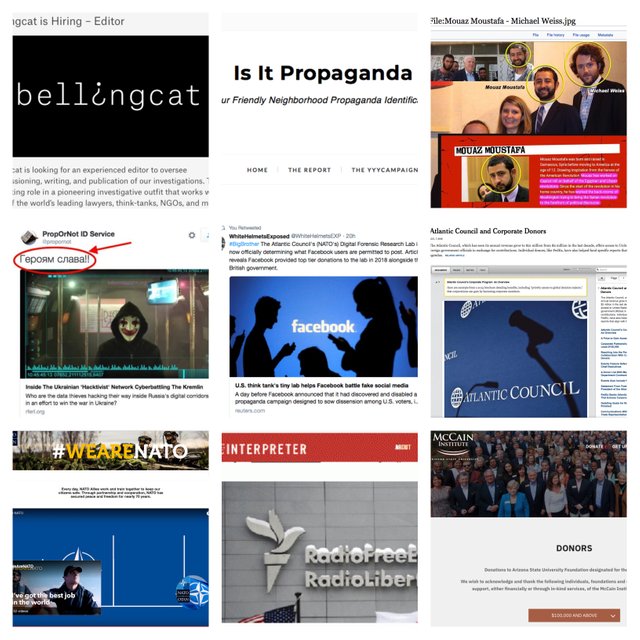 Huge Information Drop Exposing More Links Between The Atlantic Council, PropOrNot, Michael Weiss, The Daily Beast, Mouaz Moustafa and the Wars in Libya, Syria and Ukraine
steemit.com/news/@clarityofsignal/huge-information-drop-exposing-more-links-between-the-atlantic-council-propornot-michael-weiss-the-daily-beast-mouaz-mustafa-and
Post provides a large amount of information on The Atlantic Councils paid propagandists and organizations directly involved working with them. It will also reveal that on August 7, 2018 Reuters news service revealed that Facebook is partnering with the Atlantic Council's Digital Forensic Research Lab to police content on Facebook, the world's largest social media network (The Reuters article is linked at the bottom of this post). To see how the Atlantic Councils war propagandists all fit together and how it ends up with them policing information on Facebook, simply follow the White Helmets Exposed Tweets linked below.
Clicking the direct link after each image will open up the additional images and information related to each individual image.
Anne Applebaum of the Washington Post is involved with Stop Fake in Ukraine and has played a lead role in the current propaganda. Michael Weiss of the Daily Beast is also working with Andrea Chalupa orchestrating the current propaganda barrage.
steemit.com/news/@clarityofsignal/huge-information-drop-exposing-more-links-between-the-atlantic-council-propornot-michael-weiss-the-daily-beast-mouaz-mustafa-and
steemit.com/news/@clarityofsignal/revealing-the-links-between-brown-moses-bellingcat-propornot-and-the-atlantic-council-in-relation-to-false-flags-psy-ops-for
consortiumnews.com/2018/01/28/unpacking-the-shadowy-outfit-behind-2017s-biggest-fake-news-story/
steemit.com/news/@fortified/fake-news-or-how-the-atlantic-council-promoted-anti-russian-propaganda
www.zerohedge.com/news/2018-01-25/propornot-unmasked
673 views