The Evidence for the Greatest Top in History
Over the last year US stocks have been rallying with greater and greater persistence and historic low volatility. This has been from already extremely high valuations. US stocks may be making a blow-off top and therefor could crash soon.

Today's financial environment is not exactly normal. We have been on the receiving end of a century long experiment that started with gold backed government notes and ended with a manipulated debt based financial system. In order to keep the house of cards standing interest rates have been brought to impossibly low levels (negative in many instances).

The end of a stock market bubble will have wider repercussions and with interest rates already at record lows (giving little scope for stimulus) it should take the debt structure with it?—?as was threatened by the 2008 financial crisis. It looks like this 20 year mania period is coming to an end.

Nasdaq (blue) S&P (Purple) Dow (green)

A variety of conditions make this top more risky than 2007 or even 1929. First we will look at the stock market, which in 2017 became the focus of a historic mania (along with bitcoin).

US stock valuations are the highest ever according to John Hussman's margin-adjusted CAPE, which has a correlation of -0.89 with actual subsequent market returns.

This chart shows a slightly more accurate valuation measure. You can see the stock market relative to normal valuations from 1950.

See the latest chart for this indicator here

Markets top on optimism and bottom on pessimism, because it reflects investors tendency to speculate in those markets. Optimism in the stock market has been similar to or greater than every previous extreme, such as 1987, 2000, 2007 and 2014.

Investors intelligence recently hit the most extreme readings since before the 1987 crash. During large parts of the bull market optimism has been extreme according to this measure.

After hours this trendline was broken convincingly, first S&P 0.6% decline in nearly 100 days and VIX closed at 13.84 yesterday. Next few days action will be interesting.


the market could rip lower very quickly now. Like the Nasdaq in 2000. Or maybe it will make a correction-recovery-crash like 1929/1987.

At 2.7% yields on 10-year Treasuries have barely begun to rise. Once we break above 3.1%, a move to 4% will happen quickly, absent a Fed policy reversal to slow the rise. A break above 4% could send yields soaring higher, implying disaster for financial markets and the economy.

— Peter Schiff (@PeterSchiff) January 29, 2018

Market Euphoria May Turn to Despair If 10-Year Yield Jumps to 3%
We are primarily funded by readers. Please subscribe and donate to support us!
---
It's getting harder and harder to quarantine the selloff in Treasuries from equities and corporate bonds.

The benchmark 10-year U.S. yield cracked 2.7 percent on Monday, rising to a point many forecasters weren't expecting until the final months of 2018. For over a year, range-bound Treasuries helped keep financial markets in a Goldilocks state, with interest rates slowly rising due to favorable forces like stronger global growth and the Federal Reserve spearheading a gradual move away from crisis-era monetary policy.

Yet the start of 2018 caught many investors off guard, with the 10-year yield on pace for its steepest monthly increase since November 2016. It's risen 30 basis points this year and reached as high as 2.73 percent in Asian trading Tuesday. Suddenly, they're confronted with thinking about what yield level could end the good times seen since the presidential election. For many, 3 percent is the breaking point at which corporate financing costs would get too expensive, the equity market would lose its luster and growth momentum would fade.

"We are at a turning point in the psyche of markets," said Marty Mitchell, a former head government bond trader at Stifel Nicolaus & Co. and now an independent strategist. "A lot of people point to 3 percent on the 10-year as the critical level for stocks," he said, noting that higher rates signal traders are realizing that quantitative easing policies really are on the way out.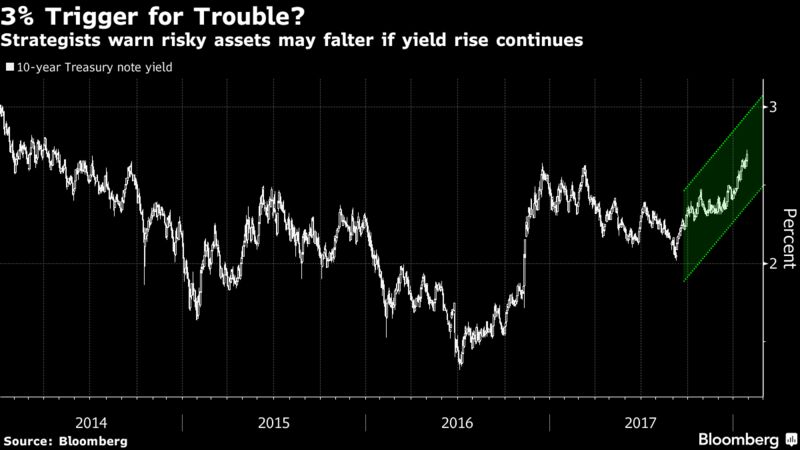 As Personal Saving Rate plunges, credit card usage soars.

Broken down, consumer credit rose by $11.2 billion in revolving credit, or credit card debt, which pushed it a record $1.023 trillion, the highest credit card amount outstanding on record. This was also the second highest monthly increase in credit card debt on record.

…
This was to be expected: as we showed last month, US consumers appear to be tapping out, and as a result the Personal savings rate dropped to 2.9%, the lowest since November 2007.

World Industrial Production %12M Change pic.twitter.com/AoCBfkbU4o

— J. Brett Freeze, CFA (@Techs_Global) January 30, 2018

MORE:
Then, up to $13 trillion worth of debt globally was trading with yields of less than zero. But with the European Central Bank heading to the exit on quantitative easing (QE), economic recovery clearly underway and inflation expectations rising, investors are increasingly unwilling to effectively pay to lend to governments.
Financial Times
–
18 hours ago
China's $4tn bond market faces a refinancing challenge over the next five years as more than half of the outstanding debt matures, heightening concerns over default risk by some borrowers. Companies, state-owned enterprises, financial institutions and sovereign borrowers — including the central government and local …
Alaska Dispatch News
–
16 hours ago
But others point out that growing health care costs have placed Medicaid under pressure not just in Alaska but at the federal level. Conservative lawmakers have been pushing for the repeal of the Affordable Care Act, and President Donald Trump's administration this month set out guidelines that would allow states to force …
Views: 1