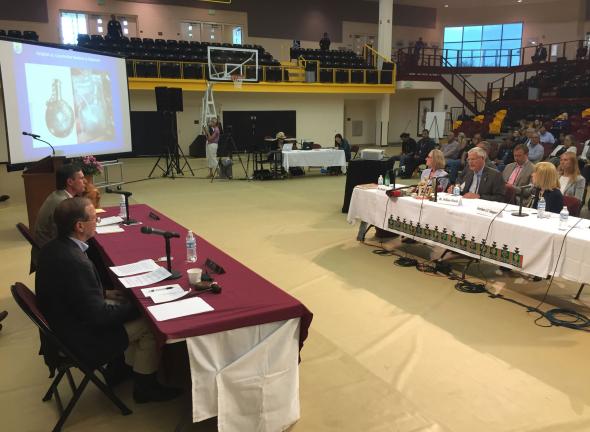 High on the Colorado Plateau in northwestern New Mexico, a dusty main road runs through the Pueblo of Zuni. Pull over to the side, and someone in threadbare clothing will soon approach your window holding out a mysterious little box. In Los Angeles, where I live, such an offering could only mean trouble, and you'd be wise to roll up the window and make a quick getaway. But here in the homeland of the Zuni people, it's safe to take a look. The box is lined with soft cloth, and in it you'll find an exquisite creation this person made with his own hands—a travertine animal carving, silver earrings inlaid with the Zuni sun face motif, a corn maiden pendant of carved shell.
The Zuni people rely heavily on hard-won earnings from handmade jewelry and crafts. The tourism department of Zuni Pueblo estimates that 80 percent of working adults there make arts and crafts for sale. Yet it's getting harder and harder for them to make a living.
For as long as the Zunis and other indigenous artisans have sold their crafts, they've been undercut by fakes—nonnatives posing as Indians to sell more of their work, factory made goods sold as handmade. But today's fakes include a virtual torrent of knockoffs cheaply manufactured overseas and masquerading as genuine Native made—baskets made in Pakistan sold as Navajo, beadwork made in China sold as Plains Indian, Hopi katsina dolls cranked out in the Philippines—none more profitable than counterfeit Indian jewelry.
The insult isn't just financial. "Our arts and crafts give us a really concrete way to stay connected to our culture and our history," says Navajo jeweler Liz Wallace. "All this fake stuff feels like a very deep personal attack."
But even though the rampant sale of counterfeits in the Southwest has been widely acknowledged for decades—and has ties to organized crime, according to affidavits by federal investigators—only recently has the U.S. government taken any serious action to shut down the major operators. Whether the crackdown has teeth will be tested in New Mexico on March 27, when Albuquerque jewelry dealer Nael Ali is sentenced for fraudulently selling imported jewelry as Native American made.
544 views