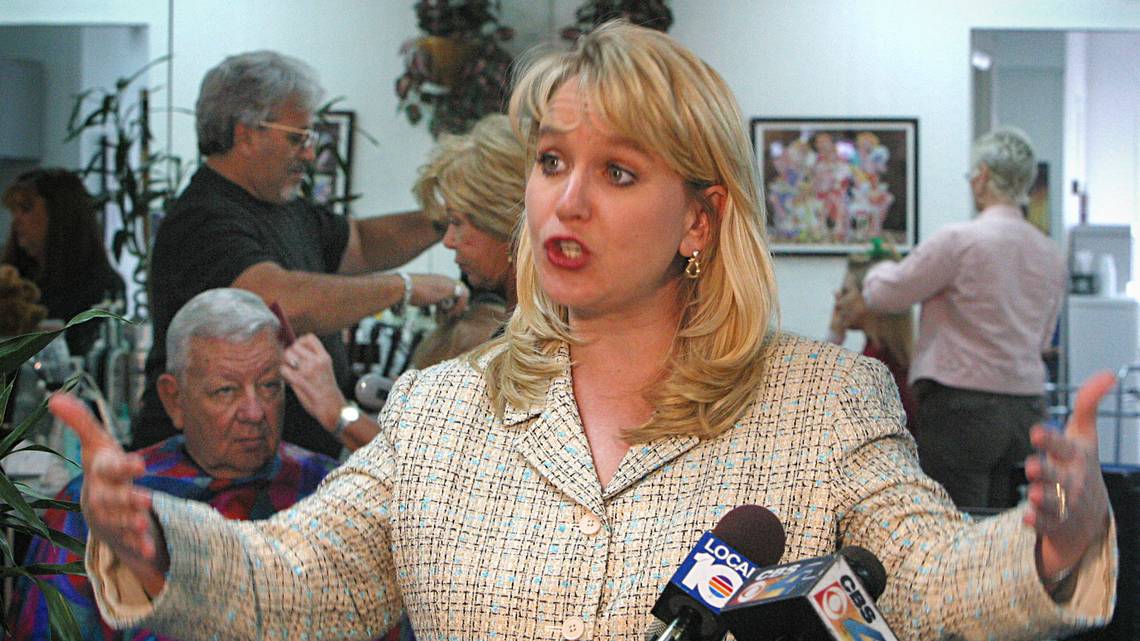 via miamiherald:
Tiffany Carr runs the state's top domestic violence organization, a nonprofit that uses public money — state and federal — to finance shelters and other essential services. And she makes a good living.
How good? In a June 30, 2017 report, the Florida Coalition Against Domestic Violence disclosed she is paid $761,560 annually, a salary that is approved by its board. She hit that mark after receiving pay raises totaling $313,475 over a two-year period.
"That's — it's ridiculous," said Dan Ravicher, a professor at University of Miami School of Law who focuses on nonprofits, business and social entrepreneurship. "We're talking almost 2 percent of the budget being paid to one person. That's pretty unusual."
Carr's coalition, a nonprofit that reports its top salaries on annual Internal Revenue Service forms called 990s, is one of many private organizations that receive state funds to provide social services. In addition, the coalition operates as a pass-through, awarding public funds to smaller domestic violence organizations.
"It is surprising that a private nonprofit organization serving such a vulnerable population requiring critical services would set a salary at more than $750,000," said Mara Gambineri, deputy communications director for Gov. Rick Scott. "This organization should provide a full explanation and give reassurance that the important services they provide are not being diluted by this expense."
In fact, the state, which provides slightly more than half of the coalition's funding, apparently had no idea Carr was pulling down such a hefty salary.
A written statement from Mike Carroll, the secretary of Florida's Department of Children & Families, said the coalition's budget on file with his agency lists her salary as $300,000, "which may be inconsistent with federal tax documents filed by FCADV."
In response to the Miami Herald's inquiries, he ordered a "comprehensive financial audit of all DCF contracted funds allocated to FCADV executive salaries."
…
Carr has income beyond her base salary. The year she made $761,560, the organization reported an additional $40,050 in deferred compensation and benefits. The coalition also reported she received $105,000 as part of an unusual supplemental retirement plan, although it is not clear whether that is over and above the $761,000 base. Two nonprofit experts consulted by the Herald believed it to be additional compensation, but were not positive, because they had rarely seen anything like it.
Over the past six years, the coalition reported Carr received between $40,000 and $130,000 annually as part of that retirement plan, totaling $540,000.
The Florida coalition is responsible for overseeing the funding of 42 domestic violence shelters across the state. The law requires the coalition to regularly check on organizations receiving funds to ensure they are spending their money properly. But there is no mention in the law about who provides those financial oversight services.
It gets some of its money from the Attorney General's office, but most comes from DCF, which is the main oversight body for the organization. DCF spokesman David Frady said the agency's inspector general reviews a third-party audit of the coalition's contract every year and conducts annual reviews to check that the funds are being spent properly.
Frady noted that "there is not a provision in the contract regarding executive pay."
DCF has not done an inspector general report on the coalition since 2005, when it looked into six allegations, including an alleged "special relationship" between Carr and her then-overseer at DCF, Trula Motta, and a complaint that the coalition was not required to provide a detailed line-item budget to DCF like other contractors. Carr's salary was not mentioned at the time, but DCF employees stated they thought Motta "served at the pleasure" of Carr, rather than the reverse, and that they felt like they "work for Tiffany Carr." One employee described it as "the tail is wagging the dog." The report's findings on these allegations were inconclusive.
Carr has run the coalition for nearly half its 40-year history. Starting under Gov. Bush, the coalition continued to assume more of the responsibilities for distribution and oversight of public money. Since then, Carr has effectively consolidated the power that comes with controlling the purse strings. Her supporters say this has made her an effective advocate and lobbyist for this cause.
The coalition is now getting money from federal grant programs such as the Victims of Crime Act, which those supporters attribute directly to Carr's efforts.
….
855 views