Wolf Richter wolfstreet.com, www.amazon.com/author/wolfrichter
"People need to ask themselves very carefully, 'Why am I buying this house?"': Stephen Poloz, Bank of Canada.
The government of the Province of Ontario announced a laundry list of measures to prick the crazy house price bubble in Toronto and surrounding areas. This includes a 15% transfer tax imposed on home sales to non-resident foreign investors, including corporations. It's aimed at Chinese investors in China that buy homes in Canada to diversify their assets and get them out of harm's way in their own country.
For them, homes in Toronto (or anywhere outside China) are an asset class denominated in a foreign currency. But these homes also confer other benefits in the event some untoward mishaps occur in China, as these investors appear to half-expect.
The Province of British Columbia imposed a similar measure last August to get a grip on the housing bubble in Vancouver that had long ago spiraled out of control. It had the effect of freezing the market, with home sales volume plunging.
Why now in Toronto? It appears that the attention of Chinese investors has pivoted from Vancouver to Toronto: In March, year-over year, the average price for all types of homes in Toronto soared 33%! It doesn't take a genius to figure out that this is simply ludicrous.
Canadians have been warned, though perhaps investors in China haven't gotten the memo yet.
At a press conference on April 12, Bank of Canada Governor Stephen Poloz warned about this ludicrous house price inflation that "has divorced itself from any fundamentals that we can identify." Prices are in "an unsustainable zone."
"It's time we remind folks that prices of houses can go down as well as up. People need to ask themselves very carefully, 'Why am I buying this house?"'
The industry has been feverishly gushing hype that fundamentals explain why this ludicrous price inflation shouldn't be considered ludicrous. But Poloz would have none of it:
"There's no fundamental story that we could tell to justify that kind of inflation rate in housing prices….
Instead, he blamed a "growing role for speculation."
"For folks who are in the housing market it's a question of risk management, what would you do if there was a correction? When something has been rising that quickly, of course it's vulnerable to a correction."
So get ready for that "correction" – that was his message.
The Ontario government's "Fair Housing Plan" lists 16 measures, including:
A 15% "Non-Resident Speculation Tax" that applies to individuals who are not citizens or permanent residents of Canada and to foreign corporations buying residential properties of one to six units in the Greater Toronto and Hamilton area plus surrounding regions (the "Greater Golden Horseshoe"). I circled Toronto: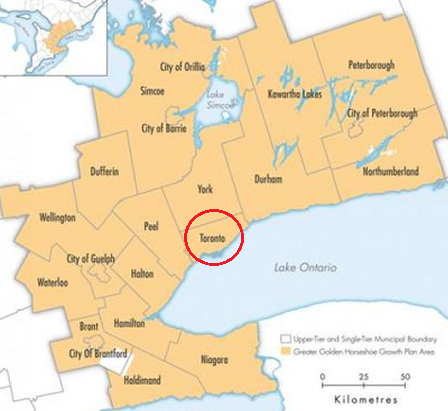 But the transfer tax will not apply to refugees and "nominees" under Ontario's Immigrant Nominee Program. Further, the government might issue a rebate once the foreign investor obtains permanent resident status or citizenship.
A "vacant homes property tax" of unspecified magnitude in the City of Toronto "and potentially other interested municipalities" to "encourage" owners to either sell unoccupied units or rent them out. This would "address concerns" that homes are "being left vacant by speculators."
Flexibility to use "property tax tools to help unlock development opportunities," such as a higher tax on vacant land that has been approved for new housing.
A number of measures for in the rental market, including expansion of existing rent control in Ontario to buildings constructed after 1991 (rent control was limited to buildings built before 1991). It caps rent increases at 2.5% per year. Exceptions apply.
Measures to increase the "affordable housing supply," such as using "surplus provincial land assets" to develop a mix of market housing and "affordable" housing. Plus, among other goodies, "a targeted $125-million, five-year program" to boost the construction of rental apartment buildings "by rebating a portion of development charges." Affordable means subsidized. Developers love this language. They're going to make a killing.
Review "double ending" by brokers "to ensure that consumers are fairly represented in real estate transactions." Double ending is where one agent represents both the seller and a bidder, thus working both ends of a deal. This has been fingered as a practice that triggers bidding wars and drives up prices. The practice is banned in most provinces but not in Ontario.
A ban on "paper flipping" and similar practices that contribute to "excessive speculation." Some of it targets flipping homes in the preconstruction market, such as "entering into a contractual agreement to buy a residential unit and assigning it to another person prior to closing." This measure is targeted at condo speculators who place deposits on multiple units during the construction phase. Just before the building is complete, they sell the title ("assignment flipping") for a big profit.
A few days ago, Ontario Minister of Finance Charles Sousa called speculators who engage in preconstruction paper-flipping "property scalpers."
Vancouver's measures were not nearly as comprehensive. Yet the market froze as non-resident Chinese investors headed to Toronto, Seattle, and elsewhere to buy into the global asset class that North American homes have become.
1,161 views