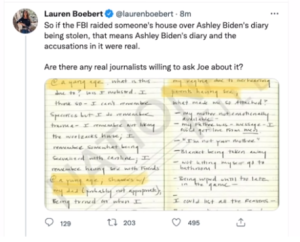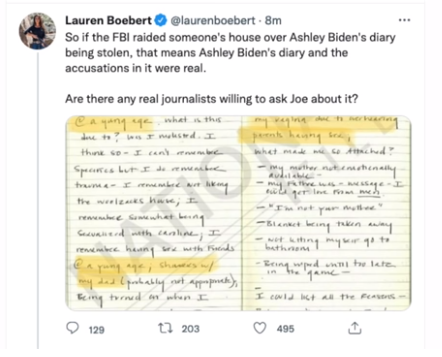 People are worried that they will be harassed by the law if they view the disturbing contents of Hunter's laptop. Joe Biden's daughter, Ashley, also had a secret that the establishment wanted to hide from the public. The individuals who released Ashley's diary recently pleaded guilty to conspiracy to transport stolen property across state lines. They are now facing the possibility of five years in prison.
The FBI wants the contents of the diary to remain hidden. "As they've admitted with today's pleas, the defendants conspired to steal an individual's personal property, which they subsequently sold to a third party and delivered across state lines," said FBI Assistant Director Michael J. Driscoll. They are manipulating the public into believing they are immoral for viewing the contents of the laptop or diary. The contents within both show that Joe Biden is not fit to be president and has committed a slew of heinous crimes.
We are primarily funded by readers. Please subscribe and donate to support us!
---
An excerpt from Ashley's diary:
"But I have always been boy crazy. I remember pulling up my skirt in 2nd grade and showing the boys my underpants. Hypersexualized @ a young age. What is this due to? Was I molested. I think so - I can't remember specifics but I do remember trauma - I remember not liking the Woolzacks house, I remember somewhat being sexualized with Caroline; I remember having sex with friends @ a young age; showers with my dad (probably not appropriate); Being turned on when I wasn't supposed to be. "
This is absolutely disgusting. Would people have voted for "Uncle Joe" if they knew he sexually abused his daughter? Ashley left the diary behind in a mattress before leaving a rehab center in 2020, and a single mother of two happened to find it. The FBI is once again acting as the left's personal mob and covering up Biden's atrocious past.
Views: