by Chris Black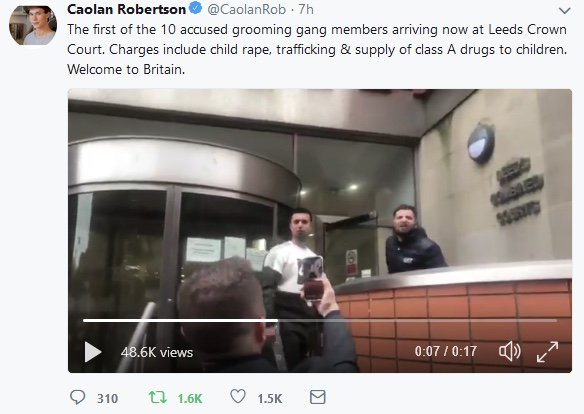 If the name Tommy Robinson doesn't ring a bell, I'd strongly suggest you to watch these videos:
To make a long story short, Tommy Robinson is an English guy born and raised in Luton, a city in the UK which has a predominantly Muslim population. He's the former leader of the English Defense League, later on turned independent journalist, and he was persecuted (actually bankrupted) by his own government for daring to speak out about the UK's Muslim issue, the likes of grooming gangs/rapes, pedophilia, Islamic terrorism, radical Islam thought at local mosques by Wahabist  Imams from Saudi Arabia and so forth and so on. Just watch the videos, they're mind-blowing .
Getting back to today's news, Tommy Robinson was arrested outside of a courthouse in Leeds on Friday, tried and sentenced within just one hour. The sentence? 13 months in jail. His crime? He livestreamed on social media from outside the courthouse  as he was confronting a number of Muslim defendants (a gang of 29) as they were entering the building to face trial over rape/child-sex abuse accusations. Tommy and his producer were streaming live-video from the scene when they were arrested by British police for incitement and breach of peace, whatever that means in the UK nowadays.
twitter.com/CaolanRob/status/999936555862065152
Russia Today (those crazy Russians again) spoke with Tommy Robinson's producer Caolan Robertson about the incident that took place outside of  of Leeds Crown Court . Robertson was quoted as saying:
"Their case has been going on for about a year. Tommy had all the publicly available information… and on that live stream he repeated the information that was already public. We were very careful with language [as to not risk being held in contempt of court]."
As the Muslim gang was confronted by Tommy, they reacted violently before British police officers arrived at the scene and arrested the reporter. All Robinson did was to walk near the alleged child-rapists , trying to squeeze a comment from them. Robinson and 2 of his crew-members were the only members of the media present at the court, and that tells a lot about  how Sharia compliant the mainstream media in the UK really is. Seven police officers descended from a van and ordered Robinson to stop the live streaming, as in their view, reporting from outside a court house makes for breach of peace and incitement.
The 29 Muslims are accused of child-abuse , rape and trafficking against 18 people, including girls aged between 11 and 17.
Robinson was charged with "breaching the peace",  which can cover basically anything the corrupt authorities want it to. I never thought that I would have to watch civilization fall.  His supporters need to band together and protest until he's released. He was reporting on child rapists and this is what he gets:
Why a death sentence? Well, most probably, Tommy Robinson will be placed together with the general prison population, and the prisons in the UK are dominated by Muslim gangs. Obviously, they can't wait to kill him if given the opportunity.
These are dark days for England. Traitors in your own government have sold you out to 14th century throwbacks. You, men of England, where the hell are you? It's time to stand up.
Tommy Robinson has given up everything to defend  freedom and peace from a dangerous "religion" that inspires terror and crime at every level of society. He's put his money where his mouth is and proven he is one hell of a man. I feel the same way he does, the one big difference is he's willing to sacrifice in a way I can't.
England descends into a Muslim hellhole where a man can be arrested for merely covering the trial of Muslim rape gangs. The Sharia police claimed that Robinson breached the peace, but this of course is an obvious lie. This is what you get with Muslim immigration, even in a country as great as England once was.
5,741 views