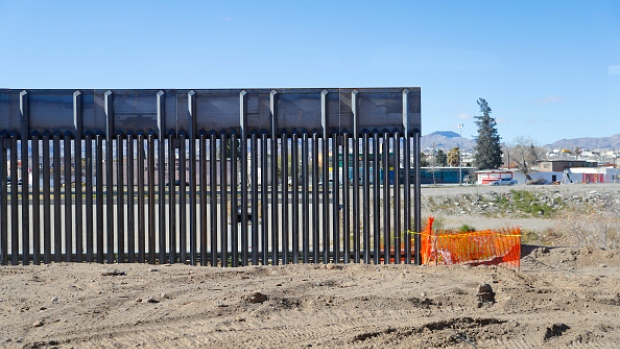 U.S. federal wall funding of US$1.57B yields 1.7 miles of fence
U.S. Customs and Border Protection has put up just 1.7 miles of fencing with the US$1.57 billion that Congress appropriated last year for President Donald Trump's wall along the Mexican border, a federal judge was told.
A lawyer for the U.S. House of Representatives provided the information Tuesday to the judge in Oakland, California, who is weighing requests from 20 state attorneys general and the the Sierra Club to block Trump from using funds not authorized by Congress to build the wall.
"The administration recently provided updated information to Congress on the status of its efforts as of April 30, 2019," the attorney, Douglas Letter, said in a court filing. "Based on that updated information, it appears that CBP has now constructed 1.7 miles of fencing with its fiscal year 2018 funding."
Fox & Friends Challenge Sarah Sanders Over Drudge Border Wall Headline: 'Less Than 2 Miles Built'
White House press secretary Sarah Huckabee Sanders was challenged by the hosts of Fox & Friends as t0 why the leading story on the Drudge Report this morning reads, "WALL STALL: LESS THAN 2 MILES BUILT!"
"The first story on the Drudge today, looks like the wall — we have only two miles built of the wall?" co-host Brian Kilmeade asked. "What is going on there? Does the president still think he can get 400 miles done of the wall by the end of the year?"
"Absolutely, and that is an incorrect figure," she said of the Drudge headline, which cites an article from Bloomberg that reports U.S. Customs and Border Protection has only placed 1.7 miles of new fencing per information given to a federal judge.
"There's far more than two miles have been built," Sanders continued. "We're still on track to get close to 500 miles built by the end of the year. The Army Corps of Engineers working with DHS and DOD are putting a tremendous amount of effort into not just building a new wall, but taking down some of the barriers that have existed that are completely ineffective, and putting in the very effective border wall they have been putting in the last couple months."
She went on to say that the administration is "making great progress" and claimed, "There is over 100 miles, I think, it is close to 115 miles have been finished."
Trump has built less than 2 miles of new wall with $1.57 BILLION Congress handed him for this year but insists 'demolition and rebuilding' should count too
Letter to a federal judge from the House of Representatives' top lawyer spells out how little this year's congressional appropriation has bought
Trump claims he should get credit for replacing older walls that are ineffective
He promised Monday night that he would have 500 miles of wall built by next year, but so far it's just 1.7 miles
Nearly all the wall construction under contract  from the Army Corps of Engineers is for replacements where barriers already existed
Sarah Sanders insisted Wednesday that 'close to 115 miles' have been builtbut a Fox News interviewer didn't askher if that was 'new' or 'replacement' barriers
The Trump administration has built less than 2 miles of new border barriers using the $1.57 billion Congress allocated to the project for the fiscal year that will end September 30, according to a letter filed Tuesday in federal court.
House of Representatives general counsel Douglas Letter made that revelation to Judge Haywood Gillam, citing information the administration provided to Congress about its efforts through the end of April.
'Based on that updated information, it appears that CBP has now constructed 1.7 miles of fencing with its fiscal year 2018 funding,' Letter wrote.
President Donald Trump fired back Wednesday on Twitter, defending what he said has been 'a complete demolition and rebuilding of old and worthless barriers with a brand new Wall and footings.'
'Problem is, the Haters say that is not a new Wall, but rather a renovation. Wrong, and we must build where most needed,' he added.
Border Patrol Chief Carla Provost to leave before year's end: Sources
U.S. Border Patrol Chief Carla Provost is expected to leave her post by December, according to several high-ranking former Department of Homeland Security and union officials with first-hand knowledge of the plan.
Provost, the first woman to lead the 95-year-old federal law enforcement agency, will retire by the year's end, wrapping up her 24-year career, the Washington Examiner has learned.
The 48-year-old lifetime Border Patrol employee has served as permanent chief for less than a year. She was acting chief from April 2017 through August 2018 and officially took over late last summer after Robert Perez was confirmed by the Senate as deputy commissioner of Border Patrol's parent agency, Customs and Border Protection.
1,788 views