by SilverBoatSurfer
We are now hearing of a global housing market implosion. Which will be the mother of all housing crashes.

Our so-called leaders are TOTAL idiots.

They just never admit it. pic.twitter.com/QGBwL7GBxm

— Mac10 (@SuburbanDrone) June 9, 2022
Housing Bubble Getting Ready to Pop: Mortgage Applications to Purchase a Home Drop to Lockdown Lows, "Bad Time to Buy" Hits Record amid Sky-High Prices, Spiking Mortgage Rates
This just keeps getting worse: Applications for mortgages to purchase a home dropped 7% for the week, and were down 21% from a year ago, the Mortgage Bankers Association reported today. An indicator of future home sales: Potential homebuyers try to get pre-approved for a mortgage, lock in a mortgage rate, and then start house-hunting.
Mortgage rates have soared this year, and home prices have soared for years to ridiculous levels, causing layers and layers of potential buyers to abandon the market, amid "worsening affordability challenges," as the MBA called it. And these applications to purchase a home hit the lowest point since the depth of the lockdown in April 2020 (data via Investing.com):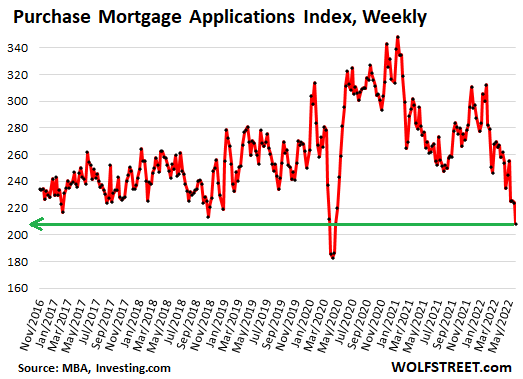 At the same time as new mortgage applications are going into meltdown, the annualized % price increase just reached an all time record, AND homes under construction reached an all time record. Which equates to the mother of all impending housing gluts.
The rate increases needed to reduce inflation will crush the global economy. No country will be able to escape this reset.

None of us own enough #gold or #silver. t.co/0Vyy9gghPj

— Wall Street Silver (@WallStreetSilv) June 9, 2022
The median American household needed 38.6% of their income to afford payments on a median-priced home, the highest % since August 2007. pic.twitter.com/IzxNG2ws2v

— Charlie Bilello (@charliebilello) June 9, 2022
The U.S. housing market is at the beginning stages of the most significant contraction in activity since 2006.

It hasn't shown up in many data series yet, but mortgage applications are pointing to a large decline over summer.

Purchase apps down 40% from seasonally adjusted peak pic.twitter.com/s4Wl712MZZ

— 📈 Len Kiefer 📊 (@lenkiefer) June 9, 2022
All banks in #Shanghai have restricted depositors from withdrawing money.
Remember the videos about banks having no money to all withdrawing from Henan Province I tweeted before? A bank run is about to sweep #CCPChina. pic.twitter.com/WgDVnjLsky

— Jennifer Zeng 曾錚 (@jenniferatntd) June 9, 2022
Federal Reserve Seen Lifting Its Unemployment Forecasts t.co/s4UjsSHFah

— WSJ Central Banks (@WSJCentralBanks) June 9, 2022
GAP BETWEEN GERMAN AND ITALIAN 10-YEAR BOND YIELDS WIDENS FURTHER TO 226 BPS, UP 17 BPS ON DAY

— *Walter Bloomberg (@DeItaone) June 9, 2022
Interesting to see how European banks haven't kept up with bond yields. Is the gap still explained by the war and rising credit risks or are there other theories out there? pic.twitter.com/0HTkE4uXnv

— Anneka Treon (@AnnekaTreon) June 8, 2022
The Fed stress index just hit a new all time low only days ahead of the most extreme tightening in three decades.

Bulls your complacency is sending a clear message to the Fed:

"Thank you sir, may I have another" pic.twitter.com/ZUsm6HWiOr

— Mac10 (@SuburbanDrone) June 9, 2022