by Michael Snyder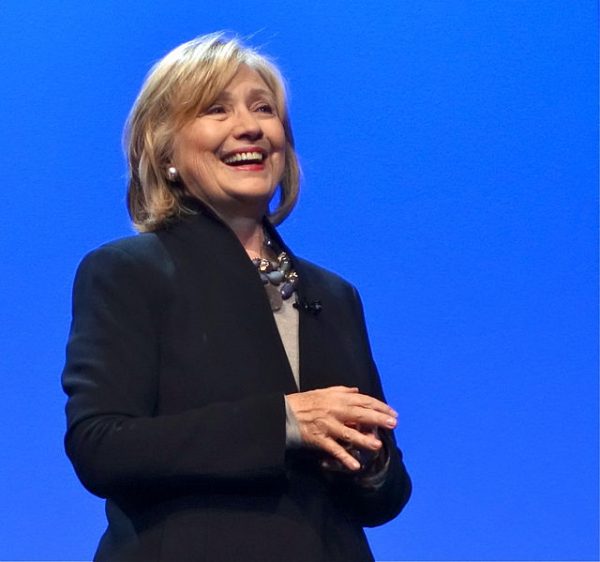 How would you feel if you went to church next Sunday and "Pastor Hillary Clinton" got up to deliver the message? According to Clinton's longtime pastor, Hillary says that she wants wants to start preaching. Considering the fact that she stands in direct opposition to just about everything that the Bible says, it is hard to imagine her doing this with a straight face. Bill and Hillary Clinton have been fueling anger and hatred toward conservative Christians for decades, but now she is suddenly going to turn over a new leaf? If Clinton announced that she had decided to denounce abortion then she would definitely get my attention, but at this point this just seems like another Clinton political stunt.
Earlier today when I came across an article published by the Atlantic entitled "Hillary Wants To Preach", I was tempted to dismiss it as some of that "fake news" that we have been hearing so much about lately. But it turns out that this story is actually true…
Hillary Clinton wants to preach. That's what she told Bill Shillady, her longtime pastor, at a recent photo shoot for his new book about the daily devotionals he sent her during the 2016 campaign. Scattered bits of reporting suggest that ministry has always been a secret dream of the two-time presidential candidate: Last fall, the former Newsweek editor Kenneth Woodward revealed that Clinton told him in 1994 that she thought "all the time" about becoming an ordained Methodist minister. She asked him not to write about it, though: "It will make me seem much too pious." The incident perfectly captures Clinton's long campaign to modulate—and sometimes obscure—expressions of her faith.
For Clinton, this would be yet another very unusual chapter in a very strange religious journey. She has always claimed to be a "Christian", but it is also important to remember that in college she did her senior thesis on a radical leftist that dedicated his book to Lucifer…
In 1993, the president of Wellesley College approved a new rule that all senior theses written by a president or first lady of the United States would be kept under lock and key, a move aimed at preventing the public from learning about their new First Lady. After the Clintons left the White House, however, Hillary's senior thesis was released to the public – a 92 page homage to radical leftist Saul Alinsky, who dedicated his book to Lucifer.
And back in 2015, Clinton delivered a speech in which she insisted that "religious beliefs" that do not conform to her progressive agenda "have to be changed"…
"All the laws we've passed don't count for much if they're not enforced. Rights have to exist in practice, not just on paper. Laws have to be backed up with resources and political will. And deep seated cultural codes, religious beliefs and structural biases have to be changed."
Hillary Clinton is not interested in the God of the Bible or in living the way that the Bible actually intends for us to live.
Clinton and her husband have been promoting just about every form of evil imaginable for decades, but that won't matter to many people. If Hillary wants to preach, many on the left will be absolutely thrilled…
"Given her depth of knowledge of the Bible and her experience of caring for people and loving people, she'd make a great pastor," Shillady told me. No, she probably won't go to seminary, he said. No, she probably won't pursue an official lay position in the Methodist church, like deaconess. (I reached out to Clinton's spokespeople for comment, but didn't hear back.) "I think it would be more of … her guest preaching at some point," he said. "We have a long history of lay preachers in the United Methodist Church."
Since the election, "I think her faith is stronger," Shillady added. "I haven't noticed anything different, except that I think she is more relaxed than I've ever seen her." Maybe after all these years of hard-scrabble politics, Clinton is finally becoming a more straightforward version of herself: a woman whose fondest ambition is teaching scripture in church.
I am just glad that she isn't in the White House. If she had won the 2016 election, things would have gone very badly for extremely outspoken conservatives like me.
As I keep saying, our nation is in the midst of a cultural war. If the left ultimately wins, they plan to do whatever they can to criminalize our way of thinking. And I am not the only one that is warning about this. For example, just consider what Newt Gingrich had to say about this recently…
"Remember: There are a lot of people on the other side, including in the elite news media, who deeply, deeply want President Trump to fail," he warned, "who deeply want our values to be wiped out by making them, frankly, illegal, and who are deeply committed to changing America in ways that would turn it into a country you and I would have no real knowledge of and no understanding of."
In an America where the political and cultural divisions seem to be widening, Gingrich pointed out Trump can make a real difference.
"He's clearly committed to breaking up political correctness," the former Georgia representative said. "He's clearly committed to advocating the kind of future that we want for our children and our grandchildren."
I wrote quite a bit about this cultural war in my brand new book entitled "Living A Life That Really Matters". It is my most important book yet, and just today I had someone tell me how it had deeply affected them. The truth matters, and many on the left are trying very hard to convince us that right is wrong and that wrong is right.
If Hillary Clinton wants to "preach", she certainly has the right to do so.
But in the end, her side is not going to win. No matter how hard the left tries to twist and distort the Bible, the plain meaning of the Scriptures is there for everyone to see. The Bible has been changing hearts and minds all over the planet for centuries, and nothing is going to change that.
And Hillary Clinton better be careful, because if she starts reading the Bible too much it might end up changing her heart too…