by Umar Farooq

Gold is poised to rally to levels last seen four years ago as rising inflation and negative real interest rates combine to boost demand, according to Incrementum AG, which says that the precious metal may be in the early stages of a bull market. Prices may climb to $1,400 to $1,500 an ounce this year, said Ronald-Peter Stoeferle, managing partner at the Liechtenstein-based company, which oversees 100 million Swiss francs ($101.5 million). Spot bullion — which was at $1,249 on Wednesday — last traded at $1,400 in September 2013.
"For the short term, it's in a bit of a technical no-man's land, we also see that seasonality is not really favorable," Stoeferle said in an interview in Singapore on Tuesday. "The real pick up in momentum might start beginning of summer. It's in the very early stages of the bull market, so everybody is still kind of cautious or slightly negative, but this will improve."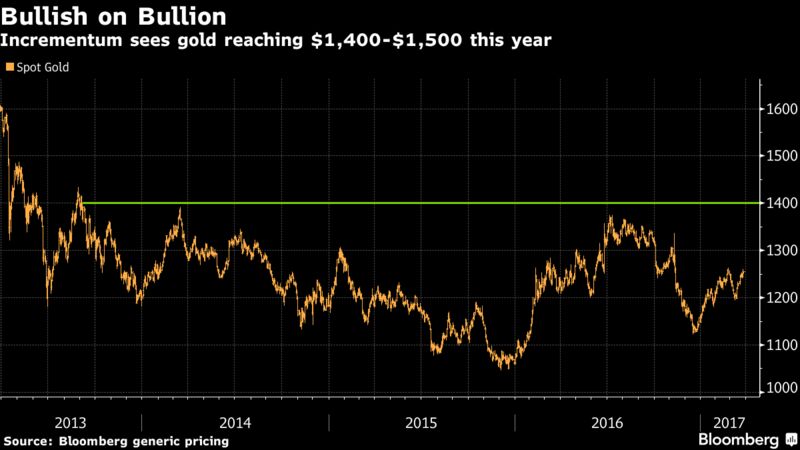 Source: Bloomberg

"When I look at the long term price of gold (NYSEARCA:GLD), I see the long term uptrend, and the current correction (since 2011) but the question is: In what inning of the gold bull market are we currently in? Well, as long as we have a deflationary threat, as evident in low interest rates, we know what's eventually coming – unlimited money supply and consequently a complete debasement of fiat currency. So, gold is going to reflect this possibility, and possibly we are still in the early stages of the long term gold bull market." seekingalpha

The current 2.42% yield on the 10-year is pretty amazing considering the yield was above 2.6% just a couple weeks ago. That is one heck of a rally in bonds. The recent move in the bond market move is simply too big to ignore. Remember – the bond market is much bigger than the equity market. One should follow the yields on 10-Year Treasury Bonds (NYSEARCA:TLT) very carefully, along with the yield curve spread. If the long term rates fall below 2% again, along with the narrowing yield curve spread, watch out, a deflationary recession could be on horizon. To avoid this deflation, we could see a "helicopter drop" of money from the FED. The Fed is willing to sacrifice the dollar to create artificial inflation, and most importantly, create negative real interest rates. All this tend to be very bullish for gold.

Although not everyone is bullish. Earlier this year, BNP Paribas SA — the most accurate bullion forecaster in the final quarter of last year, according to Bloomberg rankings — also sounded a note of caution. Bullion would probably decline as the Fed pursued rate hikes, keeping the dollar strong, the bank said in January.